Alternative accommodation cover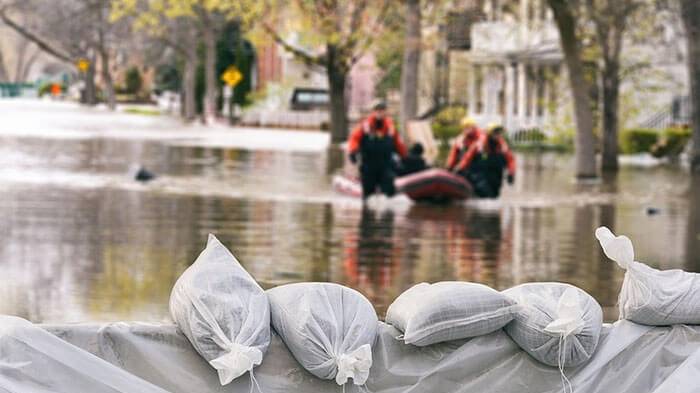 If an unexpected event occurs and leaves your home deemed uninhabitable, are you insured to deal with the circumstances?
Find out where you stand, should you find yourself not able to access your home, as the result of an event like a flood or other disaster.
READ MORE: How to prepare your home for winter
What is alternative accommodation insurance?
Alternative accommodation cover is a part of your policy that comes into play if your property suddenly becomes uninhabitable as a result of an issue such as flooding, fire, subsidence or damage caused by a storm.
It means that your policy provider will help find you alternative accommodation and pay costs, so you're not left homeless while the problem is sorted out.
Some home or building insurance policies include alternative accommodation cover, while in other cases you'll need to have it added separately.
It's always worth checking to make sure you have it just in case you ever need it. If you own property that you rent out to tenants on a short-term, long-term or holiday home basis, it's worth checking if your landlord insurance policy covers alternative accommodation.
Depending on what contract you have with your tenants, you may be required to provide alternative living arrangements in the event of emergency. So without an insurance policy, it could be costly.
READ MORE: Landlord and tenant responsibilities
What's defined as uninhabitable conditions?
For a home to be classed as having uninhabitable conditions it usually means that it's either structurally damaged or it's lacking the essentials needed for daily living, such as:
Running water

Heating (especially in the winter)

Electricity

Sanitary facilities, such as toilets, showers or baths
If you're unsure of exactly how your policy provider defines uninhabitable conditions - and sometimes definitions can vary - then check the terms and conditions of your specific policy.
READ MORE: How to calculate the rebuild cost of your home
When can I claim for alternative accommodation?
If your house has been damaged structurally by a storm, as the result of a fire, flood or similar disaster, you can put in a claim with your insurance company.
Before you're able to use your alternative accommodation cover, an independent loss adjuster will be sent to your home to look at the damage and the effects it's had on your living conditions.
They'll have a thorough look at the property and will report back their findings to your insurer.
If they decide your house is uninhabitable and you need to move out for a few days, weeks or months until necessary work has been completed, your claim can continue to be processed.
If your home still has all the essentials in place, the adjuster may suggest it's okay for you to continue living there.
Although it can be upsetting and disruptive to your routine, if repairs aren't going to take too long, it can be less upheaval for you and your family to stay in the property while it's sorted out.
READ MORE: How to claim on your home insurance policy
What alternative accommodation will I have?
A home insurance policy for alternative accommodation cover works on the basis that your insurance company will provide like-for-like accommodation.
So if you currently live in a three-bed, semi-detached house, they'll try and ensure you're re-housed in a similar property in the same local area.
Although the circumstances of what's happened to your home are likely to be difficult and stressful, the idea of the policy is to enable you to continue to live your daily life and minimise the effects of the disruption.
For families, this includes being able to continue to get children to school in the morning, to continue commuting to work and carry on being involved in any other regular activities you do.
If a like-for-like property isn't immediately available, then your insurer may suggest booking you into a hotel or bed and breakfast instead.
They'll provide guidance on where would be suitable and what budget is available.
READ MORE: Dealing with damp in the home
What expenses are covered?
Policies differ in terms of exactly what expenses are covered and the amount you're covered for. As a general guide though, if you're offered alternative accommodation cover, it should be a like-for-like property and, if the costs of living there are more expensive than your normal living costs, you should be reimbursed the difference.
Some policies cover the cost of putting pets, such as dogs or cats, into kennels or catteries while your home is being repaired.
If your home is still habitable, but you don't have access to a fully-functioning kitchen, some insurers are able to reimburse you for eating out or having takeaway food while your kitchen is out of order.
You shouldn't be left out of pocket with property repairs either. Your insurer should provide guidance on finding professionals, such as builders, to undertake any required work, or they'll provide their own network of frequently used trades people to complete the repairs.
READ MORE: Burst pipes and stop taps