Being burgled can be a traumatic experience.
In the last year, there has been a decrease in certain crimes, including theft and domestic burglary. They fell by 30%, largely due to the coronavirus lockdowns and the fact we've all been at home a lot more, according to data from the Office for National Statistics (ONS).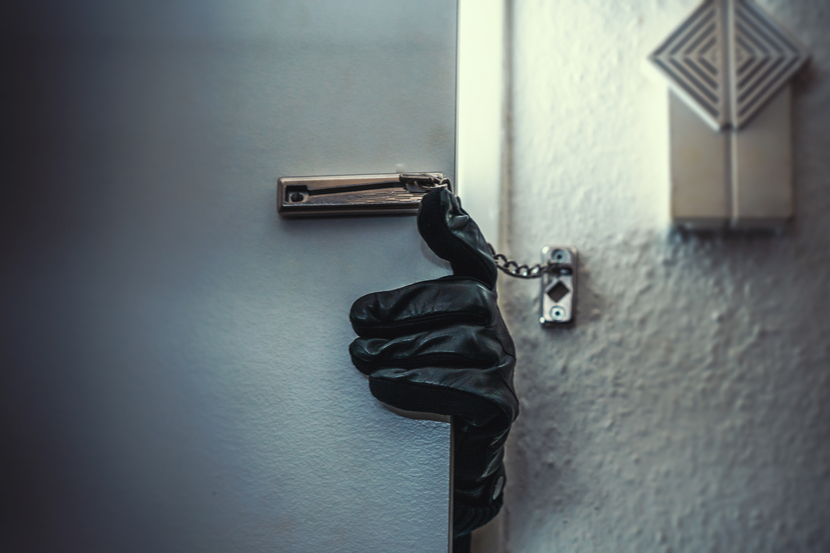 The most common reactions to being burgled are anger (58%) annoyance (57%) shock (52%) and fear (40%)*, according to the Office of National Statistics.
Around a third of burglary victims had difficulty sleeping, and almost three in 10 suffered from anxiety or panic attacks.
So, the emotional toil a burglary can take shouldn't be underestimated. But help is at hand.
Victim Support offers free counselling, help and advice to victims of crime. Here's where you can reach them:
Here's what to do after a burglary at your home.
1. Phone the police and report the burglary
Do this straight away – the sooner you report a crime, the greater chance the crime might be solved.
If you suspect that the burglar is still inside, don't go in! Instead, call the police from outside your property, preferably from the safety of your car or a neighbour's home
If the burglary has already happened and there's no clear danger, call the non-emergency line on 101. The police should give you a crime reference number. You'll need this if you decide to make a home insurance claim for any theft or damage.
If you're in your home and someone breaks in, it's important to stay calm and not let adrenaline cloud your judgement.
So long as it's safe to do so, leave the house as quickly as you can. Avoid confronting the burglar – nothing that they could take is worth more than risking your life.
If you can't escape safely, find somewhere secure to hide – preferably where you can lock yourself in.
Call 999 and explain the situation as calmly as you can.
If you're afraid that speaking might alert the burglar, you can call 999 and then press 55. This will open the Silent Solutions line.
Here, the police will be aware that you're in an emergency but aren't able to speak.
2. Don't touch anything!
You might feel that you need to clean or tidy away anything disturbed by the burglar to make things feel right again.
As much as you can, please rein this feeling in. A burglar might have left forensic evidence at the scene of the crime that could be vital to catching and prosecuting them.
Scene of Crime Officers might need to look for fingerprints, footprints, tool marks, torn fabric etc.
For your best chance of catching the burglar or recovering your stolen goods, it's best not to disturb anything inside or outside of the property.
3. Inform your bank
If any debit cards or credit cards are missing, inform your bank or credit card company straight away.
They should put an immediate block on your cards being used and then issue replacements.
You might also need to do this if any digital storage device (computer, USB, mobile phone etc.) has been stolen that contains your financial data.
If your passport or driving licence are missing, tell the relevant authority as soon as possible.
4. Inform your mobile phone provider
Contact your mobile phone provider as soon as possible if your phone has been stolen. They can block the phone and stop anyone else from using it. If you don't do this, you could be liable for any costs incurred by the person who stole your phone.
You can also ask for the phone's identification number (IMEI), which you need to give to the police.
5. Take note of any stolen or damaged property
Go through your property room by room and make a comprehensive list of everything that has been damaged or stolen.
Note down as much detail as you can about them - this includes serial numbers and any identifying marks if possible. Don't forget to list any digital media e.g. eBooks, downloaded video games and films.
It might be worth checking if any of these commonly stolen items are missing**:
| Item | % of burglary victims that said this item was stolen |
| --- | --- |
| Jewellery | 30% |
| Money | 25% |
| Garden/outdoor items | 23% |
| Sentimental items | 22% |
| Laptop/computer/TV | 21% |
Take photos of any damage, and find any receipts that might help prove ownership.
Both the police and your home insurance provider might need these details. It could help speed up any home insurance claims you make.
6. Contact your home insurance company
Assuming you have a home insurance policy, you should be able to claim for stolen or damaged items (contents insurance) or property damage (buildings insurance).
Contact your insurer as soon as possible and let them know what's happened. They'll be able to guide you through the process and complete their claim form.
This is when you'll need the list of stolen/damaged property and the crime reference number.
Dig out any receipts for the stolen times you might have and damaged items as a loss adjuster might want to see them.
For more information, check out our guide on how to claim on your home insurance policy.
Compare home insurance quotes
7. Secure your home
Doors or windows damaged during the break-in should be fixed immediately. If you have home emergency cover in place, you could use this to make your home secure again.
Also, police attending your burglary should point out any obvious weaknesses in your home security. If not, it's worth asking them.
Consider this as an opportunity to upgrade your home fortifications to make it harder for a repeat visit from a burglar.
Some security upgrades you could make include:
Upgrading your door locks to five-lever mortice deadlocks. Go for the ones that comply with British Standard (BS) 3621. These are considered among the most secure by home insurance companies.

Make sure your patio door locks and window locks get a similar upgrade. Burglars might use any point of entry to get into your house.

Install or upgrade your burglar alarm to act as a deterrent.
8. Replace your possessions
Your home insurance payout (minus any excess) usually should be one of the following:
New for old. This is where the insurance company covers the full cost of replacing any item that's stolen.

Wear and tear. This is where age and condition are considered. You might not get the full value to buy a new version of a stolen item.
If you're replacing something of particularly high value, like a laptop or bicycle, it might be worth looking into getting specific security upgrades for those.
9. Get the support you need
As burglary can be a traumatic event, the police might refer your case to Victim Support, or you can contact them yourself.
Victim Support's volunteers offer free counselling, help and advice to victims of crime.
Even if you think you're fine after the incident, it could be worth getting in touch with them anyway. Here's where you can reach them:
10. Claim victim compensation
The police should inform you if they catch the burglar.
If an arrest results in a conviction, the court could order the offender to pay victim compensation to cover loss or damage.
But you must tell the police in advance if you wish to claim for this. For more information, chat to the officer in charge of your case.
If the court sends the burglar to prison, they won't normally order them to pay compensation.
Compare home insurance
The home insurance market is extremely competitive and therefore it's always worth comparing prices. Whether it's home or buildings insurance, or a combined policy, take the time to compare prices and policies.
After a burglary, your insurance costs could rise if you need to make a claim. This could be an opportunity to look around at the market to see if you can find a cheaper policy. If you can, you're free to switch, though doing so outside of your renewal period could incur admin fees.
Compare home insurance quotes
How can I deter burglars?
Prevention is better than cure, as they say. Making your home a burglar no-go zone should help reduce your risk of a break-in.
Here are some things you could consider:
Invest in smart home security

Keep your doors and windows locked – even when you're home

Be mindful of what's on display outside your house or through your window

Lock ladders away or anything else that could provide easy access to your home

Outdoor lighting can deter burglars

Anti-climb paint on exterior walls or fences can make it hard to climb

Signs that someone is in, even if you're not, can help - including keeping a radio on or time-sensitive lights

Gravel entrances make it a lot harder for burglars to approach your home quietly

Avoid telling people you don't trust well that you're going on holiday - or putting it on social media

Secure important and hard to replace items.
For more tips, check out our guide on how to protect yourself from burglary.
*ONS statistics April 2019 – March 2020
**Figures taken from omnibus research carried out by One Poll on behalf of Confused.com. This was an online poll of 2,000 UK homeowners and renters (nationally representative sample). The research was conducted between 4 and 6 May 2021.