Smart home technology means you can control and monitor everything from your smartphone, even if you're on the other side of the world.
A smart security system could lower the risk posed by break-ins and cut your home insurance costs. Leak detectors connected can also watch over your water pipes and reduce the risk of flood damage. So how does smart home insurance work?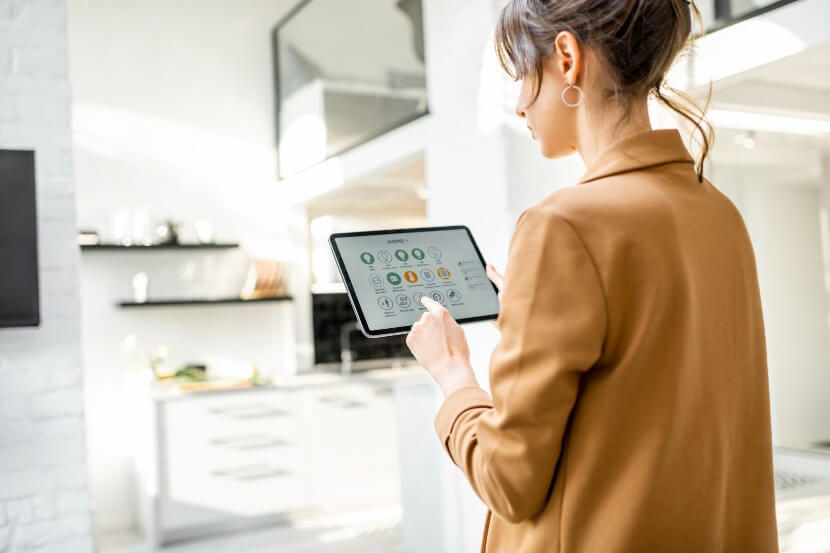 What is smart home insurance?
Smart home insurance means the impact of your smart devices is taken into account in setting home insurance costs.
Internet of things (IoT) software means that these days it's possible to have an integrated smart home system where you can effectively lower risk on various fronts.
For instance, smart home systems can be comprised of a variety of devices, including:
Smart locks
Security sensors
Video cameras
Smoke alarms
Leak detectors
Some insurers take into account the smart home security you have in place when giving your a quote as it can lower your risk of making a home insurance claim.
What qualifies as a smart home?
A smart home is one where a range of devices are set up to be controlled through IoT software, allowing you to control and monitor everything through a device like your smartphone or laptop.
It means you can control all sorts of things around the home at your fingertips. This includes your lighting, heating, and security devices, to windows and doors,. You can also connect your TV and washing machine.
As long as you have a good, stable internet connection, you should still be in control of your smart home's system wherever you go in the world.
Smart homes also allow you to use a degree of automation to make life that much more convenient. Using home hubs like Google Home or tools like If This Then That, you can set routines such as:
Turning on the heating when you're a certain distance away from home
Turning off all lights and connected sockets when you're out of the house
Making an announcement when your Ring door-cam detects motion outside your house
Smart home security
Smart home security systems can use a variety of devices, all controlled through IoT software.
As long as your Wi-Fi is good, you could be sitting on a beach in Spain and still have a perfect view of your smart security system. This includes live video feeds and any other activity detected by the security devices in your home.
Here are some of the security devices you can use as part of a smart home security system:
Smart locks
These can lock and unlock a keyless door. These have potential to be more secure than standard door locks.
Video camera
You can place smart video cameras anywhere in your home for constant monitoring. Or you use cameras that trigger whenever they detect motion.
Video doorbell
These combine a doorbell, camera and microphone. You can view the camera feed on your smartphone and the device notifies you when someone's at your door.
Motion detectors
These detect unusual movements around the home and are often set up to work in tandem with smart cameras.
Door and window sensors
These tell you when a door or window has been opened.
Smart lights
You can remotely control and pre-program lights inside and outside your property.
Will a smart home make my insurance cheaper?
If a smart home system improves your security, then it should lower your costs. But as things currently stand, most insurers offer lower prices based on the individual security devices you have on the system rather than the smart home system itself.
For example, having security features like burglar alarms and security cameras improves security and should help reduce your insurance costs. This is regardless of whether they're connected to a smart security system.
Not all insurers currently offer discounts based on the smart security system itself, so it's best to check before committing to a policy. But smart home insurance could become increasingly common as more of us install smart home technology.
Is smart home insurance worth it?
Depending on how much you've spent on hi-tech security, you may not completely recover the cost through lower home insurance costs. Smart home technology systems incorporating advanced security features could set you back hundreds or even thousands of pounds.
However, smart home security might give you some peace of mind and also deter burglars. It means you're less likely to make a home insurance claim due to a break-in, which would see you lose your no claims bonus, pushing up your home insurance costs.
Also, having devices like leak detectors connected to your smart home system could also save you a lot of heartache and higher future costs by avoiding flood damage.
Compare home insurance quotes
How else can I lower my home insurance costs?
Here are some more ways to lower the cost of your home insurance:
Don't over-insure your home
Make sure you give a good estimate of your home and the value of its contents when you get a quote for home insurance. You might end up paying more if you overestimate.
Don't pay for insurance you don't need
For example, this might be cover for things like a garden or outbuildings when you live in a flat and don't have a garden.
Pay your home insurance annually
Choosing to pay for your insurance annually rather than in monthly payments means it should cost less.
Build up a home insurance no-claims discount
If you don't make any claims, you can usually earn a no-claims discount. The longer you go without making a claim, the bigger the discount.
Increase your home insurance excess
Selecting a higher voluntary home insurance excess could lower your costs. But remember that you have to pay that amount towards any claim you make.
Compare quotes to get the best deal on home insurance
Confused.com lets you compare quotes from up to 64 home insurance companies.