After all that hard work, you got the grades you needed and university awaits. But before you go, it's important to think about everything you'll need to take with you. Our uni essentials list should help.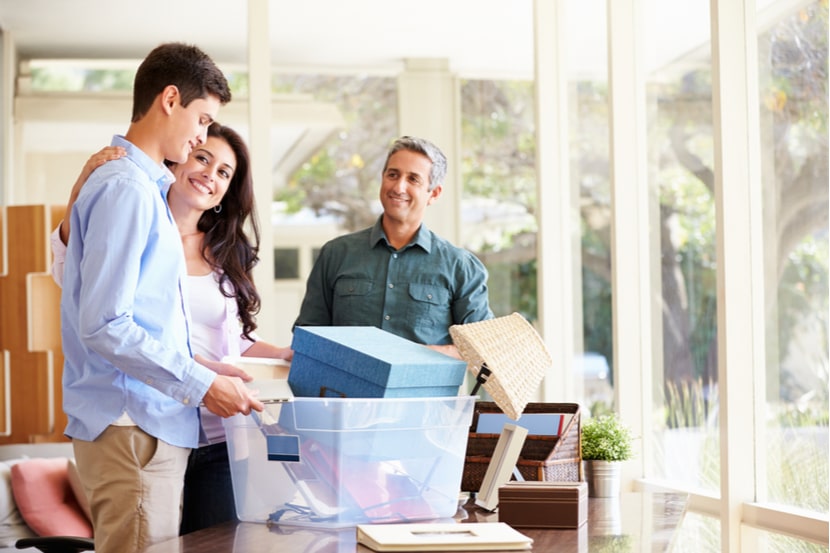 Uni packing list: Be box smart and secure
Whatever you do, don't leave packing to the last minute. When you're at home everything is at hand because your family have spent years getting everything they need.
This is especially important if you aren't going to be living in a fully-catered halls of residence.
Fail to plan and you might end up either spend too much or living on rice and beans, pilfering loo roll out of the student union toilets.
So, first up gather some packing boxes. You don't necessarily need to buy them - ask your parents, friends and neighbours if they have any lying around.
Think about a box for kitchen items, a box for books, tech and so on. Your clothes can go in a suitcase.
When you arrive, it should make unpacking a whole lot easier.
University checklist: What to take or leave
Most new university students haven't spent more than a week or 2 away from home.
So it might seem impossible to know what to take to uni.
The last thing you want to do is spend a fortune at the shops buying things you've already got at home.
With this in mind, here's our comprehensive university packing list.
Step 1: Documents to take to university
This list of uni essentials is right up there with your toothpaste and mobile phone.
Scan these documents and keep them somewhere safe on your laptop, in the cloud or in a locked safe (in some cases – check with your student union or university admin office about this).
Accommodation contract, information, and terms
Driver's licence, passport or some other officially-recognised form of identification.
Your bank account details and bank card
Bank debit card
Car insurance documents
Student loan documents or any other funding document – if they're in print think about keeping them at home
Student discount cards
National Insurance letter– record the number on your phone or computer. Keep the letter at home.
Find out if your university has a list of documents you need to bring, just to make sure you don't leave anything vital behind.
Step 2: Electrical items and entertainment
Chances are your phone and your laptop are pretty near the top of your university packing list. But think about everything you might need while you're away:
Games consoles
Headsets
Cable adapters
Charging cables
Hair dryer and hairstyling tools
Speakers and amplifiers
Mobile phone and charger
Extension leads
Laptop/computer and charger
External hard drive
Step 3: Packing clothes for university
Clothing is a no-brainer as you almost certainly know what you want to take with you when moving to uni. The following is a short list of the essentials, including a few extras that you might have forgotten about:
Seasonal clothing (sunglasses, gloves, scarves, hats)
Comfortable shoes and clothes
Clothes hangers
Dressing gown
At least one interview outfit
At least one swimming costume or pair of trunks and beach towel
Slippers
Raincoat, umbrella, wellies
Workout and sports gear
Step 4: Toiletry essentials for university
You probably want to look and smell nice while at university. But you'd be surprised how many people go away without their toothpaste or shower gel.
Don't be one of them – especially when you're in for the full academic year. Don't forget the following:
Medication
Towel
Hair-styling products
Shaver, razor, shaving cream
Aftershave, perfume
Toothbrush, toothpaste, floss, mouthwash, lip balm
Deodorant
Cotton buds
Soap
Shampoo, conditioner, shower gel
Moisturisers and skincare
Step 5: Kitchen supplies
You've got to eat. While you just need hands to munch on a burger or a kebab, utensils and cutlery come in handy for breakfast cereal and proper meals.
Make sure you've got the following:
A couple of saucepans and a frying pan
Side plates and dinner plates
Bowls
Mugs, glasses and a water bottle
Washing-up liquid, dishcloths, scrubbing brushes and tea towels
Cutlery and knives for food prep
Food storage containers
Tin and bottle opener
Step 6: Uni room essentials
Despite the fact that many university rooms come fitted out, you still need some stuff to make the room usable – mainly for studying.
This is especially the case if you opt to move into a private rental flat or house away from campus.
The following are some of the essentials you won't want to go to university without (plus a few ideas to make your lodgings feel more like home):
Laundry basket
Pillows and duvets
Bedsheets and pillow cases
Mattress protector
Mattress topper
Mini sewing kit
Iron, ironing board (check whether your place has these first, if possible)
Bedside lamp/desk light
Step 7: Decorating your room
The items below aren't exactly essentials, but you probably want to have them in your new room, to make it feel more homely.
Plants for decoration
Photos of friends and family
Cushions or throws
A mirror
Pictures or posters
A lamp shade
Always check first whether you are permitted to hang or stick things on the walls.
Step 8: Self storage units for university students
Depending on how long you're gone for your studies, you might want to think about the costs of safely storing and moving your items.
If you're worried about lugging all your stuff home over the holidays, finding a self-storage unit nearby could be the answer.
Research the costs up front because they can vary by quite a degree. Check out the place before handing over any cash too.
Ask the university or your student union for recommendations. The last thing you want is to deal with someone who uses or steals your stuff. Or the place isn't secure enough to keep out thieves or the rain. You don't want to have to make a student contents insurance claim before you've even moved in.
Also, if you've got friends in a similar situation, ask if they'd be willing to share the storage unit and split the cost.
Make sure you find out whether the self-storage provider offers insurance for your goods.
If it's not included, shop around for the appropriate type of home insurance cover. Don't just opt for the provider's policy, as it may be lacking or too expensive.
Compare home insurance quotes
Step 9: Get your car serviced before moving to university
If you choose to bring your car to university, make sure you have it checked over by a mechanic beforehand.
This is particularly important if you have to drive a long distance to your new place.
Also, ensure you've checked the parking regulations of your university area to avoid a dreaded parking fine.
In lots of cities, there are specific parking zones that either require you to pay and display or buy a residential parking permit.
Some of these don't cost anything depending on the area.
If you require a permit, the council often asks for proof of residence, and a copy of your vehicle documents. So make sure to take these to university with you.
Don't forget to tell your car insurance company about your change of address during term time as this could affect your policy and premium.
Make sure you get the right student car insurance cover, too.
Step 10: Stationery to take to uni
You should be able to buy the stationery you need when you get there. But sorting yourself out in advance gives you one less thing to worry about when you arrive.
As well as pens and pencils, a ruler and a pencil case, consider taking:
Highlighters
Staples and a stapler
A couple of writing pads
Folders
Post-It notes.
What should you not take to university?
This is tricky one. What you shouldn't take with you to university depends on several factors, but for convenience's sake let's break it down into 4 sections:
Health and safety
Some things are just not safe to have if you're effectively living in 1 room – a room that may end up a tad cluttered . So, for obvious reasons, leave the following at home:
Candles
Ashtrays (chances are you won't be allowed to smoke in your room anyway)
The Smoke and Carbon Monoxide Alarm (England) Regulations 2015 requires all private landlords to ensure their properties are fitted out with smoke and CO detectors.
If your private rental doesn't have both on each floor of the property take it up with the landlord and keep the university informed. If your landlord is reluctant to buy one, get one yourself. You might be able to regain the cost at the end of the tenancy, but your safety should be your first priority.
Pets
It's unlikely your landlord or accommodation provider will let you keep pets. However well behaved, or small, your pet is, ask someone at home to look after it for you.
Your housemates may not thank you either, especially if they have allergies.
Cost
Before going wild online, check to see whether your accommodation comes with any the following big-ticket items. If they don't, wait until you move in and broach the subject of splitting the cost of any that you need and aren't provided:
Vacuum cleaner
TV
Ironing board and iron
Kettle
Toaster
Microwave
Security
Halls of residence are purpose built, and usually secure. But a private rental might not be. And don't even think about keeping any valuables outside your room. Get a lock fitted to your door when you move in but make sure to ask the landlord's permission first.
Fit a garden latch on the inside, so you're safe at night and can slide it open if you need to get out. But don't opt for a padlock on the outside. Someone might lock you in for a prank.
You and your housemates
It's important to try to co-exist with your housemates as best you can. They'll have their own quirks, habits and preferences. So, if you want to avoid an argument:
Don't play loud music – keep the speakers at home. Your walls could be paper thin and not everyone will share your taste in music, especially if they're trying to get their head round tricky coursework.
Don't take things that aren't yours - from clothes or lecture notes to food in the fridge, don't borrow or use your flatmates's things without their permission
Leave as you find – if you're all sharing the same toilet, bathroom, kitchen or living space, tidy up when you're done. Arguments between flatmates are the last thing you want while at university.
Tips for transporting your belongings
Save space by packing smaller items into larger things – wrap up your cutlery and put it in your spare shoes, for example.
Make sure that fragile items are properly protected – use your clothes to separate things such as breakable crockery.
If you're using public transport, lock your cases as you would when you're flying.
Remember that you're likely to accumulate more belongings and course books while you're away at university, So if you're full up on the way there, you're going to struggle to get everything packed when when the semester ends!
Do I need student contents insurance?
It's a depressing fact but student accommodation is a high-risk for burglary.
Between you and your housemates there are likely to be a lot of highly-prized items, such as laptops, iPads and other gadgets, as well as jewellery.
Most students believe their stuff is covered by their parents' home insurance even while they're away at university. But it might not be, so always check the policy wording.
You might not think of it, but when you go to university you may also be leaving home for good. Consequently, you might need to get a separate contents insurance policy for your new place.
When it comes to tenants' insurance, most people think of protecting themselves against theft or damage to their personal property. But it's sometimes liability for harm to others, or their belongings, that can cause the biggest financial headache.
Some insurance policies incorporate liability insurance for damage that tenants or their guests cause to the property.
Student contents insurance could provide you with peace of mind and let you get on with enjoying your time at university.
You might also want to look into specialist bicycle insurance, too – particularly if it's your main mode of transport.
Tips for keeping your valuables safe
In many ways, keeping your valuables safe at university or college involves the same precautions as when you have them at home. But given the nature of university accommodation and halls of residence, it's even more important to be careful.
Keep your doors and windows locked whenever you're out of your room – even if you're only popping out for a few minutes.
If you take your valuables outside your room, don't leave them unattended.
Be extra careful with your laptop - try carrying it in a rucksack rather than a tell-tale laptop case.
Make a list of any valuables, including makes and serial numbers.
Keep copies of important documents such as your contents insurance policy.
Make a note of any numbers you need to call should you need to cancel bank cards or credit cards.
If you want to keep jewellery or important documents like your passport safe, consider getting a small safe for your room.