The ultimate student moving checklist
What to take to university or college: The Ultimate guide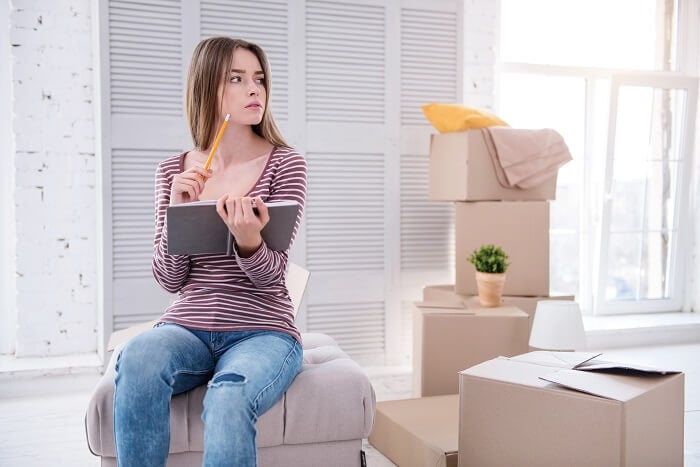 Congratulations! You're about to enter the exciting, new world of university and now need to relocate from your parents' house. This symbolises the start of a new chapter in your life as a student.
By now, you have most likely started to think about packing. While it's easy to get overwhelmed, remember that you're just going to university – not the Moon.
Besides being super exciting, preparing to go to university can also be very stressful, especially when it comes to boxing all your stuff.
Most new university students haven't spent more than a few days away from home, so it's almost impossible to know what you need to bring with you for a whole year and what can be left behind.
Whether you're moving from a city nearby or abroad, you'll have to get ready for moving in.
We thought it would be great to piece together an all-inclusive university packing list to make sure that you have everything you need.
We've covered everything: from your educational supplies to your bathroom basics, to accommodation essentials to the valuable documents you can't leave behind. And much more.
Follow along with this student moving checklist, and together we'll get your move started right.
University checklist # 1: Important documents
This short list of credentials will be essential for your relocation to college, especially in your first few weeks. Make photocopies of all of them and reserve them together in a secure file to avoid misplacing them:
Accommodation contract, information, and terms

Passport photos. A set of four should do it

Driver's license, passport or some form of ID

Your bank account details and bank card

Bank debit card

Insurance documents

Student loan documents or any other funding document

Student discount cards

National Insurance card
University checklist # 2: Apply for residence contents insurance and liability insurance
Sadly, it's a stressing fact, but student accommodation is at a high-risk of burglary. As a student, you're expected to own expensive products, such as laptops, tablets and other high-tech gadgets. It's no wonder then that one in three students become a victim of crime yearly.
Most students believe their stuff will be covered by their parents' home insurance even while they're away at university. In most cases, this doesn't happen.
As a student moving to school, you might decide to relocate from your parents' home for good. Consequently, you'll need to apply for a separate contents insurance policy for your new place.
When it comes to tenant's insurance, most folks think of protecting themselves against theft or damage to their personal property, but it's the liability for harm to others, or their belongings, that can be a financial burden if it happens.
Liability insurance is intended to protect you if you're prosecuted in the event of accidental damage or injury to another individual or their stuff.
A tenants insurance policy incorporates liability insurance for damage that tenants or their invitees cause to the property, and for injuries to a third party that they might be legally responsible for.
Student insurance
can provide you with peace of mind and let you get on with enjoying your time at the university.
University checklist # 3: Entertainment/electrical items
You'll want to bring some entertainment with you to university, for instance:
Games and video games console

Headsets

Cable adapters

Ethernet cable and HDMI cable

Camera

Hair dryer and hairstyling tools

Speakers and amplifiers

Mobile phone and charger

Extension leads

Board games or deck of cards

Laptop/computer and charger

External hard drive
University checklist # 4: Apparel
Clothing is mostly a no-brainer as you'll almost certainly know what you want to take with you to uni. The following is a short list of the essentials, including a few extras that you might have forgotten about:
Seasonal clothing (sunglasses, gloves, scarves, hats)

Costume clothing (for themed parties!)

Comfortable shoes and clothes for lectures

Clothes hangers

Dressing gown

At least one interview outfit

At least one bathing suit and beach towel

Light jacket for early spring/autumn

Slippers

Complete winter gear

Smart-casual clothing

Raincoat, umbrella, rain boots

Work out gear
University checklist # 5: Toiletries
Don't forget the following:
Clothing

Towel, blow dryer, hair straighteners

Medication

Shaver, razor, shaving cream

Aftershave, perfume

Toothbrush, toothpaste, floss, mouthwash, lip balm

Deodorant

Cotton buds

Soap, shampoo

Shower stuff

Hair-styling products

Lotion

Medicine

Bandages

University checklist # 7: Kitchen supplies
You have to eat while you're at school, so start by gathering the necessary kitchen supplies so that you can cook and store food that you don't eat.
You also need to have something to eat on and with. Consider the following supplies:
Pot

Plates

Cups

Mug

Dish soap and scrub brush

Bowls

Fork, knife, spoon

Tupperware

Can opener

Pan
University checklist # 8: Room needs
Despite the fact that many university rooms come fitted out, you will still need some stuff to make the room usable - mainly for studying.
The following are some of the essentials you won't want to go to university without:
Alarm clock

Laundry basket

Bed sheets

Pillows and duvets

Mattress protector

Sleeping bag

Doorstop

Earplugs

Photos of friends & family

Clothes

Pillowcases

Alarm

Earplugs

Hot water bottle

Mattress protector

Mini sewing kit

Mini iron and ironing board

Clothes hangers

Clothes horse

Lamp
University checklist # 9: Lease a self-storage unit
Depending on how long you'll be gone for your studies, and whether or not you'll go back home during the summer, you'll want to think about the costs of safely storing and moving your items.
So, if you fear bringing your stuff with you over the summer break or you just don't have enough room in your apartment, finding a self-storage unit near you may benefit you.
Research these costs, so you know the price. If you've friends who are in a similar situation, ask if they would be willing to split the cost with you.
University checklist # 10: Essential non-essentials
The items below aren't exactly essentials, but we can almost certainly guarantee that you'll need to have them in your new room, to give it that touch of home.
Fake plants for decoration

Cushions/throw blankets for decoration

Full-length mirror/wall mirror

Bulletin board

Pictures of friends and family
University checklist # 11: Take your car to a mechanic
If you choose to bring your car to university, make sure you have it examined by a mechanic before the move.
This is particularly important if you have to drive a long distance to your new place or into a new climate.
Additionally, ensure you have checked the parking regulations of your university area to avoid a dreaded parking fine.
In lots of cities, there will be specific parking zones that either require you to pay and display or you'll need to purchase a residential parking permit (some of which don't cost anything depending on the area).
If you require a license, the council will often ask for proof of residence, and a copy of your vehicle documents so make sure to take these to uni with you.
Don't forget to talk to your parents or insurance agent about any changes that might need to be made before the move.
This is especially important for car insurance.
Well, now you should be ready to move in. Good luck!