Home insurance isn't a legal requirement, so some might want to save money and not get a policy. But according to our research, the average buildings insurance claim is £6,191*. The average contents insurance claim is £3,260*.
In comparison, a combined buildings and contents policy costs £137** per year on average. This can help cover the cost of replacing your belongings or repairing damage if something happens.
Here's why home insurance could be useful.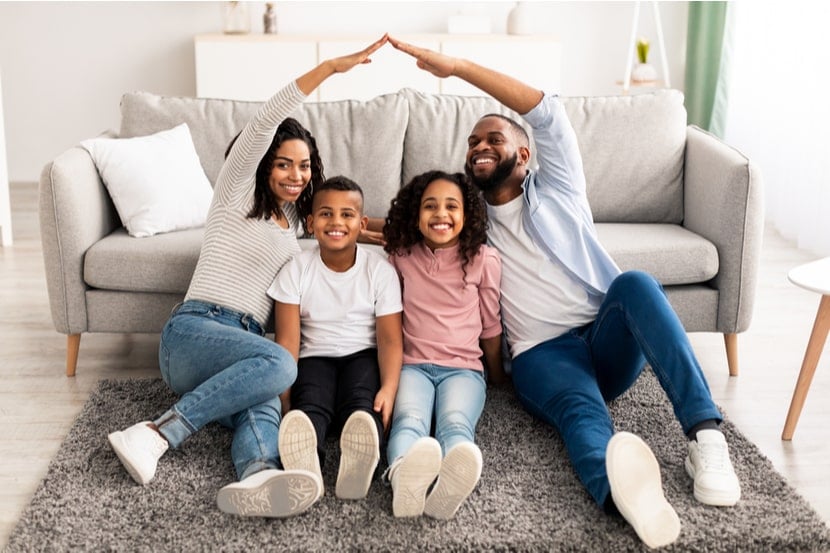 What type of home insurance do I need?
There are two types of home cover: buildings insurance and contents insurance. They provide different types of protection but both are important.
Buildings insurance covers the structure of the building and pays out if this needs repairing or rebuilding. Contents insurance covers pretty much everything else in your home.
You can buy these policies as buildings and contents insurance. These policies cover both elements and usually work out cheaper than buying them separately.
Neither of these are mandatory, but it's worth having cover in place for peace of mind. Even the most common claims can cost over £1,000*:
| Top 5 common claims | Claim amount1 |
| --- | --- |
| Contents insurance - escape of water | £8,017 |
| Buildings insurance - escape of water | £9,344 |
| Buildings insurance - storm damage | £3,108 |
| Contents insurance - accidental loss or damage away from home | £1,538 |
| Contents insurance - accidental loss or damage at home | £1,171 |
Do I need home insurance if I rent?
If you're renting the property then the landlord is responsible for the physical structure of the building, so you don't need buildings insurance. But you can get insurance for tenants that protects your possessions.
This is similar to a contents insurance policy. But it often includes extras such as liability cover to protect the landlord's belongings that you're responsible for - such as sofas or white goods.
Do I need home insurance if I'm a landlord?
If you're a landlord then you need to arrange adequate cover. A standalone buildings insurance policy usually won't be enough as someone else is living in the building.
There are specially designed home insurance policies for landlords that can potentially cover you for loss of rental income – and damage done by unruly tenants.
Some buy-to-let mortgage providers require you to take out such a policy as a condition of them lending you the money.
Do I need buildings insurance?
In many cases, yes, you do. If you have a mortgage outstanding on the property then the lender usually requires you to have a policy in place. It's not a legal requirement, but it's often a condition of getting a mortgage.
But even if you've already paid off the mortgage, you should still consider having protection in place – unless you have millions of pounds at your disposal.
This is because the premium charged for buildings insurance is small compared to the thousands of pounds needed to rebuild a property.
When can I claim on buildings insurance?
Buildings insurance usually covers:
Fire
Storms
Flooding
Subsidence
Burst water pipes
As an example, it should pay for the cost of drying out a property if there's been a catastrophic flood or even to have it decontaminated.
Buildings insurance should also cover fitted kitchen units and bathroom suites. Anything, in fact, that's permanently affixed to the structure.
Some policies might also cover garages and outbuildings, such as greenhouses, garden sheds and other structures.
Buildings insurance
It's up to you to ensure you have adequate buildings insurance to cover the cost of repairing or rebuilding your property, although it's not easy to put a price on how much everything will cost.
If you live in a standard brick-built home, the rebuild cost is usually lower than the current market value. There are calculators to help you gauge the price.
If your home is constructed of non-standard materials, a listed building, or has special features, then it's likely to cost more to rebuild. This may be even more than its market value.
In any of those scenarios, you need to ask a chartered surveyor to carry out a professional assessment on your property. You can find one at the Royal Institution of Chartered Surveyors.
Contents insurance
You need to list all the items in your house – and establish the cost of replacing them as new, rather than their current value. Using a contents calculator is a quick and easy way to do this.
As well as an overall limit, some policies only pay out a set maximum for individual items. If this is only £500 and you have a £1,000 camera then this might not be enough.
You need to check the terms, conditions and exclusions of any policy before taking it out in order to make sure it provides the cover needed.
Do I need home insurance if I own a leasehold flat?
If you own a leasehold flat then the freeholder has probably already arranged cover for the building and you're paying your share via the service charge.
But it's always worth checking to be clear on exactly what's already covered in the fees you're paying and what you need to arrange yourself.
Either way, you still might need to cover your contents.
What other types of home insurance are there?
Other types of home insurance exist that are variations on the theme of buildings and contents cover. For example, there are policies for students living at university.
You can also get cover for listed buildings, as well as high-value homes that may be out of some insurers' scope.
Then there's unoccupied homes cover – such as if you've inherited a house – and holiday home insurance for properties left empty for longer periods.
How do I make home insurance cheaper?
You could make your home insurance cheaper by:
Only buying the amount of home insurance you need. To do this you should accurately calculate the rebuild cost of your home and correctly value your contents.
Shopping around. Take your time to find out the cover and price of policies offered by different insurers.
Combine your buildings and contents insurance as some providers offer a discount.
Fitting security devices, such as high-quality door locks and window locks.
Agreeing to paying a higher excess.
Paying the entire policy price in one go, rather than in monthly instalments.
Compare home insurance quotes
*This is the average claim amount between July and December 2022 for both buildings and contents insurance claims. We used all completed quote requests where there is a declared cost associated with the claim. This amount was claimed by 50% of our customers.
**Based on Confused.com data Jan - June 2023
1Confused.com data. August 2022 - July 2023. Buildings, contents and combined home insurance policies.