Trace and access cover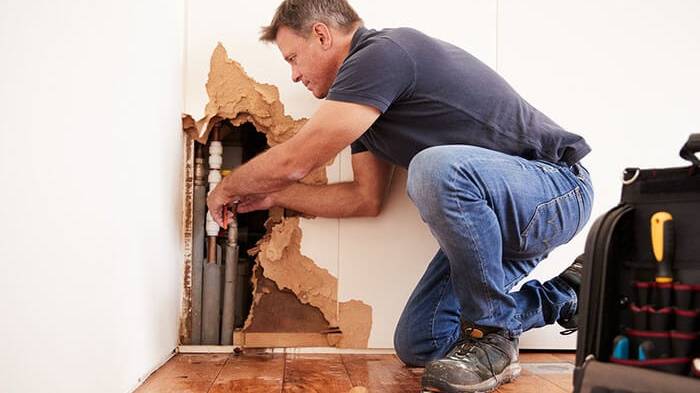 Think there could be a water leak in your home but you're not sure where it's coming from?
It's always beneficial to get it investigated before other problems occur. But are you covered by your home insurance?
READ MORE: Home insurance policy types
What is trace and access insurance cover?
Trace and access refers to tracing and accessing where a potential leak is coming from. It's usually part of a home insurance and buildings policy.
While some leaks are easy to spot thanks to water pouring from a pipe, others can be harder to detect. The first signs that something might be amiss could be:
a damp patch on a wall or floor that indicate water is leaking somewhere

you might smell gas that indicates gas a potential gas leak
Whatever the type of leak, you don't want to ignore it and hope it'll go away, especially when it could lead to far worse problems down the line. Plus, if you have a water meter and have an undetected leak, you could be paying much more for your water bills than you should be.
READ MORE: Burst pipes and stop taps
Trace and access costs
When a leak occurs in pipework that's hidden behind walls, floors or ceilings, investigating the exact source can be very disruptive. Flooring might need to be taken up to allow access to under the floorboards and it can be an expensive process to go through.
As a homeowner who has plenty of other bills to pay, the last thing you want are unexpected costs and disruption to your daily life.
That's why having trace and access cover can be beneficial, as it will help pay for any investigations needed to find the source of leaks and any repairs needed to fix the damage that has been caused. Without it, it'll be up to you to fund the costs.
READ MORE: How to calculate the rebuild cost of your home
Is trace and access covered on policies as standard?
While some insurance policies include trace and access as a standard element, not all do. The amount you're insured for can vary too.
As it's a useful service to have, it's well worth checking to see if your policy includes it and how much you're covered for. If your insurance policy doesn't cover trace and access, you'd be responsible for paying the full cost of any investigations that are required. You'd also need to cover the costs for fixing or repairing the problem.
READ MORE: What is buildings insurance?
What happens if a leak is suspected?
If you suspect you could have a leak and need help finding out where it's coming from, the first port of call is to phone a plumber or engineer. They'll be able to assess the problem, look for the source of the leak and advise on any work that needs to be carried out.
Unless it's an emergency situation, it's a good idea to check whether or not your insurance company prefer you to call them first. As part of their policies, some companies prefer to supply you with an approved plumber or engineer to carry out any work.
If you need to remove a floor or sink to get at the pipes behind, your insurance company are likely to only pay for anything that is deemed necessary.
This means they won't pay up if they think more work than necessary has been carried out. For example, if you have a sink removed in your kitchen, but the workman also took out some kitchen cupboards, your insurance company may not pay for the cost of having new cupboards put back in.
READ MORE: Monthly maintenance checks for your home
Who's responsible for gas, sewage and underground pipes?
If underground services such as gas, water, sewage or cable pipes run across your private land, then you're responsible for them. If there are pipes under your drive or garden that also serve the needs of your neighbours, then every property owner concerned has a joint responsibility for them.
If your trace and access insurance policy covers the cost of repairing any pipes too, this will help significantly if any problem occurs. Be aware that sometimes policies will cover any accidental damage that occurs to pipes, but not always. So always check the terms carefully before you take out your policy.
Like other insurance policies, trace and access cover comes with specific terms and conditions. But as long as you're aware of what it covers and how it can be used, it can be a very useful and cost-effective policy to have when any unexpected leaks occur in your home.
READ MORE: Excess explained - compulsory vs voluntary