From saving for a deposit and finding a home to making an offer and getting a mortgage we look at everything you need to know in our step-by-step guide to buying a house.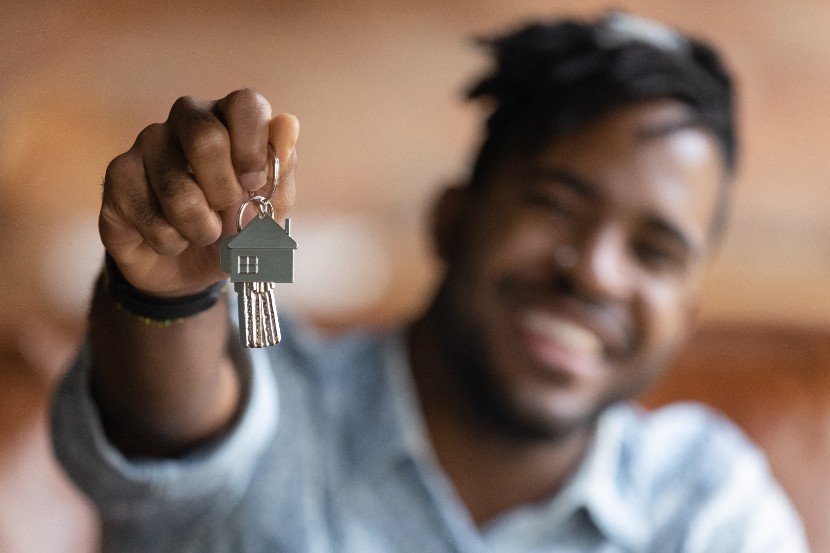 Should I buy or rent?
One of the first things to look at when it comes to buying your first house is whether it would be better for you to buy or rent.
There are pros and cons with each option and your decision might ultimately come down to your financial situation.
If you're able to buy a property, you have a deposit and you can afford the mortgage payments, it's generally a less expensive option.
Not only are mortgage costs usually cheaper than paying rent, you're also paying into a property you own, instead of paying someone else to live there.
Buying a house also tends to provide more stability. You're not at risk of having to move out if the landlord decides they want to sell the place.
However, renting could be a sensible option in some cases.
Your personal situation might also mean you're not able to buy a property.
If you have a poor credit score or debts to pay back and you're unable to get an affordable mortgage it might not be the right time. In this case it could be worth renting until you're in a better financial position to buy.
Other reasons for renting instead of buying could be if you're about to move jobs, or location, and don't want to commit to a big financial tie such as a mortgage.
For more help on deciding, see our guide: Should I rent or buy?
What is stamp duty?
An important part of buying a house is stamp duty. This is a land tax you pay on your home. The more valuable your house is, the more stamp duty you pay.
In England and Northern Ireland, its full name is Stamp Duty Land Tax.
In Wales it's known as land transaction tax.
In Scotland it's known as land and buildings transaction tax.
Changes to stamp duty tax
The Chancellor of the Exchequer, Rishi Sunak, bought in a temporary stamp duty holiday last year, and it ended on 30 June 2021, after being extended once in March.
This meant that In England and Northern Ireland, stamp duty only applied to properties worth more than £500,000.
In Wales, properties under £250,000 were exempt and in Scotland, the tax didn't apply to buildings worth less than £145,000.
After the June deadline, it was reduced to £250,000 until 30 September. From 1 October, the usual stamp duty threshold of £125,000 should return.
The stamp duty holiday doesn't apply to second homes.
What house can I afford?
Before you start looking at houses, book in an appointment with a mortgage adviser.
They should look at details including your income and profession, and give you an idea of what you might be able to afford.
You might need to bring the following to the meeting:
Proof of your identity such as a driving licence or passport

Details of your current address, such as a bill dated within the last three months

Your payslips from the last three months and your last P60

The amount owed in debt, such as credit cards, personal loans or car finance

Your usual incomings and outgoings, plus any outstanding financial commitments

If you're freelance, details of your last three tax returns.
You can search for an adviser online, such as through a website like unbiased.co.uk, although it could also be worth getting recommendations from people you know.
Before you book your meeting, check what fees are applied by the adviser if you do take a mortgage out with them.
On average, you could expect to borrow around four times the amount of your income, or combined income if you're buying with another person. You choose the length of time the mortgage lasts for, but the average is 25 years.
You also usually need to put down between 10 and 20% of the property price as a deposit. However, there are some mortgages now offering loans to those with a 5%. These are sometimes called 95% mortgages.
The amount you pay back each month depends on:

The deposit you have
The length of the mortgage
The provider you choose
The interest rates set by the mortgage provider.
For more information, check out our guide on how much you can afford.
Saving for a deposit
Buying your first home is all about saving for a deposit and this could be the biggest barrier stopping more people from buying.
This is because it's hard to save for a deposit while paying rent at the same time.
There are lots of ways in which people save for house deposits, and many people are given money by family members to help them get onto the property ladder.
However, saving in the right way, could help you to reach your goal sooner.
This includes putting your savings into an account that pays interest, and taking advantage of tax breaks such as with an ISA.
Whatever account you open, keep an eye on how long you'll be paid interest for as with some this rate could drop off after a year.
Also look at how easy it is to access the money. If you can put the money away for a longer period, you might benefit from a higher interest rate.
The amount of money you can put away depends on your income and outgoings.
One way to track these is to make a strict budget and stick to it where possible. Anything you have left at the end of the month could then go into an interest-paying account.
How to buy a house
You've probably already started to think about where you want to buy and the kind of property you're after. But how do you actually go about finding and buying a house?
Browsing online estate agents like Zoopla make it easier to look for houses. They should also give you an idea of the sort of price you may pay.
Aside from the cost, there are lots of other factors to consider such as:
What the surrounding area is

How long your work commute would be
What the local nightlife is like
Once you've sussed this out, you can start browsing.
Look out for these features when reading the description of the house:

Floor plans

The age of the house

Storage space

Energy efficiency rating

Double glazing

If it's in a conservation area or it is a listed building

.
For more tips, check out our guide on how to view a property.
You should get an idea of how much space you have in the property and get a rough handle on running costs.
It could also be worth looking to see if there are any local planning permission applications in place. If a giant supermarket is about to be built you'll want to know about it before you buy a property.
For more information, you can read our guide on how to find the perfect home.
Getting a mortgage – agreement in principle
There are two main types of mortgage, an interest-only mortgage or a repayment mortgage.
The more traditional type is a repayment mortgage and when you take one out, you essentially pay back the amount you've borrowed, with interest.
If it's an interest-only mortgage, you only repay the interest costs. Then at the end of the mortgage term you pay a lump sum amount for the full cost of the property.
Before you start viewing potential houses, it could be worth asking for a mortgage agreement in principle.
This is a mortgage estimate which should give you an example of what you can afford to borrow and how much you might repay each month.
The viewing
It's time to start viewing properties! Here are some basic tips to follow:

Bring someone with you

Photograph everything

Turn up early

Feel the walls to check for any cracks

Use your nose to sniff out any damp

Prepare questions for the seller or estate agent.
Estate agents: make them an offer they can't refuse
When you've found your perfect home, you now need to finalise the mortgage with your lender to pay for the house.
We have more tips in our guide on how to make an offer on a property.
First ring the estate agent and make them an offer. If they accept then you're set. But remember, nothing is final at this point.
If they don't accept, you might have to go back to the drawing board and reassess your finances.
You should already have your mortgage in principle, but to finish the application you might need the following:
Proof of ID, eg passport or driving licence

Proof of current address, eg council tax or utility bill
Last three months' worth of payslips, or your last three tax returns if you're self employed
Your most recent P60
Details of any credit commitments, eg credit card statements, student loans or overdrafts.
Once they accept, you should get a written contract entitled 'Subject to survey and contract'.
Surveys and conveyancing
Conveyancing is the process of transferring the ownership of the property from one person to another. Your solicitor should be qualified in conveyancing. It usually involves the following:
Acting as the middle person between you, the mortgage lender and the seller
Looking over any contracts that pass between you
Dealing with the Land Registry
Sorting out stamp duty
Transferring money during a sale
Checking for structural risks such as subsidence.
You might also need a survey to highlight any structural issues. The main types of surveys are the following:
Valuation only
Homebuyers report
Building survey
The lender should carry out a survey to make sure it's a sound investment.
But it could also be worth organising for a company to do this for you, so you can independently make sure the house is structurally sound.
For more information see our guide to stamp duty, surveys, and conveyancing.
Exchanging contracts
It's almost time to move in and complete buying your first home! The lender has approved the mortgage, the solicitor is happy with the survey, and the seller can hand over the deeds.
There's only contract signing to do now and paying your deposit.
Both you and the seller both sign the contract to say you're the legal owner of the house. Then each person's solicitor signs and swap contracts, and you then all sign each other's contracts.
We have detailed tips and information in our guide to exchanging contracts.
Making sure you have home insurance
Your lender is likely to insist on you buying home insurance and it might be a requirement of your mortgage.
Although It's not a legal requirement, it should provide you with peace of mind against issues like flooding, theft, or damage.
Buildings insurance protects the property while contents insurance covers everything inside it.
If a mortgage lender insists on home insurance cover, it's likely that they just want buildings insurance as a minimum.
You could also add personal possessions cover to your policy, for a small extra fee, so your contents are protected when they're out of the home.
Remember you don't have to get insurance through your lender. Shop around, compare home insurance policies and see what works best for you.
Time to move in
It's all done and it's time to pack your bags, move in, and start planning the house-warming party!
You've worked hard for this, so check out our moving house checklist how to move house with minimal fuss.