More than a third (37%) of Brits have been a victim of burglary, according to our research.* As well as the emotional toil a burglary can take, it's can also be stressful going over the incident with the police and claiming on your home insurance policy. Our 14 simple security tips could help avoid all that and protect your home from burglars.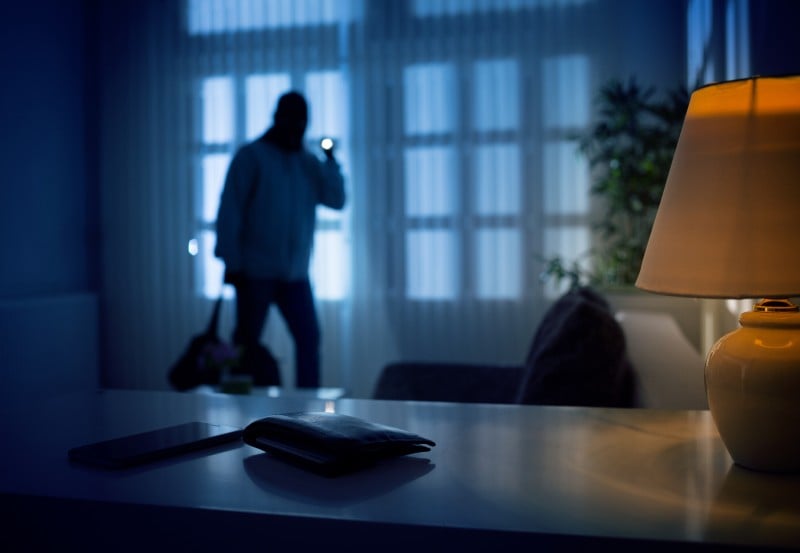 1. Get a prickly hedgerow
According to Crimestoppers a prickly hedgerow can deter burglars from trying to burgle your home.

The charity says that it's worth installing different sized hedges in the front and rear of your home if you can.

At the front, go for a smaller hedge. This means there's nowhere for thieves to hide if they're trying to break into your home. Crimestoppers recommend around 1 metre for the front hedge.

At the rear of the property go for a 1.8 metre hedge. This should make it hard for burglars to gain access to your home and also make it harder for them to escape - particularly if it's dense and prickly.

Mick Duthie, Director of Operations at Crimestoppers says:
"A high front hedge gives [criminals] cover while they're in a property or garden, and a low rear hedge gives them easy access to escape out the back.
"It's not just the height of your hedge that can put off burglars. We recommend keeping all hedges thick, prickly and dense to further deter intruders. This is particularly effective for back hedges, as a robust hedge can block the escape of thieves who attempt to exit via the back garden."

John Blackstaff, Plant Nursery Manager at the John Lewis Partnership's Leckford Estate says:

"There are plenty of hedge species that provide additional security without compromising the appearance of your garden.
"I recommend Pyracantha, Firethorn - an evergreen, vigorous and thorny plant, as its name suggests.
"A Holly bush is also a good traditional evergreen whose prickly leaves will ward off intruders. For something a bit brighter, try Rose Glow, which has lovely copper and pink leaves, or Blackthorn, which blossoms in spring. Both can act as impenetrable yet stylish barriers."
Be mindful that any hedges need to be less than 2 metres in height to avoid potential
neighbour disputes.
2. Secure your doors
Keep your doors locked, even when you're home. Something as simple as locking up could be enough to protect your home from an opportunistic thief looking for an easy score.
3. Replace the locks
Always ensure that your door locks meet the standards set by your home insurance company. If you've just moved into your home it makes sense to change the locks.

After all, you've no idea how many people - from tradespeople to neighbours - could have copies of your keys.
Alternatively, you might want to consider upgrading to 'smart keys'. You can update smart keys using a simple re-keying process. This makes it easier whenever a key is lost or you want to change the lock.
4. Store your keys safely
Always keep your keys away from your front door. Thieves might hook these through the letterbox and let themselves in.
Our research shows that around 1 in 4 people leave their keys either in or near their door.
This goes for your car keys too. Criminals are opportunistic, so if there's a chance to steal your car they'll probably take it. If you have a keyless car, keep the fob away from the door in a locked steel box or faraday pouch to block its keyless signal.
Some thieves can use devices to hack keyless relay technology and make off with your car.
5. Regularly change alarm codes
Almost a third (30%) of Brits have a burglar alarm installed in their house. It's an effective form of home security but how often do you change the code?
Security experts suggest you change it twice a year at least, and whenever you feel it might have been compromised.
6. Invest in smart home security
Smart home tech could be an easy, affordable option if you want to beef up your home security.

You can hook your outdoor lights to your Wi-Fi and automate when they come on. And a smart doorbell camera lets you know who's lurking outside without you needing to go near the door.

Many of these gadgets are self-install, so you don't need to worry about getting someone in to sort it for you.
Compare home insurance quotes
7. Close and lock your windows
There's little point in installing the best lock on your front door, or investing in smart home security if you leave your windows open.

Unlocked or open windows are not only a gift to opportunistic burglars but they could also invalidate your home insurance.

This is one to double check in the summer months when you're more likely to leave a window open by accident.
8. Check your home's exterior for vulnerabilities
Stand in front of your house and look at it through the eyes of a burglar: are there any obvious hiding spots? Also think about the clues you might be leaving about your wealth and valuable items you might own.

Windows allow thieves to see straight into your home. Remove any high-value items from near the window so thieves can't take inventory by peering in.

Also be mindful of what's visible in your bins, for example TV boxes or medications, so you don't advertise what's inside.


9. Leave an indoor light on
Light suggests that you're home, even if you aren't. However, don't leave a light on that grants thieves a prime view of your new TV.

If you're away on holiday, it's worth considering using timers to switch your lights on and off. Or get a trusted neighbour to switch lights on and off for you.
10. Install outdoor lighting
Darkness provides cover for burglars, so consider installing some outside lighting.

Motion sensors could switch them on if someone is approaching your home and put thieves under the spotlight.
11. Lock down your WiFi network
Your possessions aren't the only thing thieves are after. Your personal and financial information are also valuable commodities and your WiFi network provides the perfect gateway to them.

If you use smart home devices, cracking your WiFi network could also give IT savvy thieves access to your home.

You can protect your WiFI network in a number of ways, for example:
Securing wireless routers
Using firewalls
Ensuring you have anti-virus and anti-malware protection
It's also vital to ensure you have strong passwords on all your tech so thieves can't get into your laptop or phone if they steal it.
12. Keep where and when you're going away to yourself
If you're going away, be careful who you tell.

Letting a trusted neighbour know so they can keep an eye on things might be worth it. But telling the whole street might not.

Avoid letting it be known on social media that the house is going to be empty. That includes checking in at holiday destinations on Facebook and posting poolside selfies on Instagram while you're away.

The same applies for telling people when you're expecting a plumber or electrician. A thief could pose as a worker to gain access to your home without suspicion.
13. Get a safe
Any important documents could be used by a thief to steal your identity. That includes passports, birth certificates and insurance documents.

Also, anything with great value - sentimental or otherwise - might be better off in a secure place.

A strong home safe could give these items extra protection from both theft and fire.

Make sure you secure the safe itself by bolting it to the floor, for example, or it might become easy pickings.
14. Make sure your garage and outbuildings are secure
Securing garages, sheds and outbuildings should be another priority if you're heading out.
Often your garage leads to the house too, so make sure you lock your garage door and any doors leading from the garage into your home.
Your first line of defence could be your car. Make sure to park this directly in front of the garage so it's not easy to gain entry to the garage.
For your shed or outbuildings, it's worth anchoring them to the ground or to the wall if you can. Then once they're anchored, use a strong padlock to secure them.
For more tips, read our guide on
securing and insuring your shed, garage or outbuildings
.
What to do if you're a victim of burglary
These next tips aren't going to prevent a burglary, but they could help you out if you're a victim of one:
Get a robust contents insurance policy that covers your items if they're stolen.
Mark your items with UV ink. Use a UV pen to write your name and address on electrical and computer equipment. If it's stolen and the police recover it, you might be able to get it back.
Register important items with the police. You can register certain possessions using Immobilise, a police database. This helps keep track of stolen possessions e.g. if a thief tries to sell it on.
For more information, read our guide on what to do if you get burgled.
*Unless stated otherwise, all figures are taken from omnibus research carried out by One Poll on behalf of Confused.com. This was an online poll of 2,000 UK homeowners and renters (nationally representative sample). The research was conducted between 4 and 6 May 2021.