Maintaining your home is important. It identifies issues before major repairs are needed and helps preserve your property's value.
It's easy to overlook nagging issues. But, you might regret not investigating whether that damp patch is being caused by dodgy roof tiles when the ceiling suddenly collapses. And then you're left making a home emergency claim.
Keeping on top of routine maintenance doesn't have to be gruelling. A few simple checks at different times of the year is all it takes.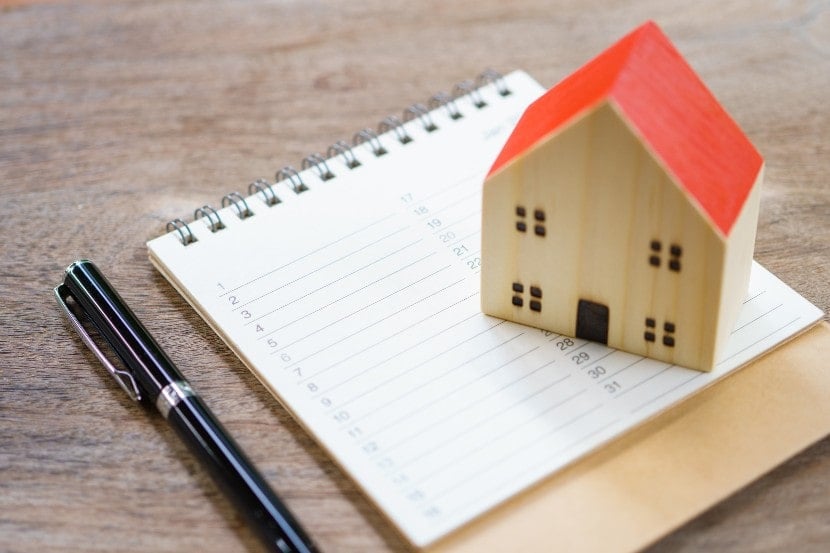 Monthly home maintenance checklist
Let's start with some routine maintenance.
These can obviously be carried out at any time but it's worth carrying out these checks at least once a month.
Make sure your smoke alarms and carbon monoxide detectors are working
This is the most important maintenance task on your list.
You should test your smoke alarms and carbon monoxide detectors at least once a month to make sure they're in good working order.
Ideally, test them every week.
This is vital. You're at least 4 times more likely to die in a house fire if there are no working smoke alarms, according to the Royal Berkshire Fire and Rescue Service.
Carbon monoxide poisoning is caused by faulty gas appliances and systems.
It's referred to as a silent killer as it can't be seen, heard, smelt or tasted, according to the Royal Society for the Prevention of Accidents.
Boiler checks
Keep an eye on your boiler to make sure it's working correctly and that you're not having to constantly increase water pressure.
You should have your boiler serviced annually, according to the Chartered Institute of Plumbing and Heating Engineering.
Regular maintenance minimises the risk of your boiler breaking down and could help extend its lifespan.
This should save you money in the long run.
You might also consider installing a smart thermostat as these can give you better control over your heating and alert you to any problems.
Our guide on the best boilers could help you choose a new one if it's time to send yours to boiler heaven.
Water leaks
Water leaks can be identified by devices that send a message to your smartphone.
They're clipped near your stop tap and constantly monitor the system.
Visual home maintenance checks inside the property
Take a walk around your home and go into each room. Keep your eye out for the following:
Damp
Walk around and check the walls and ceilings for signs of damp.
Damp can ruin your decor, damage your furniture, and cause health problems so it's important to spot and fix any damp patches.
Locks
Have a look at the windowsills, and make sure the locks are working correctly.
Some windows have a key for the locks, so check the keys are working and that the window properly shuts.
Damage
Check the skirting boards for signs of damage.
Make sure door handles are secure, and investigate any recently creaking floorboards.
Bathroom
Have a look at the grouting on tiles in the bathroom, and silicone around the edges of the bath, for any signs of wear.
If so, this could soon start to let in water.
Paint
What's the paintwork like? Is it in good condition or are there signs of decay?
Subsidence
How about the walls themselves? Have you noticed a crack suddenly appearing?
If so, it could be a sign of subsidence and needs to be checked out by a professional.
Condensation
Keep an eye out for condensation.
It might not seem a big deal but letting it fester can lead to a variety of health issues.
Visual home maintenance checks outside the property
Have a look at the outside of your property. Doing so may prevent you having to make a buildings insurance claim further down the line.
Gutters
Are the gutters in good shape or blocked and overflowing? How about the fascia boards? Do they need replacing?
Pipes
Are there any unexplained damp patches underneath external pipes? If so, there could be a hairline crack that needs repairing.
Also check the outside drains to make sure they've not become blocked.
It's easy for them to get filled with all manner of rubbish over the course of a year.
Also, periodically lift the manhole cover to make sure everything is flowing away as it should.
Brickwork
Every now and then, check your brickwork.
Look for any erosion or missing pointing in the joints. It's worth filling these as the damage could continue to get worse.
Garden maintenance
A beautiful garden can quickly transform into an overgrown jungle. This can give the impression that your entire property is unloved.
Not looking after your garden also means your grass, and plants, may eventually die.
Giving shrubs room to grow and face the sunlight is important for their health.
Fertilising your soil every few months helps keep it at its best. Also, sweeping up berries or fallen fruit should reduce your chances of attracting rats.
Then there are the safety aspects. Making sure pathways aren't broken and there aren't any dangerous broken pots or glasses should help protect people.
Fences
Keep an eye on trees and plants to make sure they're not breaking through fences or overhanging your neighbour's property. You wouldn't want to cause an unnecessary neighbour dispute.
Fences are particularly vulnerable, especially if they've been standing for years. If your fence isn't maintained and looking worse for wear, and breaks down from a storm, then your insurer isn't likely to cover this.
Repair or replace panels that've become broken.
Shed
You also need to look at your outbuildings. If the felt on your shed roof has disintegrated it could let in water and damage any items inside.
And if you've bought new garden furniture or expensive equipment, it might be worth investing in extra security. This should help to keep your shed or outbuildings secure.
This is especially important if you've invested time and money in your garden over the last few years.
Maintaining an older home
It can be particularly important to carry out regular maintenance on older homes.
Historic England advice
Historic England suggests identifying weak points and anticipating where problems may occur.
For example, you may decide you need professional advice and commission a condition survey of your home.
It's also worth considering what rules and regulations apply if your home is listed or in a conservation area.
Seasonal home maintenance checks
There are also specific checks that should be carried out at certain times of the year.
You can also book in time to revisit your home insurance, especially accidental damage cover.
Compare home insurance quotes
Spring home maintenance
The days are getting longer, the weather slightly warmer.
Everyone is feeling more enthusiastic about getting their homes and gardens looking their best.
Give the decking a lick of paint
Refresh the decking. They're hugely popular these days but the wood can look tired after a few years.
Jet wash grime
Use a power washer to get rid of the grime and consider freshening it up with a decking stain.
Clean all windows
Let the light shine in. Give your windows a thorough clean, inside and out, and check the frames for any early tell-tale signs of rot.
Check for winter damage
General appraisal. It's also a good idea to check your entire property for any signs of winter-related damage.
Check the loft
Check in the loft, and while you're up there, consider getting rid of a load of boxes that you probably won't have opened for decades.
Summer home maintenance
You may want to spend the hot summer days enjoying your garden rather than working in it.
But it's the perfect time to cast a critical eye.
Replace the fence
Replace fence panels and posts while the good weather is with us. Also take the opportunity to tidy up pathways around your property.
External painting
If you need to do any external painting then now's the time.
You want to get some coats in before the evening temperature starts to drop, and when it's less likely to pour with rain.
Check for climbing plants
Carry out any repointing work that you've identified. Make sure climbing plants aren't taking a complete grip of your house.
Clean garden furniture and barbeque
Give your garden furniture a jet wash and get out the barbeque.
If it's looking a bit worse for wear then treat it to a scrub down with some vinegar and bicarbonate of soda.
Autumn home maintenance
Insulate your pipes
As the weather starts to get colder, it's worth making sure you have lagging around external pipes so they don't freeze.
Service your boiler
If you haven't already done so, then make sure you book a central heating service to make sure everything is working correctly before the winter sets in.
Service your radiators
Check your radiators to make sure they're heating correctly.
If they're not, then get them bled again to ensure an even spread of heat.
Insulate the loft
You might want to consider other projects as well, such as insulating your loft.
Stopping heat escaping out of the roof is a way to save on energy costs.
Check your loft pipes
You can also take the opportunity to check the pipework in the loft is properly insulated.
Sweep your chimney
If you have a chimney then you can get that swept and your flue checked.
This is the pipe that takes away waste gases from the fireplace.
Winter home maintenance
The winter weather can be ferocious.
Gale force winds and heavy storms batter our properties for months so it's important to make sure they're resilient.
Examine the roof for damage
Look for any missing or broken roof tiles and pay attention to the chimney breast to ensure it's in good shape.
Check your gutters
If they're blocked, then the water might come cascading down your brickwork, causing further problems.
Crop overhanging trees
Cut back overhanging trees. Any unstable looking branches need to be removed before high winds have a chance to put them through the conservatory roof!
Read our guide on preparing your home for winter for more tips.
Trusted trades
Keep a list of different tradespeople for hire.
One of the best ways to compile this list is through recommendation.
You never know when you need a reliable plumber, electrician or general handyperson. Having names and numbers handy can help you avoid making poor choices.
Maintenance schedule
When you see something that needs doing, jot it down in your notepad.
This maintenance logbook will act as a useful reminder of when you took on certain projects.
It can also help you keep to a maintenance schedule.