When you apply for a home insurance policy, insurers ask what lock types you have on any outside doors or patio windows you have.
In some cases, having a greater level of security could mean you get a discount off your normal premium.
On the flip side, not having the right locks could result in you needing to pay more to insure your home.
Don't forget that having the best locks is just the start – you also need to make sure you use them. If you are burgled and your property wasn't properly locked you may not be able to make a home insurance claim.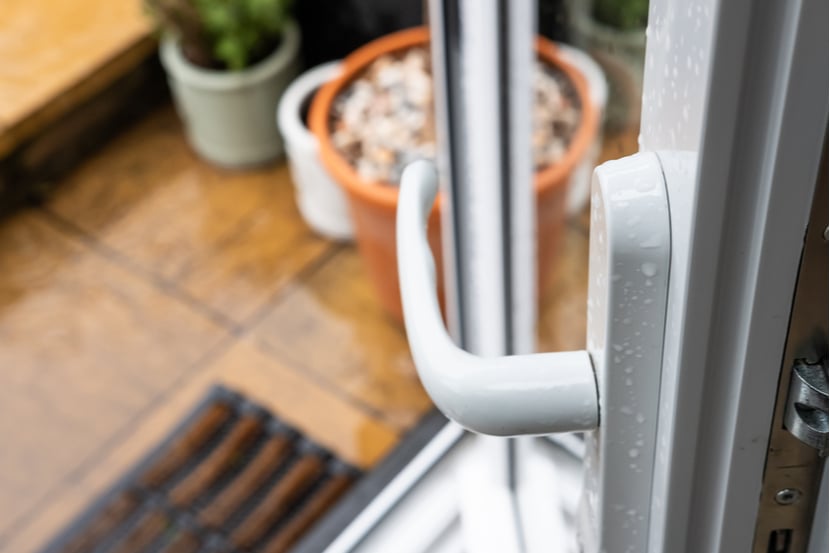 This article contains affiliate links. If you buy any products via these links, we may earn a small commission at no cost to you.
Why do I need to know what type of patio door lock I have?
During your home insurance application, you'll be asked what kind of locks you have on your sliding patio doors.
This helps insurance providers assess your property's security levels.
Let's take a look at how you spot each of the different patio door lock types.
What type of patio door locks are there?
There are three main types of patio door lock. If you don't have any of these, choose 'other lock type' when you get a quote – and consider upgrading your home security.
Central rail key-operated lock
This is a multi-point locking system that's fitted to the central rail where the doors overlap. It's got a long, slim lock fitting.
A central rail key-operated lock offers greater security than basic locks and could give you a discount on the cost of your home insurance.
Secures the door at multiple points
Not as secure as a key operated multi-point locking system
Key-operated multi-point locking system
This is a rim-locking system that bolts the patio door into the frame at multiple points. With one turn of the key all points will lock simultaneously. It offers an even higher level of security than central rail key-operated locks.
With up to five locking points it's harder for intruders to force the door.
Only needs one key cylinder
Cylinders easy to upgrade or change
To properly secure the door, the handle must be raised and double locked
The process might be fiddly for those who are unfamiliar with the door and its locking mechanism. Most new patio door suppliers include either of these locks with their products as standard. In addition to cheaper home insurance these secure locks should also give you greater peace of mind.
Check prices for Key-operated multi-point locking systems at Wickes
Top and bottom key-operated lock
This is the most basic type of patio door lock. As the name suggests, you'll notice these locks because they bolt into the top and bottom of the frame.
As these locks aren't as secure as central rail operated locks and key-operated multi-point locking systems, they're unlikely to get you a discount on your home insurance. If you have these types of locks, it's worth considering an upgrade to boost your security.
Tends to be a cheaper option than the more robust patio door locks
The door is likely to be weaker in the middle, leaving it vulnerable to a break in
Check prices for Top and bottom key-operated locks at Wickes
What else can I do to reduce my home insurance costs?
Having robust locks on your doors and windows is one way you can make your home more secure. And having a secure house could mean cheaper insurance costs.
But if you're still looking for more ways to bring the price down, here are a few tips:
Compare home insurance quotes
For more information, check out our guide on how to cut your home insurance costs.