If you're looking to save money on your home insurance, it's a good idea to get the right locks fitted.
This article contains affiliate links. If you buy any products via these links, we may earn a small commission at no cost to you.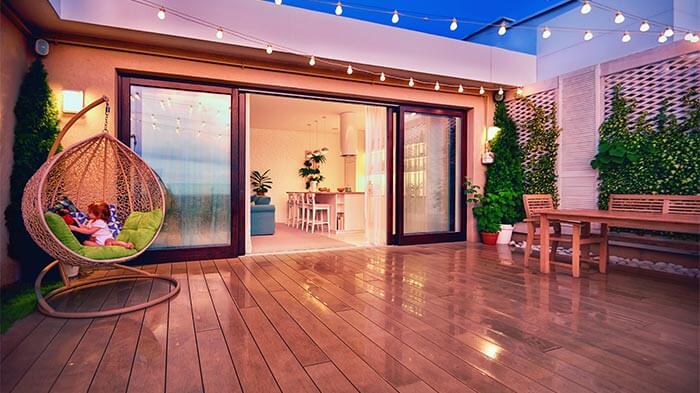 When applying for a home insurance policy, insurers will ask what lock types you have on any outside doors or patio windows.
In some cases, having a greater level of security could see you get a discount off your normal premium.
On the flip side, not having the right locks can result in the cost of cover increasing.
Don't forget that having the best locks is just the start – you need to make sure you use them. Otherwise you risk having any payout denied should you make a home insurance claim.
Compare home insurance quotes
What type of lock is on my patio door?
During your home insurance application, you'll be asked what kind of locks you have on your sliding patio doors. This'll help providers assess your property's security levels.
We'll go into how you spot each of the different types below.
Types of patio door locks
There are three main types of patio door lock. If you don't have any of these, choose 'other lock type' when you get a quote – and consider getting your security upgraded.
Central rail key-operated lock
This is a multi-point locking system that's fitted to the central rail where the doors overlap.
It offers greater security than basic locks and could give you a discount on the cost of your home insurance.
Key-operated multi-point locking system
This is a rim-locking system that bolts the patio door into the frame at multiple points. It offers an even higher level of security than the previous door locks.
Most new patio door suppliers include these locks with their products as standard. As these tend to be the most secure, you could see a discount of your premiums as well as giving you extra peace of mind.
Check prices for Key-operated multi-point locking systems at Wickes
Top and bottom key-operated lock
This is the most basic patio door lock. This has at least three locking points that all lock at the same time when you turn the key.
As the name suggests, you'll notice these locks because they bolt into the top and bottom of the frame.
Relying on this level of security is less likely to let you benefit from any discount on your premiums.
Check prices for Top and bottom key-operated locks at Wickes
What else can I do to reduce my home insurance costs?
Having robust locks on your doors and windows is one way you can make your home more secure. And having a secure house could mean cheaper insurance costs.
But if you're still looking for more ways to bring the price down, here are a few tips:
For more information, check out our guide on how to cut your home insurance costs.