How to rent: a complete guide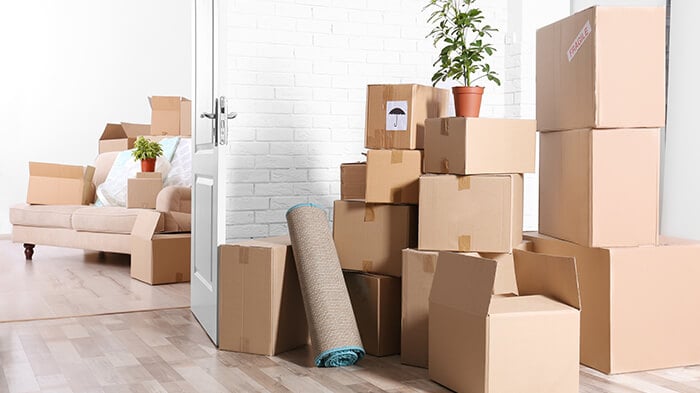 If it's time to move out and you don't know where to start, read on.
You're thinking about renting for the first time.
For some, this could be a daunting prospect. You've probably heard stories of landlords from hell or mould-ridden rooms not fit for human habitation.
But renting isn't always like that. Especially if you know what you're looking for.
From property searching to the final stages, here's what you need to know.
What's in this guide?
I want to rent a property, where do I start?
The first thing to consider is your budget.
Add up your monthly outgoings – what you've got left could give you a good indication on what you can afford to rent.
Remember, you'll have to pay gas, electricity, council tax, water and internet costs on top of that. Unless it's included in the rental price.
You can look at what you'll realistically be able to afford each month and ask yourself some questions like, "Do I need a housemate?" Or, "Will I save on living costs if I move out of the town centre?"
Then you should think about how long you want to rent for. The minimum term is 6 months.
Once you've answered these questions you can start looking into different kinds of housing. For example: a flat, a room in shared accommodation, or a house.
Websites like Rightmove or Zoopla are a good place to start. Or you can contact a lettings agency and see what they have on offer.
I've found a place I want to rent, what now?
You've found your ideal place, so you can start making enquiries.
Contact the lettings agency or landlord that's advertising the property and book a viewing.
It's always best to view before you rent. That way you're not in for any nasty shocks when you move in.
Some good questions to ask the agent or landlord are:
How much does it cost to rent?

What's included in the rent?

What additional bills are there? How are they split if I'm sharing?

How much is the deposit and how will it be protected?

How long is the contract?

If I want to leave the house, how much notice should I give?

Who do I contact in an emergency?

Has the landlord got insurance?

Do I need tenant's insurance?
What should I look for in an area?
This depends on your needs. Are you happy to commute? Or would you rather live closer to your place of work?
You might want a bustling night life or maybe you're after a rural escape.
Security is a big factor when choosing a place to live too. And some areas have higher crime rates than others.
You can check crime rates in certain areas on the police.uk website.
After you've booked your viewing, it's a good idea to look at the area around the property.
You'll get a feel for the neighbourhood, and be able to see if it's close to everything you need. For example, shops, public transport, transport routes or a local pub.
What should I look for in a rental property?
Before you put your deposit down you should check a few things first.
If anything in the property burns raw fuel – like coal or wood – there should be a carbon monoxide alarm.
Is it damp? Feel the walls and give it a good sniff. If the walls feel crunchy and you smell a damp, musty smell, ask the estate agent.
Ask about heating. Has the landlord got an adequate Energy Performance Certificate (EPC)?
Check the water and heating system, do they work?
Ask to see a gas safety certificate. This shows that all the gas appliances have been safety checked.
Is there somewhere you can switch the gas and water off in an emergency? Are all the electricals in good working order?
Look for any structural damage. If there's anything bothering you, ask the landlord or estate agent to give you more information.
It's worth asking when the recycling and refuse collection is too.
Why do I need a reference for renting?
Once you've agreed to rent the property, the landlord or agency will want to confirm that you are who you say you are. They'll also want to make sure you can pay your rent each month.
This is where referencing comes in.
They'll check your employer, income, previous addresses, and your bank account details.
You'll need to provide a driving licence and passport for everyone who wants to live at the property. And proof that you lived at your previous address, like a utility or tax bill.
What if there's a problem with my reference?
Sometimes there can be issues with referencing. For example, if you're a student and you don't have regular income. Or if you're renting for the first time.
One way around this is a guarantor. This is someone who will agree to pay your rent if you can't cover it.
A guarantor also covers any costs for damage to the property at the end of the rental term too.
What if I don't have a guarantor?
There are schemes available if you don't have a guarantor.
One option is a landlord's agreement. This is where you pay up to a year's worth of rent upfront.
If you're not able to do this, some local councils will help cover the cost of a deposit or rental advance.
They may even offer to act as a guarantor and cover rental costs if you can't make a payment.
You can find out more on these schemes at Shelter.
Why do I need to pay a deposit?
The controversial deposit.
You've probably heard stories about disputes over these, but they can usually be avoided.
They're used to cover the cost of damage to the property. They're not used to cover general wear and tear though.
Keep an eye out for any other charges. In 2019, the tenant fees act was introduced to stop any unfair rental charges.
Here's the list of some of the things you can be charged for:
Rent.

A tenancy deposit. This should be no more than 5 weeks rent if the yearly rental cost is less than £50,000. Or 6 weeks rent if the yearly rental cost is above £50,000.

A holding deposit to reserve your house - should be a week's rent and refundable.

A payment capped at £50 for any change to the rental contract.

Ending your tenancy early could mean a charge.

Payments for utilities, internet, TV licencing and council tax.

A fee for late rent payment or for replacing lost keys or security devices.
You can find more information on this at GOV.UK.
You shouldn't receive a charge for things like house viewing or adding a guarantor.
What is a tenancy agreement?
This is the contract between you and your landlord.
It sets out certain rights between you both. Like your right to live in the house and their right to take rent payments from you.
It's important that you have one of these, as it sets out your statutory rights. You can find more information on tenancy agreements at GOV.UK.
READ MORE: Landlord and tenant responsibilities in rental properties
Is there anything else I should look out for?
There are a few credentials you should check before renting direct through a landlord or with a letting agency.
Letting agency
It's a legal requirement for a letting agency to be part of an independent redress scheme.
The scheme provides fair resolutions if there are any disagreements between the tenant and the agency.
There are two schemes available, the property ombudsman and the property readdress scheme.
You should be able to find whether your letting agent is part of a scheme on the property ombudsman website.
Landlord
The National Residential Landlord's Association (NRLA) has launched an accreditation scheme so landlords look after their tenants and properties.
If landlords are part of the scheme, they'll usually display an NRLA certificate on their website. You can find out more about the scheme on the NRLA website.
You can also check your landlord's credentials on rent profile, a scheme launched to prevent rental fraud.
Now you're all set, why not consider tenant's insurance? It'll protect your belongings from any mishaps and give you peace of mind.