Risk is all important when it comes to home insurance. When insurers calculate your home insurance quote, the price will usually reflect the level of risk they think your home is carrying.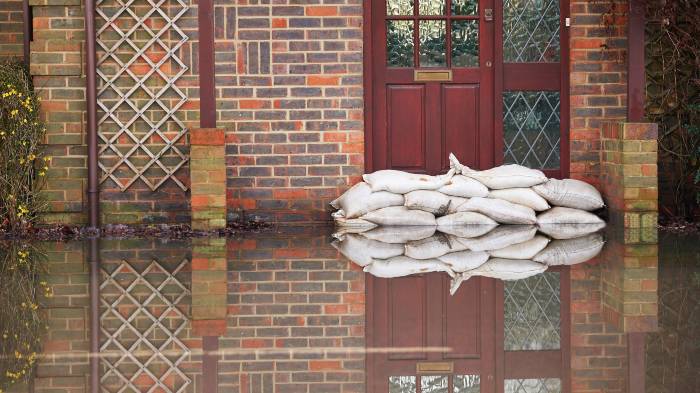 For example, a greater risk of flooding, subsidence or coastal erosion can all affect your premium.
Climate change means some of the risks posed by the environment may well get worse over the coming years – there is however action underway to mitigate this.
If you live in an area where there's a high crime rate, you could pay more. But you might be able to reduce some of the risk yourself by taking certain steps.
Insurers also see higher risk attached to homes built with non-standard materials, but specialist insurers can usually help.
Coastal erosion: can you claim for landslip?
Certain areas along England's east and south coasts are especially vulnerable to landslip, with the ground gradually crumbling away or eroding where the sea hits the shoreline.
Landslip in coastal areas can be both extremely costly and dangerous, with homes even falling into the sea. Buildings insurance will usually cover landslip.
That said, if you live in a coastal area or near downward sloping ground then it's particularly important to check the wording of your home insurance policy. That way you'll know whether you're covered.
You might be tempted not to disclose coastal erosion to keep premiums down, but it's usually best to be upfront with insurers.
Fixing any damage - or replacing your home entirely - could be much more than the insurance cost. Your claim could also be voided by the insurer if it turns out you haven't been honest.
It's wise to tell your insurer about any landslide damage as soon as possible.
The government's Environment Agency has previously forecast that thousands of properties around England and Wales will fall into the sea over the long term.
However, the good news is that over the past several years the government has been putting in place substantial measures to mitigate coastal erosion. Including the construction of sea walls and embankments.
Subsidence insurance: can you claim for subsidence?
Subsidence is when the ground below your home sinks and the property's foundations are pulled down with it.
The phenomenon tends to happen when the ground shrinks because moisture has been lost. With subsidence commonly linked to dry spells, many scientists expect the problem to get worse with global warming.
Subsidence may also be caused by trees and shrubs as these can absorb substantial quantities of water. Other causes of subsidence include the collapse of disused underground mines.
The clay-rich soil of South-East England can be particularly susceptible to subsidence as clay has high water content.
Prolonged, hot weather combined with water-absorbing trees and plants can result in acute shrinking in soil volume. This pulls the foundations of homes down as the ground subsides.
Clay soils are also more susceptible to heave – the opposite of subsidence. Heave is when increased moisture levels cause the ground to expand below a house, pushing the foundations upwards.
Most home insurance policies that include buildings cover will pay out in the event of subsidence or heave for structural work on your home.
However, policies typically cover the cost of repair rather than work to prevent the phenomenon reoccurring in the future.
It's critical to act quickly if you suspect subsidence or heave is happening, so you can mitigate the damage.
Thick cracks in walls are typical signs, especially if they are visible both internally and externally. Cracks caused by heave are often vertical, while subsidence cracks are commonly diagonal.
In extreme cases, the cost of repairs can be higher than the maximum amount the house is insured for.
Once work on repairs for subsidence has begun, insurers are generally expected to continue them, even when the policy's maximum amount has been reached.
However, if the home is viewed as being beyond economic repair, insurers may decide not to attempt repair.
They might instead offer customers a cash settlement to reflect the reduction in the property's value.
In other words, the difference between what the property will now sell at versus the value before the subsidence damage occurred.
If you're looking to buy a home that's suffered from subsidence in the past, speak to your insurer first.
You should have a full structural survey done on the house to find out how and when the issue was sorted out.
For properties that have the subsidence problem fixed – using a process known as underpinning – go to a specialist insurer.
Compare home insurance quotes
Flood risk insurance: can you claim for flooding?
Flood risk has become more prominent over the years in the UK and across Europe due to more extreme weather. Scientists believe flood risk is getting worse due to climate change.
Coastal, riverside and floodplain areas are especially at risk, though surface water flooding has also become more of a concern.
This is where flash flooding is caused by high demand on the drainage system. You can use the GOV.UK website to better understand the flood risk in your local area.
For some time, the government has been trying to reduce the impact of flooding on residential areas through measures such as building flood defences and storage reservoirs.
Your home insurance should cover flood damage, with most policies including some form of flood insurance. Buildings insurance usually provides cover against the damage caused to the structure of your home by flood.
Contents insurance usually covers damage/loss to the contents of your home. Most policies combining buildings and contents insurance might also provide some cover for temporary accommodation should your home be flooded.
Flooding is one of the worst things you could possibly experience in your home, but it's important to make sure you submit your insurance claim as quickly as possible.
You should take photos of the damage that's been caused to both the structure of your house and its contents. You'll have to make a detailed inventory for claims on home contents insurance.
It's a good idea to note down your electricity meter reading too. This'll help you make a claim for the operating costs of commercial dryers that may be used to dry out your home.
Your home insurance premium could be higher if you live in an area with elevated flood risk.
However, the Flood Re scheme was introduced to make cover more widely available and affordable in areas at higher risk of floods. This initiative between the government and insurers means you should still be able to arrange home cover even if your house has a history of flooding.
The Association of British Insurers gives tips on making insurance claims in the event of a flood. It explains how your insurance company should respond in an emergency situation where your home has been flooded.
High crime rate: how does it affect home insurance?
Crime rates are just one of the factors that insurers consider when setting your home insurance premium.
If you live somewhere with a high crime rate, your premiums may be higher because your home will be at greater risk of burglary.
However, you can lower your home insurance premium and reduce the risk of someone breaking in by making your house more secure.
Fitting good quality locks is a good starting point. Install a five-lever mortice lock on your front door. For your patio doors, a multi-point locking system is preferred, while window locks are sometimes favoured.
Putting an alarm in can also generally reduce risk and give you peace of mind. The latest burglar alarms will contact you through your mobile phone if they're triggered.
There are also a variety of other home security devices available to monitor both the inside and outside of your home. Such devices can include features like high-quality video recording, night vision, motion detection and two-way audio recording.
You can look at crimes in your local area using this interactive map from Police.uk.
Non-standard building materials: how do they affect home insurance?
Insuring homes built with non-standard materials can be more expensive and more difficult to find than houses of standard construction. With non-standard homes, risks and costs of repair are viewed as less predictable.
Non-standard homes may be less sturdy than those of standard construction. This could be because outdated materials such as asbestos have been used.
If you have a listed building with a thatched roof and timber frame, you may pay more for insurance as it's more flammable than bricks and mortar.
Non-standard home repairs are often pricier, taking longer than standard homes. You may also have to hire a specialist tradesperson – this also tends to be the case with ongoing maintenance.
As a general rule, any house that's not made from brick or stone with tile or slate roofing will be considered non-standard.
There are in fact numerous types of non-standard homes, including:
Pre-fabricated houses
Concrete
Listed buildings
Thatched roof
Steel or timber-framed houses
Wattle and daub
Insurers will consider the structure of your home, and what materials it's made from when deciding your premium.
Insuring a non-standard home such as a listed or heritage property is a specialist area, so you may need specialist cover, such as listed building insurance.
If you're looking to insure a listed or heritage property, Historic England has some useful tips.