Insurance for homes in high risk areas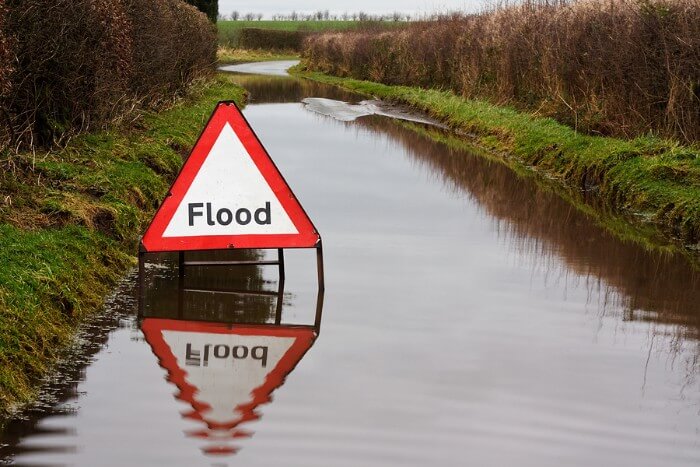 If your home is in a risky area, like near a flood plain or the coast, it could affect your insurance premium. You may even need specialist insurance. Here's what you need to know.
When an insurer provides you with a home insurance quote, the price is based on the amount of risk that your home carries.
For example, if you live somewhere with a high crime rate, your premiums may be higher because your home will be more at risk of burglary.
Other environmental factors affect your premium too, like proximity to water and trees
With so many factors to consider, getting the right cover is a confusing thought for homeowners.
Here are some examples of homes that might be considered high risk, and what you should do from an insurance perspective.
Coastal erosion
Homes near the coast could be prone to coastal erosion. This is when the sea hits the shoreline and it gradually crumbles away or erodes.
A sobering statistic from the Environmental Agency states that 7,000 homes worth more than £1bn will fall into the sea within this century. For more information on this, take a look at our living on the edge campaign.
On a year by year basis, the time frame for erosion varies. Some years the damage can be massive, in other years it may not change at all.
For houses built near the coast, erosion can cause subsidence or - at its most extreme- the land under the building can fall away in to the sea, known as landslip.
Luckily the government have measures to try to prevent damage to homes at risk of coastal erosion by putting sea walls and embankments in place.
Also, If you're worried about coastal erosion in your area you can check if there's any action being taken on the government website.
When taking out insurance, make sure you're covered by thoroughly checking your policy wording.
When it comes to renewal, it might be tempting not to disclose coastal erosion to reduce premiums, especially if there hasn't been much damage that year.
But fixing any damage - or replacing your home entirely - will be much more than the insurance cost. Also, if you make a claim and it turns out you hadn't been honest their your insurer, they could void the claim.
You should tell your insurer about any landslide damage as soon as possible.
Flooding
Some areas in the UK are more at risk of flooding than others. For example, Cumbria is prone to flooding as it's near a flood plain.
Although a worrying thought, the government has put in measures to reduce the impact of flooding on residential areas. Some of the measures include:
building flood and coastal defences

flood storage reservoirs

land management

portable defences
In the past, insuring your home against flooding was expensive. But since 2000, the government has worked with insurers to improve flood risk insurance.
In response to this, Flood Re was introduced. The scheme makes flood risk insurance more affordable and widely available as part of your home insurance.
READ MORE: Is your home covered against storm damage?
Subsidence and heave
Subsidence usually happens when the ground that your home is built on shifts and can't hold the building's foundations anymore.
This causes the walls to crack and sag. The clay-rich soil of South-East England can be particularly susceptible to this.
You can also experience subsidence if your home is built near a mine or close to large trees.
Heave is the opposite. This is when the ground swells upwards beneath the building, causing the foundations to distort.
A house might experience heave if a tree is removed, causing a sudden influx of water under the foundations.
You can get insurance to cover subsidence and heave, but only if you notify your insurer when you first notice the problem.
If you're looking to buy a home that's suffered from subsidence in the past, speak to your insurance company before you buy the property.
You should have a full structural survey done on the house to find out how and when it was fixed.
For properties that have the subsidence problem fixed - known as underpinning - you can speak to a specialist insurer.
For more information, check out our guide on subsidence.
READ MORE: Subsidence insurance
High crime rate
In some areas of the UK, having your home broken into is more of a risk. If you live in an area like this, it's a good idea to invest in extra security.
For example, having a burglar alarm, window and door locks, and CCTV fitted could reduce your premiums as criminals are less likely to target a secure home.
You can look at crimes in your local area using this interactive map from Police.UK
READ MORE: Cover for high value items explained
Non-standard construction
Insurers will consider the structure of the home, and what materials it's made from when deciding your premium.
Any use of non-standard materials could affect your premium. For example, if you have a listed building with a thatched roof and timber frame, you may pay more for insurance as its more flammable than bricks and mortar.
Insuring a listed or heritage property is a specialist area, so when researching home insurance, you should look for a properly qualified insurer. Historic England has some useful tips on this.
For general guidance on living in listed building Historic England's website is worth a visit. For example, they recently conducted an investigation into methods to prevent fires happening in homes with thatched roofs.