Are you getting work done on your property? Take a look at our top tips to help things run smoothly.
Hiring a builder or another tradesperson could be a tricky task.
You could of course attempt any work yourself. But some DIY jobs are trickier than others, and you might need to tell your insurance provider about some DIY work too.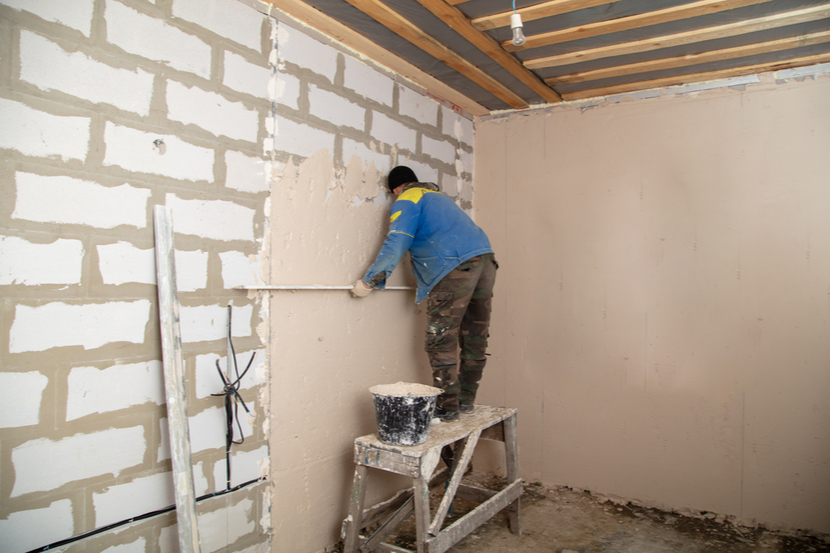 You want someone who'll get the job done to a high standard at a fair price. And that's difficult to work out from a short advert.
So where do you start if you want to find a tradesperson?
1. Finding a tradesperson to hire
Getting recommendations from family and friends is usually a good place to start, or you could try looking on sites such as TrustATrader, Checkatrade, MyBuilder and RatedPeople.
But it's still important to trust your instincts and do your own checks when you hire a builder.
It's also worth looking for tradespeople who belong to trade associations approved by the government-endorsed TrustMark scheme.
Alternatively, you could speak to your local authority about assured-trader schemes managed by Trading Standards teams.
2. Getting quotes from tradespeople
When you find a tradesperson who looks as though they fit the bill, don't immediately give them the work. Try to get at least three quotes from different firms to compare.
Always ask for references, too. If you can, ask to see examples of their work or try talking to previous customers.
Don't accept an estimate when discussing the cost – always insist on a written quote before you hire a builder. This should include an on-site assessment of the job, as well as the cost of labour and materials.
Once you've accepted a quote, ask for a written contract covering the work itself, the price, and the start and finish dates.
For your peace of mind, you could always draw up your own contract.
Some insurers might help you draw up a small-scale building contract, which will state costs, timescales and any penalties for not delivering the work.
3. Check that everything's insured
Even with the most experienced and skilled contractor, things can go wrong.
Check that they have their own public liability insurance in case they cause any damage to your home.
You'll also need to check your own home insurance policy to make sure everything is covered.
It's not just about the work itself. If your home is more accessible while work is taking place, there's a greater risk of a break-in.
The same applies if the property is uninhabited while the work is being done.
If you have to take action against a rogue trader, legal cover could help you foot the bill.
So, it could be worth considering adding this extra protection to your home insurance policy if you don't already have it.
Legal expenses cover could also help you if a tradesperson takes action against you for an incident involving your property.
If you're having building work carried out, you might have to let your insurer know about this so that you don't invalidate your policy.
This is especially true if you're away from home while the work is being done.
Compare home insurance quotes
4.How to pay a tradesperson
When it comes to how to pay, a builder or other tradesperson might ask you to pay a deposit upfront. This is fairly common, but don't ever pay the whole bill at the outset.
Less reliable tradespeople are known to ask for upfront cash payments, so be careful.
Work out a suitable stage payment plan that both you and the builder are happy with.
It's always best to pay for segments of work once they're completed. That way, you can check the standard before parting with your money.
Even if you've already agreed an overall price, sometimes things can crop up that mean paying out a little more than you first agreed.
This is especially true in a post-pandemic world. The cost of materials has risen dramatically as demand has risen and there's a global shortage of labour.
To make sure you're not getting overcharged, make sure that all labour and material costs are documented.
Ask for VAT invoices, get a signed receipt for every payment you make, and keep all the paperwork for your records.
If possible, pay by credit card. This could provide extra protection if someone breaches a contract or if a firm goes bust.
Paying a tradesperson by bank transfer is another option, but take care if you are doing it this way. Ask for the invoice to be given to you personally rather than via email. Scammers can send rogue emails purporting to be from a tradesperson or builder. So, having a physical invoice handed to you gives you reassurance that it is genuine.
And ask the recipient to confirm that the money is in their account. If it is a large bill, you could send a nominal sum as a trial run, and then send the balance once receipt has been confirmed.
Be wary of tradespeople who try to set a daily rate rather than a fixed rate for the whole job. This might sometimes be an incentive for the job to overrun.
5. Check the quality of the work
Before you make any final payment, make sure you're satisfied the work has been carried out properly and that it meets the terms of the contract.
It's unlikely that your home insurance will cover you for any damage caused to your home as a result of shoddy work or faulty materials. So, make sure that all the work is done to a high standard.
6. Can I refuse to pay a tradesperson?
If the work is not done as agreed or is of a poor quality, you should raise this with the tradesperson as soon as you notice it.
If it isn't put right, you can ask for a full or partial refund or, if you haven't yet paid, ask for a discount.
Make it clear that you know you have consumer rights.
Failure to pay can end up in a civil court, so make sure you keep all evidence, including photographs, correspondence and contemporaneous notes, in case they are needed