Follow our baby-proofing tips to create a safe space for your little ones.

This article contains affiliate links. If you buy any products via these links, we may earn a small commission at no cost to you.
On average, babies start crawling – or shuffling on their bottoms! – between seven and 10 months.
Once they're mobile, exploring will be your child's main priority. So it's important to create a safe space. That way they can have some independence without you worrying about them too much.
It's a daunting task to keep every room in your home secure. Here are our top tips to keep the process simple and your child safe.
Compare home insurance quotes
0-6 months
In the first couple of months, cuddling, feeding and sleeping will be your baby's main focus. They might start sitting up at around five months but every baby is different.
Although your baby won't be moving much during this time, there are still some things that can put your baby at risk:
In the cot
Tiny babies can't move much, so there's risk of suffocation if bedding covers their face.
Also, babies can't regulate their temperature. Too much bedding could mean they overheat.
To stop them getting too hot, place your baby on their back with their feet at the foot of the cot. Tuck the blanket across their chest and under their arms.
Until they reach the age of one, remove all bumpers, cushions, toys and soft, fluffy bedding in their cot.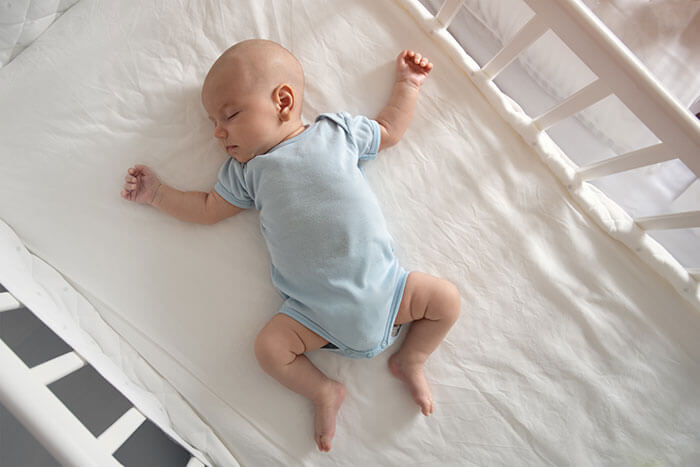 Babies movement
Babies develop at different rates, but usually they'll be able to wriggle and kick at the four to five-month mark. They may even start to grab at things.
So, leaving them on a sofa, changing table or raised surface is not a good idea, even if it's only for a second.
Don't leave them if they're in a bouncing cradle or in their car seat as they could shuffle off the surface.
Tidy away any small objects that your baby could grab as they could be a choking hazard.
Bath time
A sobering statistic from the NHS says that a baby can drown in as little as 5 cm (2 inches) of water. It's one of the most common causes of child death in the UK.
Keeping watch is key. Stay with your baby during bath time. If you're using a bath seat, remember, it's not a safety device. You should still be there while your baby is having a bath.
Remember to check the temperature with your elbow before they get in to prevent scalding.
6 months to 2 years
During the six to 18-month period your baby will start to become more coordinated. They'll soon be able to sit up and respond to the world around them. Your baby will start crawling and walking too.
The rapid changes in your baby's life brings more baby-proofing challenges.
All the tips above still apply, but there are a few more things to think about:
Entrances and stairways
Most parents know about safety gates. Putting them at the top and bottom of the stairs will stop your child trying to climb them.
The government offers funding for safety products like this. Check with your local council for more information.
Over time safety gates can become loose. Do regular checks to make sure they don't fall and injure your child.
Gaps between banisters are also a risk. If they're more than 6.5 cm wide (2.5 inches), your child could climb through. You can solve this by covering gaps with boards or safety netting.
You can also buy guards that stop doors from fully closing, saving little hands from getting trapped.
Remove these at night though. If you're unlucky enough to have a fire, keeping the doors shut will reduce the chances of it spreading.
Check prices for safety gates on Amazon
Furniture and windows
There are a couple of risks that come with furniture, like sharp pointy edges. Any curious cot warrior might see them as good climbing frames too.
Luckily, corner protectors can prevent serious head bumps.
Always stop your child from climbing furniture. But to be on the safe side, anchor furniture to the floor to stop it toppling over. Secure lamps, mirrors and TV's too.
Before you anchor any furniture, check its position. If a piece of furniture is near a window your child could climb it and open the window.
Speaking of windows, fit locks or safety catches to stop them opening more than 6.5 cm (2.5 inches). And remember where the keys are in case of fire.
READ MORE: Types of locks explained
Grabbing
At around the 18-month stage, your little adventurer will want to grab at anything.
This could be particularly dangerous if the object of their affection is a cup of tea or a pan of hot water.
If there's a long cord or cable you should tuck it away and out of reach. Make sure to check electrical appliance cables, blind cords and even dressing gown ties.
Keep hot drinks out of reach and put pans towards the back of the stove with handles facing away from you too.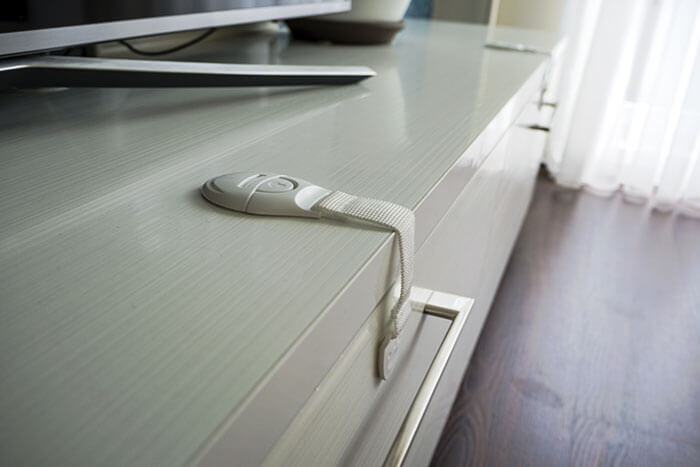 2 years and beyond
By now, your home will be a secure fortress. But at this age your child will be taller, quicker and more curious than ever before.
The previous tips apply, but there are a couple more things you need to think about:
In the garden
A safe garden means your child can play in nature without you having to worry.
Make sure your fences are secure, so they can't get through any gaps to a neighbouring garden. If you have a pond, fence it off or cover it.
Always watch your child if they're in a paddling pool. Drain it and put it away when you're not using it.
Teach your child which plants are poisonous. And if they want to pick and eat anything, make sure they check with an adult. The Royal Horticultural Society has some great advice.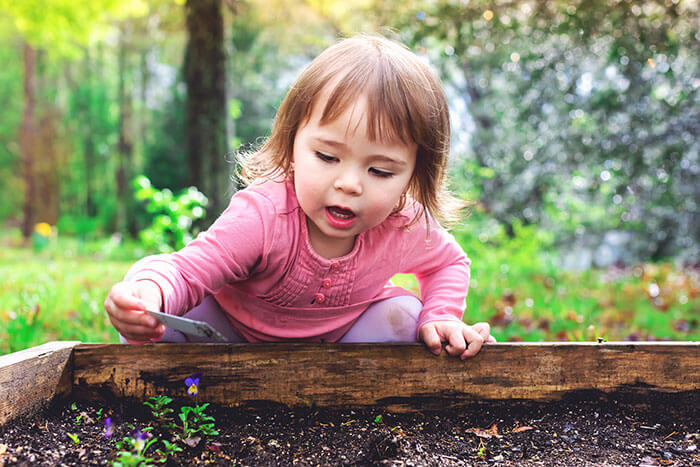 Cleaning products and medicines
The NHS say that medicines are the cause of over 70% of hospital admissions for poisoning in under 5's. Painkillers like paracetamol and ibuprofen are the main culprits.
Remember that child-resistant packaging is not child-proof. It only slows children down.
Keep anything that could poison your child – like cleaning products, laundry tablets or medicine – out of reach. Put them up high in a locked cupboard, or, if you don't have cupboards with locks, in a locked container.
Check prices for baby-proof cupboard locks on Amazon
Plug socket safety
Plug sockets have always been a safety concern for parents. But they're actually very difficult to get a shock from.
By law, plugs must have safety shutters that stop children getting shocked. In fact, socket safety covers that go into the plug can make it 'live', increasing the chances of a shock.
Remember though, don't let your child use plugs or electrical items until they're old enough to use them safely.
READ MORE: How to buy near good schools
Confused.com is a participant in the Amazon EU Associates Program, an affiliate advertising program designed to provide a means for sites to earn commission incomes by advertising and linking to Amazon.co.uk.