Where are the UK's noisiest neighbourhoods? When it comes to choosing the perfect place to live, there are a lot of factors that need to be considered.
COVID-19 has seen us spending more time in our homes than ever before. With noise levels being an important factor for people wanting to concentrate when working from home, watch their favourite TV series, and get a good night's sleep, what neighbourhoods in the UK prove to be the hardest to do this due to noise levels?
We've analysed Freedom of Information data across UK local authorities in the UK's 100 biggest cities and London boroughs to find out the number of noise complaints in the last 12 months, and compared this to the number of households. London tops the list as the UKs noisiest city of all with 515 complaints per 10,000 households.
We've also conducted a survey to 2,000 Brits to find out what people think about their neighbours and what they are likely to complain about.
What types of noise pollution is there in different cities
Noise in a city can come from a variety of things, from construction work taking place to road traffic noise. Here are some of the most common types of noise you can experience in a city: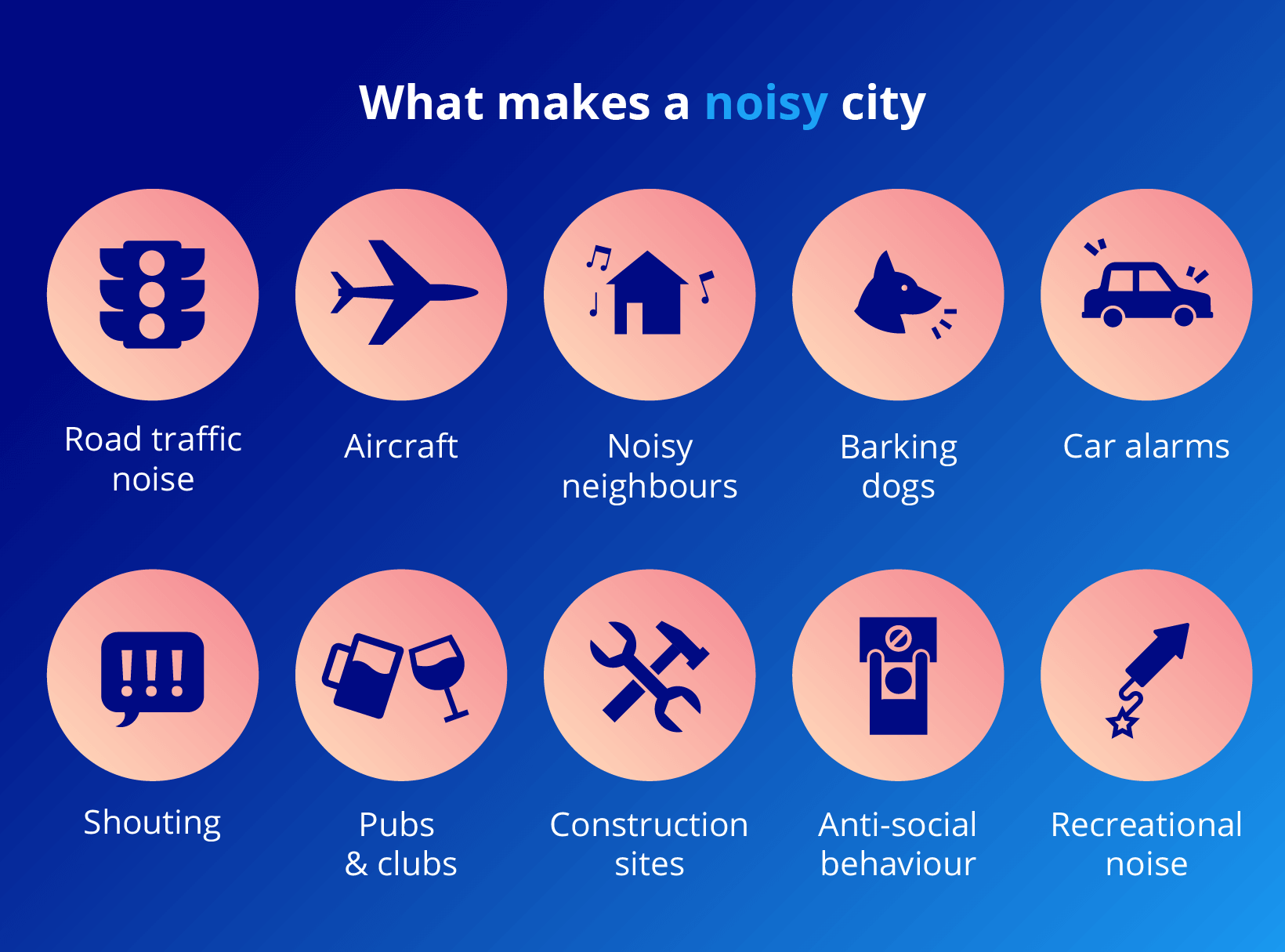 Living in the city you are exposed to many types of noise pollution. But what type of noise are more likely to get on your neighbour's nerves? We surveyed over 2,000 people across the UK to determine the five types of noisy people complain about most.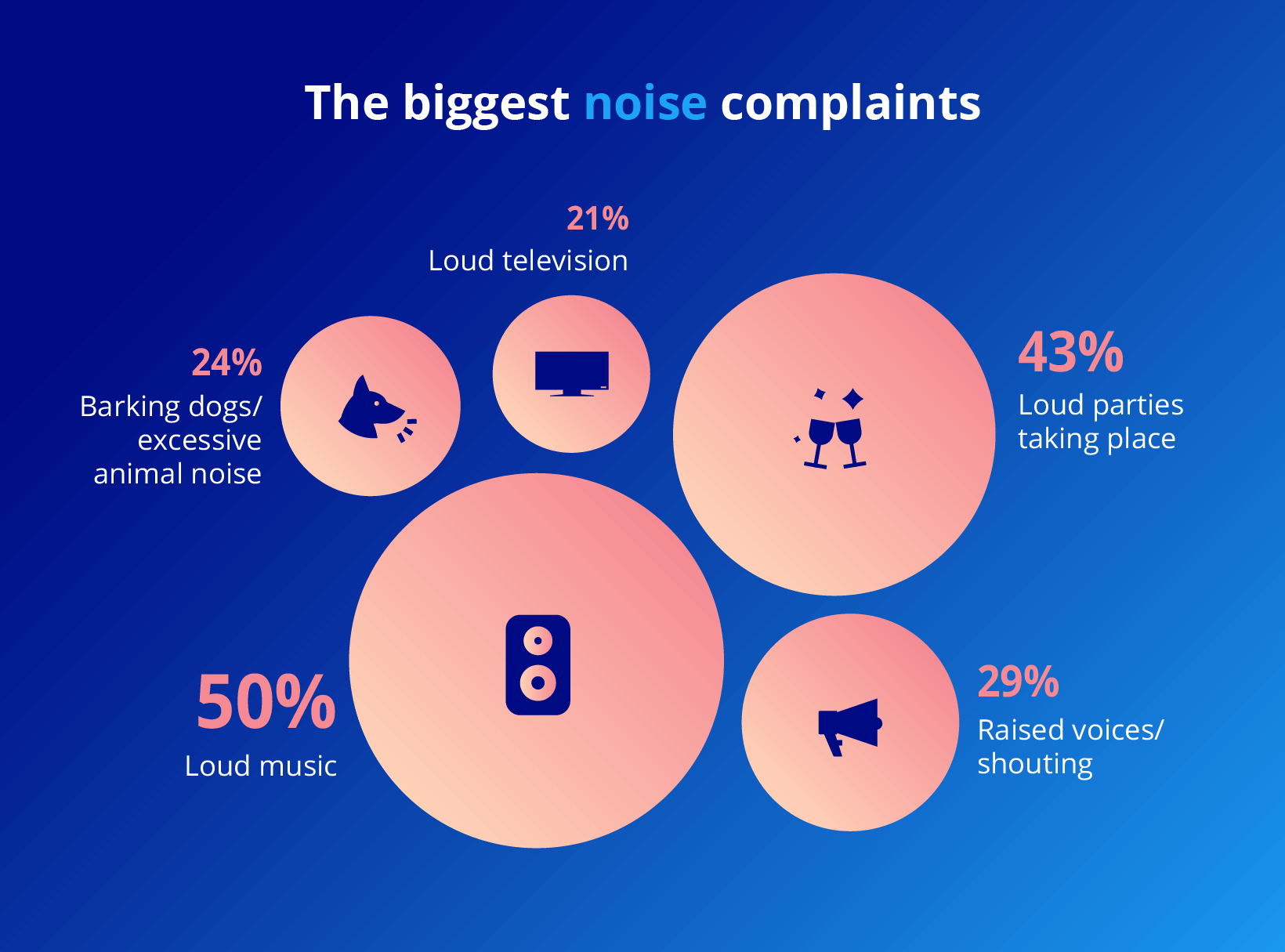 The UK's noisiest cities
Unsurprisingly with its staggering population, and hustle and bustle, London ranks as the UK's noisiest city. But which other cities outside of the capital hold the noisiest neighbours?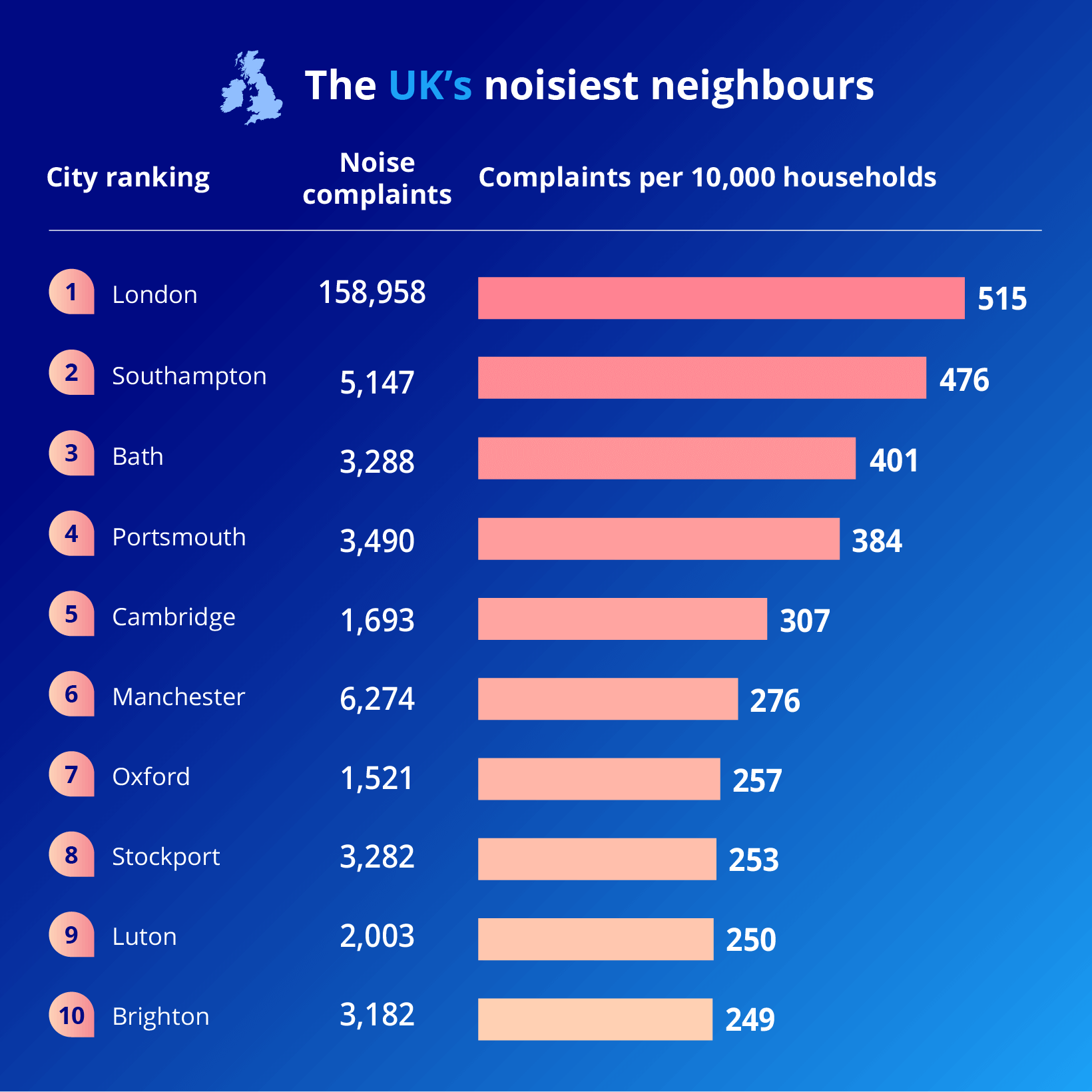 If you're looking to move to a new area in the UK, taking a look at noise complaints might be the deciding factor, particularly where we are now spending a considerably larger amount of time in our homes. No cities in Wales, Scotland or Northern Ireland featured in the top 10 noisiest neighbourhoods, however Swansea, and Belfast both have the highest complaints in their region at a total of 4,756 and 3,890 over the last 12 months.
London boroughs noisiest neighbourhoods
Over the last 12 months, London has seen over 150,000 noise complaints across all its boroughs. Here are the top 10 noisiest boroughs to live in: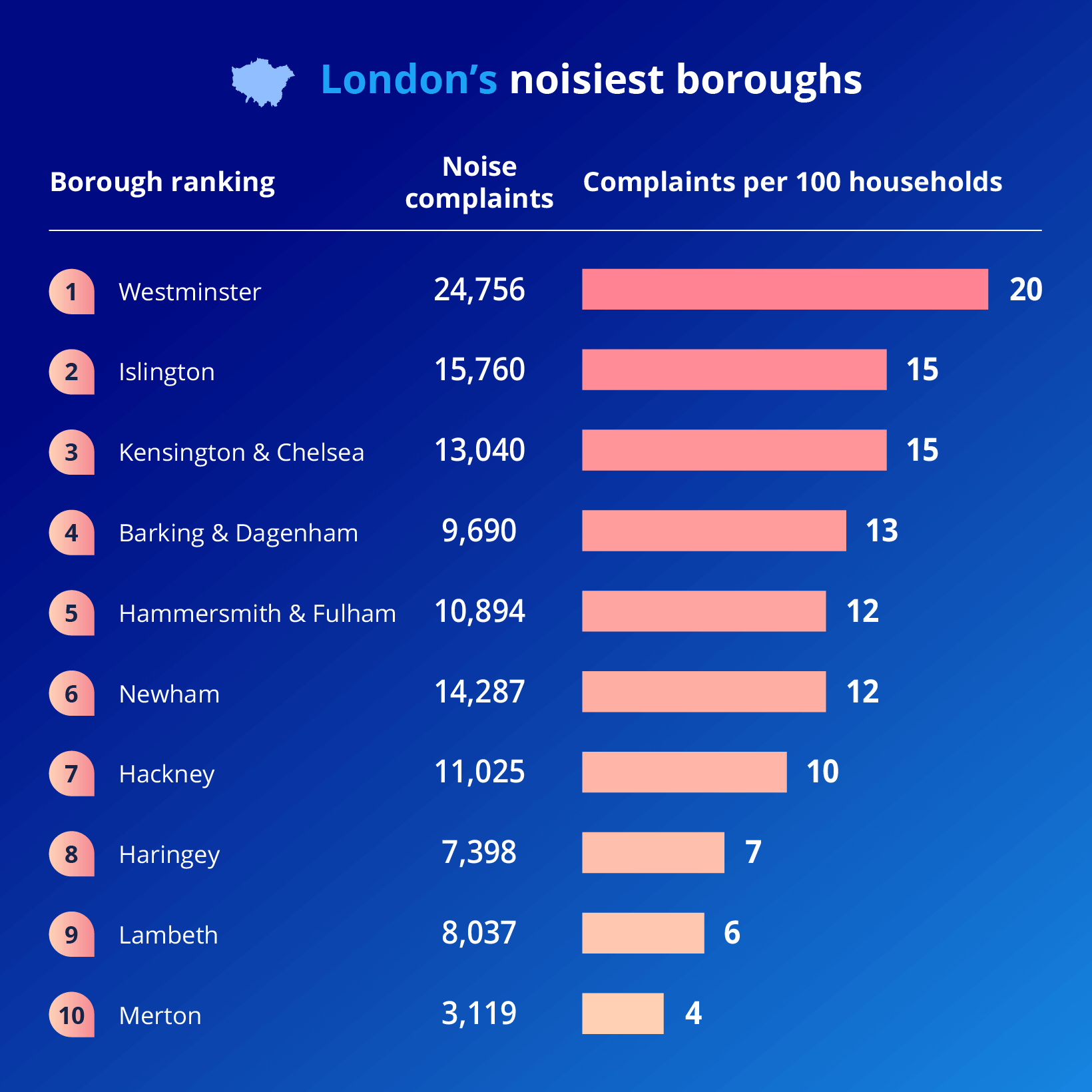 What do Brits think about their neighbours?
We all want to get along with our neighbours but we may sometimes face noise problems or even antisocial behaviour. So how are the issues handled between households? Do people maintain good relations with their next-door neighbour and do they even care about having a relationship at all? These statements reveal the state of minds of many British residents: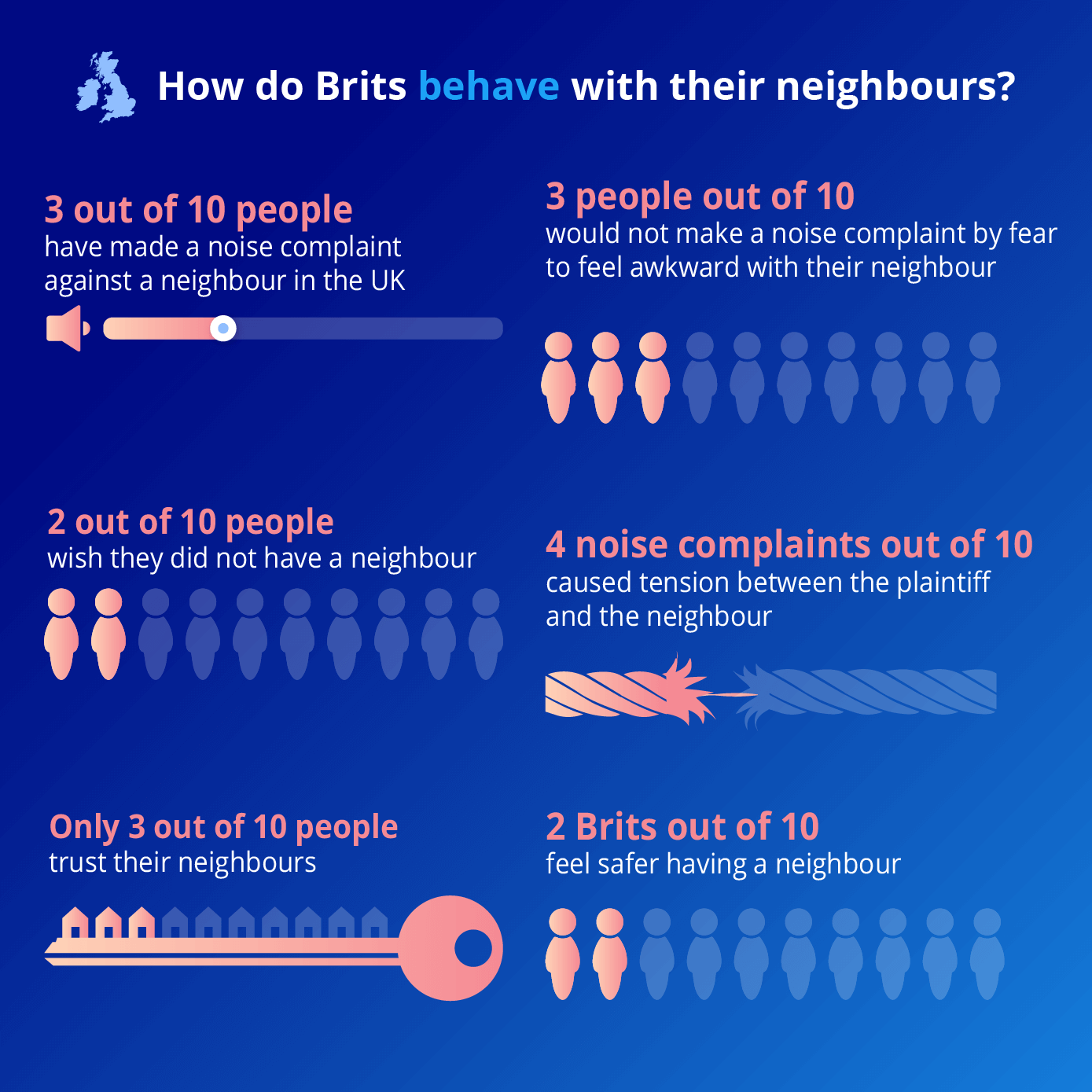 For more information on how to resolve disputes with your neighbour check out our guide
Sources & Methodology
Unless otherwise stated, all figures taken from omnibus research carried out by OnePoll on behalf of Confused.com. This was an online poll of 2,000 UK adults (nationally representative sample). The research was conducted between 04/11/2020 - 06/11/2020.
1. Freedom of Information Data - Confused.com issued an FOI request to local councils across the UK for the top 100 populated cities, (https://www.thegeographist.com/uk-cities-population-1000/) of which 70 responded with information, asking for the following information: Number of noise complaints. Data was collected across a 12 month period between July 2019 and September 2020
2. No. of dwellings data: https://www.gov.uk/government/statistical-data-sets/live-tables-on-dwelling-stock-including-vacants