Matthew is a senior product executive on our car finance team. Matthew brought his wealth of car finance expertise to us in 2020 following four years at MotoNovo Finance in account management and product roles.
Matthew is the product manager for car finance, car buying and selling, breakdown cover, GAP insurance, MOTs & car servicing.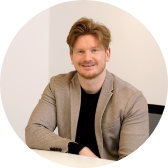 Matthew's car finance tip:
"Car finance comes in a few different shapes and sizes depending on what you want from a deal. Whether you're looking at HP or PCP, it's important to make sure you know the deal you're getting before you apply.
If owning the car at the end of a deal is important to you, you don't want to have a mileage restriction and you don't mind paying more each month, then HP might be more suited. If you're not sure if you'd like to own the car at the end of the deal but want lower monthly payments and don't mind being limited on your mileage, PCP could be right for you. The other alternative is a personal loan where you'll get to own the car outright and have no limits on how many miles you can drive."
Ways to finance your next car