Earn up to £1,000 a year with a car advert
If you're willing to have ads stuck to the side of your car, you could earn some much-needed extra income.
Would you be happy to drive around in a branded vehicle to earn some extra cash?
If so, you're in luck: companies are now offering motorists up to £1,000 a year for having their vehicles covered in adverts known as car wraps.
A car wrap is a colour advert printed on a special vinyl covering so it can be temporarily stuck to your car.
A wrap is usually the full version which covers pretty much your entire car but you can opt for smaller adverts on the panels or bonnet.
Get paid for parking & driving
You could ask local businesses if they pay for this but the simplest option is to register your details with a car advertising service like Car Quids.
It's your car, so you can turn down any adverts you're offered from specific brands. But the fussier you are, the fewer ads you're likely to get.
Some companies insist you drive a minimum of 500 miles a month to ensure the adverts are seen, whereas others get paid for parking.
Companies occasionally look for vehicles parked in busy residential areas eg commuter parking near stations or people who work from home with their car parked outside.
READ MORE: 5 smart ways to make money from your car
How much can I earn?
Rates and the coverage needed will vary.
According to Car Quids, you could earn between £200 to £300 over a two-to-three month campaign, and there are also opportunities to earn extra cash through social media.
You can also take part in multiple campaigns a year, earning up to £1,000.
Special transparent vinyl is used on the rear and side windows so visibility won't be affected.
READ MORE: Eight reasons you're using too much petrol
How will I get paid?
Payment is usually made in arrears by cheque or direct debit.
And most companies do expect an initial commitment of between one and three months.
Depending on your annual income you may be liable for tax on this and it's down to you to tell the tax office about any extra earnings.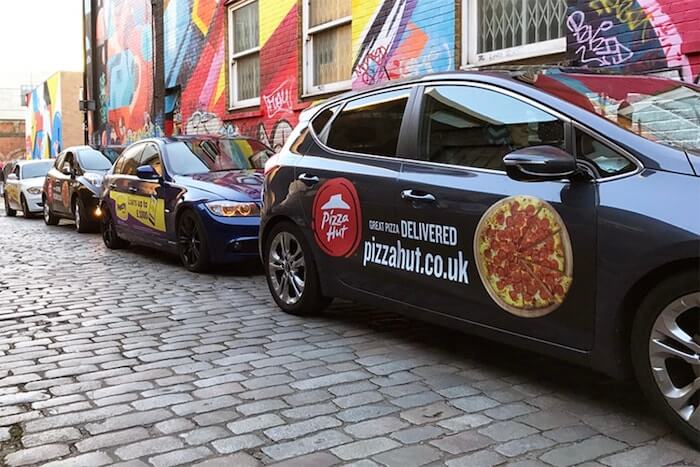 Getting started
You need to be 18 or older and hold a full valid UK driver's licence plus current MOT and road tax for your car.
You'll then need to complete an online registration form with details of your car, along with driving or parking habits before your car can be matched with a potential advertiser.
READ MORE: Scrappage schemes for 2018
How is the car advert fitted?
You'll need to go to a designated garage or service centre to have the advert put on.
This can be a 10-minute job as some adverts are on the bonnet and sides. But with a full wrap covering the entire car this can take up to eight hours.
Ryan from Car Quids explains the process. "We book you in for a slot for the adverts to be professionally fitted. It can be easily removed at home (we provide instructions).
"If you prefer you can take the car back in to the fitting centre at no cost and have the professionals remove it.
"Fitting usually takes around 20 minutes and we have booking slots on Saturdays as well as during the week to make it as convenient as possible."
Good to know
Keeping your car clean is usually part of any car advertising deal.
Companies won't want their brand spotted on a filthy vehicle so washing it every fortnight, for example, may be part of the contract.
What's more, it's worth knowing that car wrapping may have implications for your car insurance.
Typically, insurers class car wrapping as a modification to your vehicle so it should be specified when getting a quote and, as a result, this may impact your premium.
Images courtesy of Car Quids
First published on 27 March 2014