Car insurance for 17 year olds
Compare cheap car insurance quotes for 17 year olds
Get a car quote
Pass plus: Advanced driver courses such as Pass Plus are a great way for young drivers to show their insurance provider they can be safe on the road. Potentially, this could result in cheaper car insurance for 17 year olds.
Named driver: Adding a named driver to your policy can sometimes help lower your premium, because it reduces the time you'll spend behind the wheel. This in turn limits the risk for insurers. However, adding a named driver who doesn't use the vehicle is known as 'fronting', which is illegal. It's always best to talk to your car insurance provider if you're in any doubt.
Choosing the right car: The elation of passing your driving test can quickly disappear as it becomes clear finding a cheap car to insure may not be as easy as you thought. Luckily we've taken a look at some bargain motors as well as the best cars for 17 year olds. If you'd like a bit more information on how cars are ranked in insurance terms, then it may be worth reading up on car insurance groups.
Modifications: Some new drivers may be tempted to start modifying their vehicles as soon as they get the chance. Unfortunately, this may not be the best decision if you're looking to save money. Insurance providers could see this as more of a risk, especially if they're performance-based modifications, and increase your premium. If you're looking to add any modifications to your car, it's always best to speak to your provider first to make sure your changes are covered.
Keep a spotless record: There are many reasons to avoid having a prang, and keeping your insurance from going up is one of them. Plus insurance companies usually reward claim-free driving. For every year you don't make a claim, you'll build up no-claims bonus (NCB), which insurance providers use when considering discounts to your policy.
Young drivers may find themselves paying over the odds for insurance as many insurers class them as a high-risk group. This is for a number of reasons - a big one being a lack of driving experience at such a young age.
The good news is that, in an attempt to address high prices, some insurers offer telematics or black box policies. These are aimed at making driving more affordable and accessible to drivers normally considered to be high-risk.
Black box policies involve fitting a small box to your car which measures and analyses your driving style, particularly:
If you drive carefully you could prove to insurers that you're a safe driver. This could result in lower insurance costs for you.
Some telematics policies allow you to use a mobile app or plug-in device to monitor your driving. The data is then fed back to your insurer, who may offer you a discount based on your driving.

*Average based on a telematics vs standard car insurance policy for a 17-year-old main driver. Confused.com data - February 2020.
The latest Confused.com car insurance price index reveals that while 17-year-olds aren't faced with the highest prices in their age group, the cost of insurance is still a big expense for many.
The report looks at comprehensive insurance prices and found that 17-year-olds paid an average of £1,971 in the fourth quarter of 2019. That's a 7% (+£137) increase in 12 months.
Even compared to 18 and 19-year-olds, the cost of car insurance for 17-year-olds can be eye-wateringly high, this is why it's more important than ever to shop around to find a good deal on insurance.
Take a look at our price index calculator to see how prices for your region, gender and age have changed.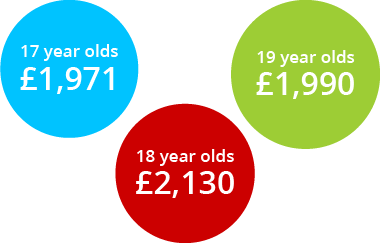 For most teenagers, turning 17 is a great time in your life. For starters it's the first year you can legally learn to drive.
If you're already taking driving lessons or about to start learning to drive, you can find lots of useful information in our guide to learning to drive.
Passing your driving test can give you a sense of independence and freedom. But for many 17 year olds this driving freedom can come at a pretty hefty price.
Despite having countless lessons and passing their driving test, most 17 year olds are still inexperienced drivers. This means insurers see them as more of a risk and therefore adjust policy prices to take this into account.
This isn't just the opinion of insurance companies. There are hard statistics to support the link between young drivers and accident rates.
Road safety charity Brake reported that:
One in four 18-24 year olds (23%) crash within two years of passing their driving test.
Young male drivers are involved in many more crashes than young female drivers.
Accident statistics are not the only factors taken into consideration when calculating prices. Others include:
The car you drive
Where you live
How you use your car
Your excess
Who is insured to drive your car
Your policy type
One factor that can positively influence the price of insurance is your no-claims bonus. Unfortunately as a young inexperienced driver, it takes patience and careful driving to build up a no-claims bonus.

For more tips, take a look at our guide on how to drive down the cost of your car insurance.
If you're looking for cover for a certain manufacturer, take a look at our full list of manufacturers.
Young drivers, we can help!
After buying
car insurance
,
95%

of Confused.com customers would recommend us (based on

38553

Reviews.co.uk respondents - as of 15/01/20). Read our reviews