Car insurance
Compare cheap quotes & you could save up to £276* on your car insurance
Get a car quote
Free. Not freeish. Buy car insurance and choose a free gift with
Rewards
£20 fuel

£20 to spend

£20 to spend

£20 to spend
Single annual policy. Shell Go+ account required. Shell Go+ not redeemable in Northern Ireland. T&Cs apply.
*Based on data provided by Consumer Intelligence Ltd, www.consumerintelligence.com (August '20). 51% of car insurance customers could save £276.03
What details do I need to get a quote?
It takes about 5 minutes to get car insurance and if you've used us before, it's even quicker than that. Having the following details at hand can speed things up:
What are the different types of car insurance available?
A standard policy will usually cover a single car for 12 months. But, depending on your needs, other types are available. These include:
What level of cover should I choose?
There are three main levels of cover to choose from but it's worth comparing prices as the lowest level isn't always the cheapest option.
We've covered the three levels of cover in more detail in our guide to car insurance policy types.
Compare car insurance quotes with Confused.com
We are the UK's first and longest-running insurance comparison website. We search hundreds of prices from a range of trusted insurance providers to find you the best deal. Getting you the best cover at the best price is our priority.
By auto-renewing with your current provider, you could lose out on hundreds of pounds in savings, and with prices on the rise it's more important than ever to shop around. Our beat-your-renewal guarantee helps you to avoid annual price increases. We guarantee to beat your renewal price, and if we don't, we'll pay the difference, plus £20.
If that's not enough, you can also choose a free gift every time you buy a car or home insurance policy. Confused.com Rewards is our way of saying thank you.
"I've saved £70 off my renewal thanks to Confused.com. Simple and fast. No problems at all."
Carol - Confused.com customer

How can I get cheap car insurance?
With the average comprehensive policy now costing £770 a year**, it's more important than ever to shop around and compare prices. Even while you compare, there are things you can change that may help you get cheaper insurance: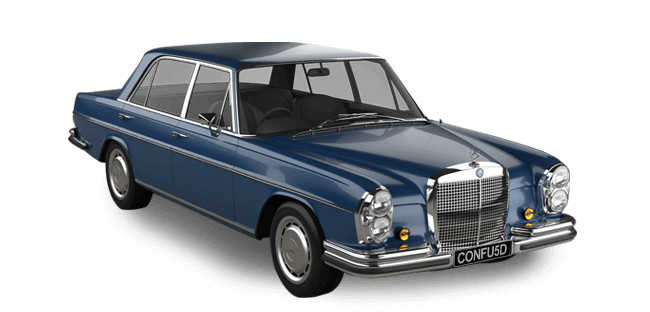 While getting a good price is important, it's also worth making sure the policy you choose has the right level of cover you need to protect you and your car. This might mean cheapest isn't always the best choice for you.
Car insurance policy features (add-ons)
Once you've got your quote, it's also possible to include a selection of add-ons or extras for added peace of mind:
Legal cover
If you're involved in an accident that wasn't your fault, legal cover could help you recover certain uninsured losses that aren't covered by your own insurance policy.
Breakdown cover
As an alternative to a standalone breakdown policy, it's possible to include cover as part of your insurance policy. The levels of cover available will vary between insurers.
Courtesy Car
If your car is out of action as a result of an accident, you may want access to a courtesy car while yours is repaired.
Windscreen cover
Get cover for repair or replacement of your windscreen following an accident.
Personal accident cover
This can provide additional cover on the policy for injury and/or death caused by an accident.
Some providers may include features as standard in their policies. If there are any extras you're particularly interested in, it's easy to choose an add-on once you've got a quote. We'll then recalculate your prices to show policies that include it.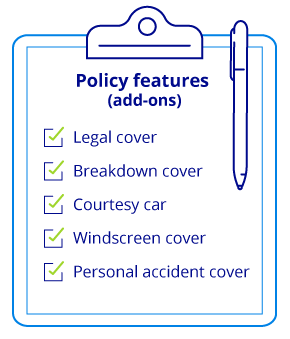 How much does car insurance cost?
The average price for an annual comprehensive insurance policy is £770**. That's a 5% drop in three months, and 2% over the past year.
That price is an average of lots of quotes. Your price will vary - it's based on many factors like your age, where you live and the car you drive. Find out more about how car insurance is calculated.
This is the first time that prices have dropped for more than a year. Now is the time to shop around and compare your best prices.
Interested in how prices for your region, age or gender have changed? Take a look at our price index calculator to get an estimated cost on your insurance.
**Price based on the Q2 2020 Confused.com car insurance price index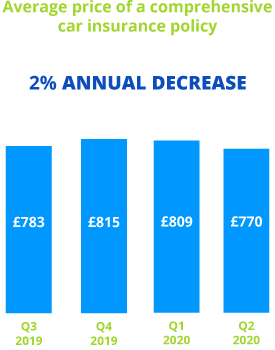 What our expert says:
"Don't settle for your insurer's renewal offer. Take just five minutes to compare prices with us and you could save £100s. If you're organised, you'll usually see your cheapest price about 3 weeks before your insurance is due."

What our car insurance customers think
"Confused.com was the cheapest out of three comparison sites by at least £46 pounds for the same cover, so it was a no brainer! Easy to use."

"Quick and very easy site to use and came up with cheapest quotes when compared with others."

"Easy to use and provided a good choice of quotes, far cheaper than my renewal quote saving me over £50.00 with the same level of cover."

After buying
car insurance
,
95%

of Confused.com customers would recommend us (based on

53900

Reviews.co.uk respondents - as of 07/09/20). Read our reviews