Connected cars are taking over the world. These clever motors are predicted to make up over 76 million cars on the road by 2023. With many manufacturers such as Tesla pushing towards the aim of fully autonomous vehicles, these cars are light-years beyond the first car invented in 1886.

What's on this page?
Our cars are constantly collecting data, but how much do they know?
Privacy policy quality
Connectivity costs
Do connected cars make you a safer driver?
Today's connected cars have extraordinary capabilities, from autopilot mode to advice on economical driving. They take the average car from a necessity to an experience.
The range of buttons, switches and apps that make our drive smoother, or more entertaining, is powered by a complex background of artificial intelligence and reams of computer code. These features are driven by a huge amount of data, so you might have wondered - what does your car know about you?
If you have a car with connected features, it might impact your insurance. Some options, such as a dashcam, could reduce your premium, while other gadgets increase your premium by adding value to your car. You can find out how it differs between insurance companies by comparing car insurance quotes.
Our cars are constantly collecting data, but how much do they know?
Taking 15 of the top car manufacturers around the globe, we've delved into their privacy policies to find out which brands tell us the most about the data they collect.
We scored the brands on 28 different data points that are commonly collected on drivers, to see who gathers the most information.
Tesla comes out on top with a score of 20 out of 28. The brand is the leader in innovation and their clever cars even send alerts when the driver isn't paying attention during self-driving mode. Dacia was found to collect the least data compared to the other brands analysed, with a low score of five out of 28.
Tesla coming first place is no surprise. With some of the most intelligent cars on the market, their personalised driving experience needs copious amounts of data to function at full capacity.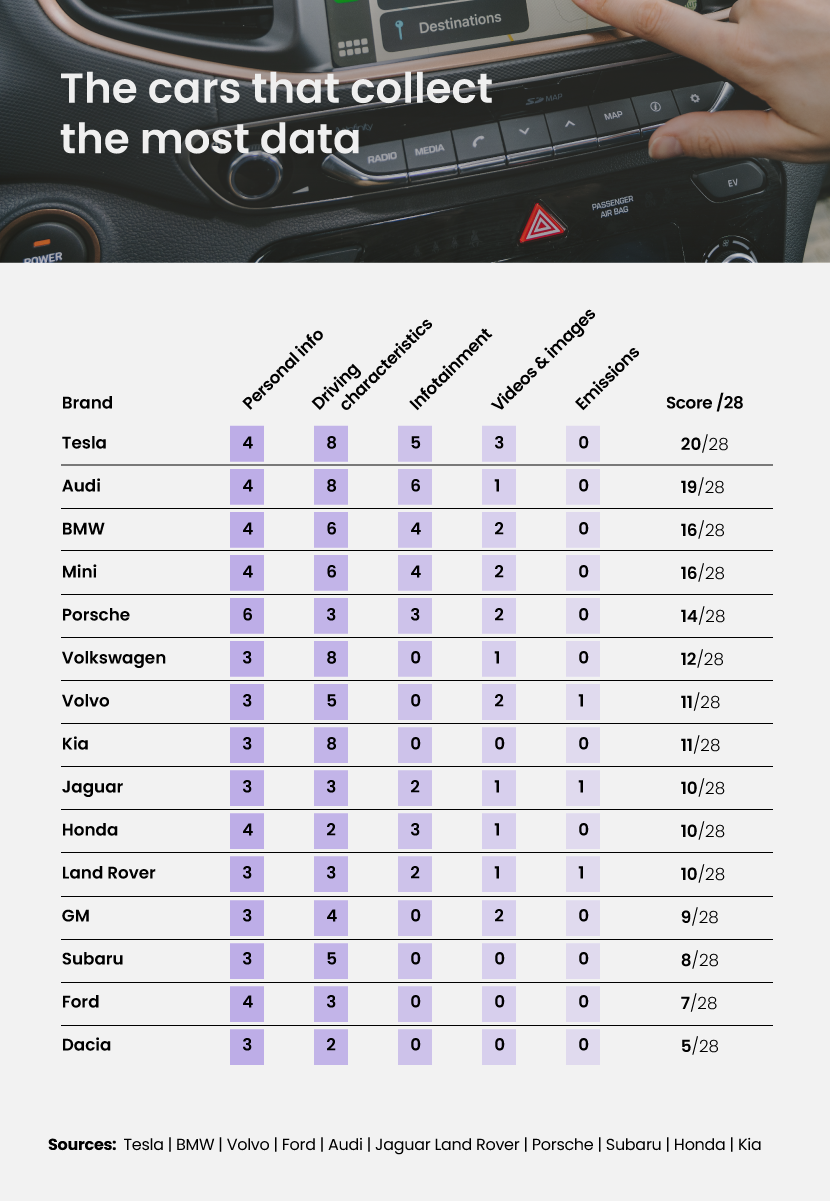 Personal details such as name, phone number and address are the most commonly collected data points. Location is stored by all cars to allow you to use your navigation system within the car. However, we found that some brands also store your location history.
Helpful features that are found in some models are crash location, crash footage and emergency and breakdown calls. These help drivers not only feel safer but also provide helpful information for insurers if a crash does occur.

Privacy policy quality
Data privacy policies exist because companies must inform any customer of data collected about them and how it's used. However, data laws vary between countries. Laws such as the General Data Protection Regulation (GDPR) came into effect across the EU in 2018 to protect people's personal data.
While the law might require privacy policies to be in place, often they can be overly complicated. We scoured the privacy policies of 15 manufacturers to discover which made for the easiest reading.
Jaguar Land Rover comes in top for the easiest to understand privacy policy, with a readability score of 61.4 out of 100.
Meanwhile, BMW and Mini are clear winners with the most in-depth privacy policies. They set a clear distinction between what data is stored in the vehicle only and what data is processed by the company.
Do cars store more data than their privacy policies indicate? We asked Chris Clark, an automotive software security expert at Synopsis if the policies are accurate:
"There's a challenge in knowing what data cars store. The way some contracts are written, there's not a way to determine what data is collected and how it's used. The amount of data collected extends out of the vehicle too. People also normally don't check the policy properly when they're presented with them so they often don't realise how much data is being stored."
Connectivity Costs
The automotive industry has moved from having preinstalled smart tech to having a range of different apps as an optional subscription.
The extra cost for subscriptions is often overlooked when buying and varies between manufacturers. This cost could simply be for navigation or more advanced features such as remote vehicle access. But which manufacturer provides the best services for the lowest fee?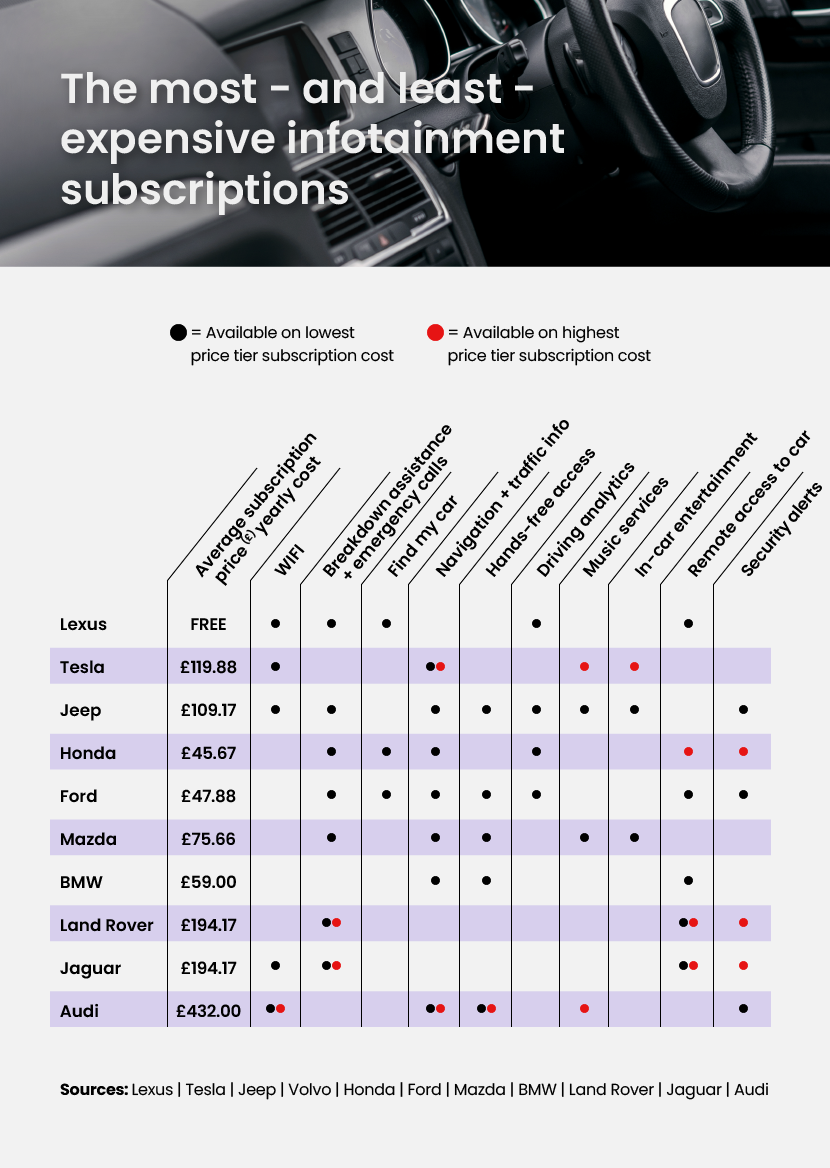 Using 10 of the most important features for a connected car we looked into each manufacturer to find who has the best services.
Lexus provides free access to their features and scores five out of 10. Meanwhile, Audi has an average cost price of £432 for their services for the year. Jeep comes in the top with a score of eight out of ten for a yearly price of £109.17.
Do connected cars make you a safer driver?
Fancy gadgets and driving capabilities such as autopilot might make the drive smoother and less work. But do they help you avoid crashes, scrapes and theft?
Category SCDN cars are write off vehicles with damage to structural or non-structural elements of the car. This is often where the insurance company decided it would cost more to repair than to replace. This category is often the result of significant crashes. Taking 17 manufacturers, we found out how many connected cars are up for sale in the category SCDN on Autotrader.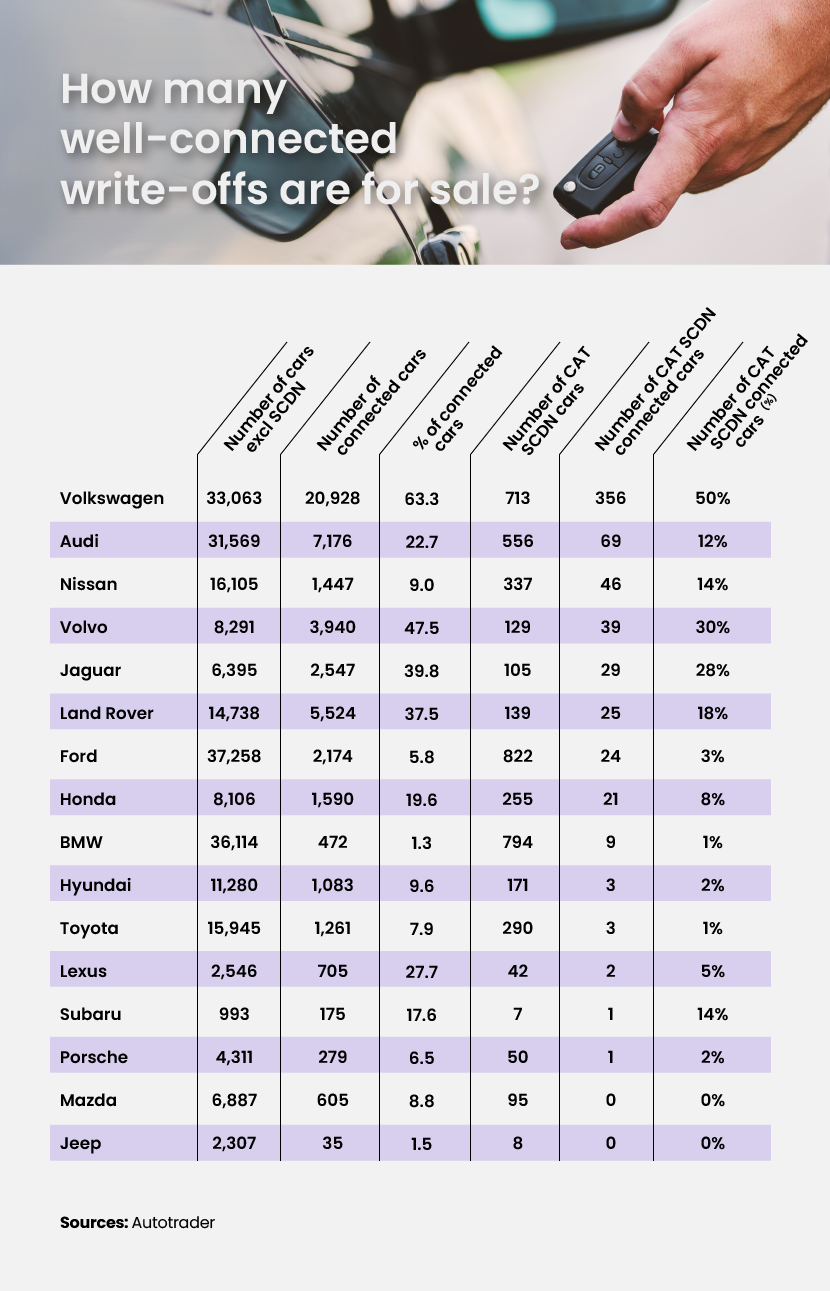 As all Teslas are connected cars, they were omitted, however, the brand only has one vehicle in the category.
The low number of damaged cars show that connected vehicles are helping the world drive safer, with an average of 12% of connected cars sitting in cat SCDN. You don't have to have the most up to date and flashy connected car to benefit from the additional safety. Even simple smart systems such as navigation help drivers drive safer. Gone are the days of paper maps or ambiguous directions.
Volkswagen comes in first for the number of connected cars in the category with 50% of their write-offs being connected cars. Volvo comes in second with 30% of their damaged cars being connected. On the other end of the scale, cars fitted with Mazda Connect smart services and Jeep's Mopar connectivity have no damaged cars listed for sale currently.
Alex Kindred, car insurance expert at Confused.com, offered his tips on how connected features can impact your insurance premium
"Cars have changed massively over the last 20 years. Simple radios or CD players have been replaced by entertainment hubs connected to our smartphones.
"These changes have driven up the value of cars, and in turn, driven up the cost of insuring them too. Car insurance now covers not only the vehicle but the gadgets that come built into them also.
"Insurers should always ask if you've made any changes or modifications to your car, and these aren't just cosmetic changes. If you've installed things like expensive audio systems it could increase the chance of your car being stolen or broken into, so it's important to disclose these when gathering quotes.
"If you're finding the cost of your insurance is high, either due to modifications made or built-in tech, making sure you have safe storage such as a garage or locked storage area could help reassure insurers.
"However, it's not always the case that having tech in the car could increase your car insurance costs. Safety and security devices, such as dashcams, could help to lower your risk of crashes and your car being stolen. Insurers should take these features into account when calculating your premium.
"Some insurers give big discounts for certain tech like a dashcam. Discounts range from 10-30% with some insurance companies, so it's always good to let them know if you have one."
However, if you have a connected car and you're looking to sell it, it's important to ensure your data is erased before it goes to its new owner. Without removing your linked information, you could be leaving your phone contacts, addresses and personal information up for grabs.
We asked Chris Clark for his tips on how to make sure their data is safe.
"The first thing would be removing all of your Bluetooth data.
"The next thing that you can do, which is probably the most pervasive and most available to consumers of today, is to take the vehicle to the dealership and have them reflash the entire vehicle. Because:
1. It should update the vehicle to the latest software that's available to them. This helps to keep the car secure but also updates things like maps to get safer navigation settings.
2. It should ensure that all the information about driver habits, location, paired devices, etc. is removed from the vehicle because it's been electronically updated.
And that's the best thing consumers who are really concerned about their personally identifiable information can do."
"Unfortunately, the way that the vehicle systems are designed, you lose a lot of the capabilities that you typically would buy that new car for if you don't connect your phone.
"New car purchases don't tend to be about how much horsepower, how the vehicle handles, how comfortable the vehicle is anymore. It's more about the features the vehicle brings e.g. lane detection, safety, security, works with a smartphone.
"So in terms of disabling or not utilising some features in the vehicle, I wouldn't necessarily recommend it. It's more about being cautious of where that information may go and when you sell the vehicle, you remove the data."