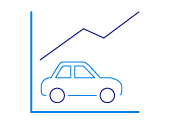 Car insurance price index
Check out the latest price trends for drivers, and find out who's saving the most.
*These prices are an average based on all specifications of that model, and all our customer quotes from 01/01/18 – 01/10/18. This includes different locations, driving background and other factors. Your own quote could be cheaper or more expensive depending on your personal circumstances.