Moving in together can be a huge step in any relationship. But, all excitement aside, what is considered 'normal' when moving in as a couple? And what might you have to share, compromise on or give up completely as you begin your home life together?
We spoke to couples about their moving-in experience to find how Brits adjust to living with their partner.
We also spoke to relationship expert Dr Jacqui Gabb for advice on how couples can best navigate common disagreements without putting strain on their relationships.
Decision-making as a couple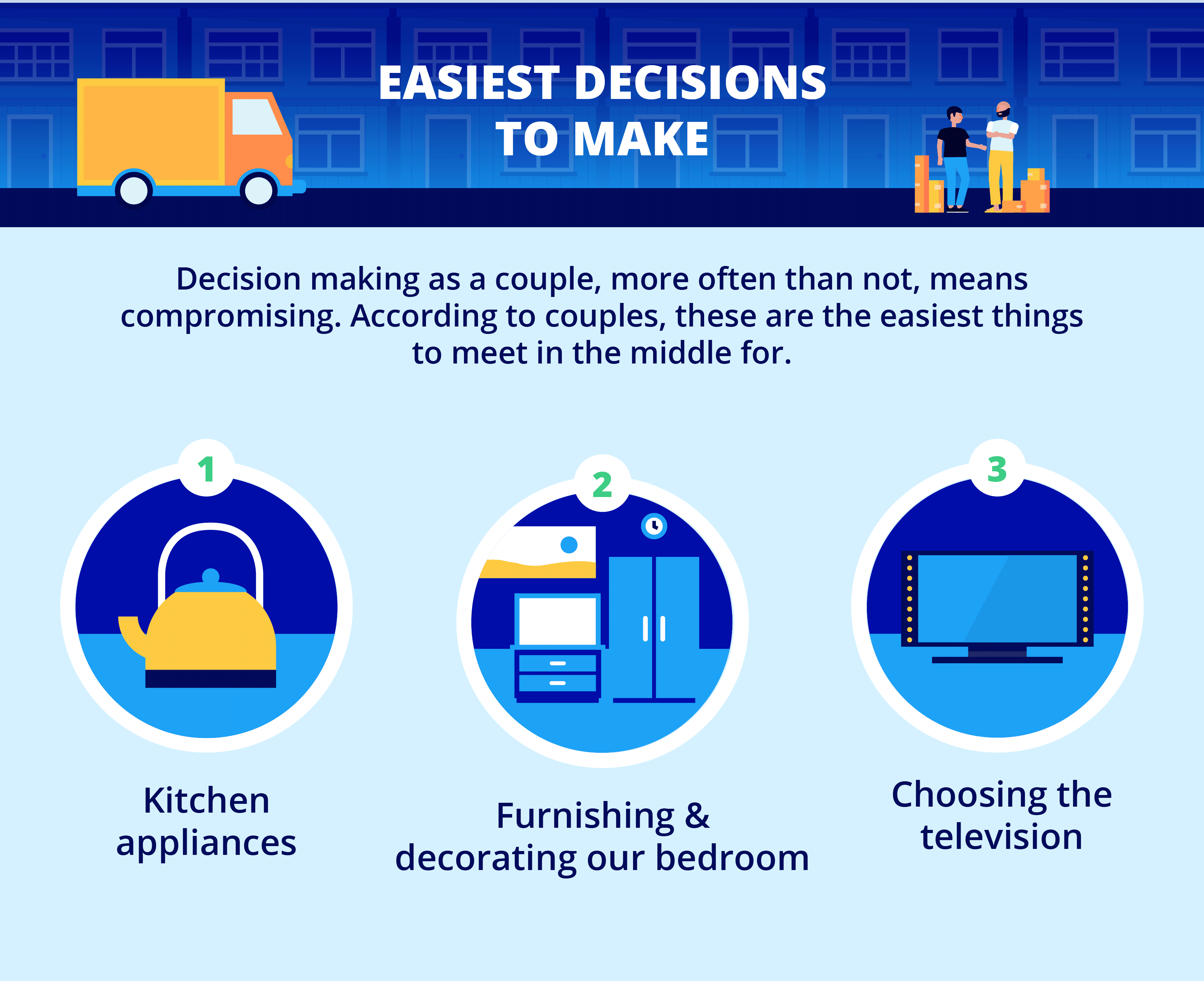 Some decisions are simpler to make than others. Picking kitchen appliances (60%) is the easiest decision for couples to make. Coming close behind is deciding on the decorating for the bedroom, with 59% of couples finding compromises easy in these areas.
On the other side of the scale, the budget for TV extras such as Sky+ and Netflix was difficult to negotiate.
Spare bedrooms similarly caused disagreements in 46% of couples. So, if you want your spare room to become your second wardrobe or your games room, it might take some negotiating with your other half.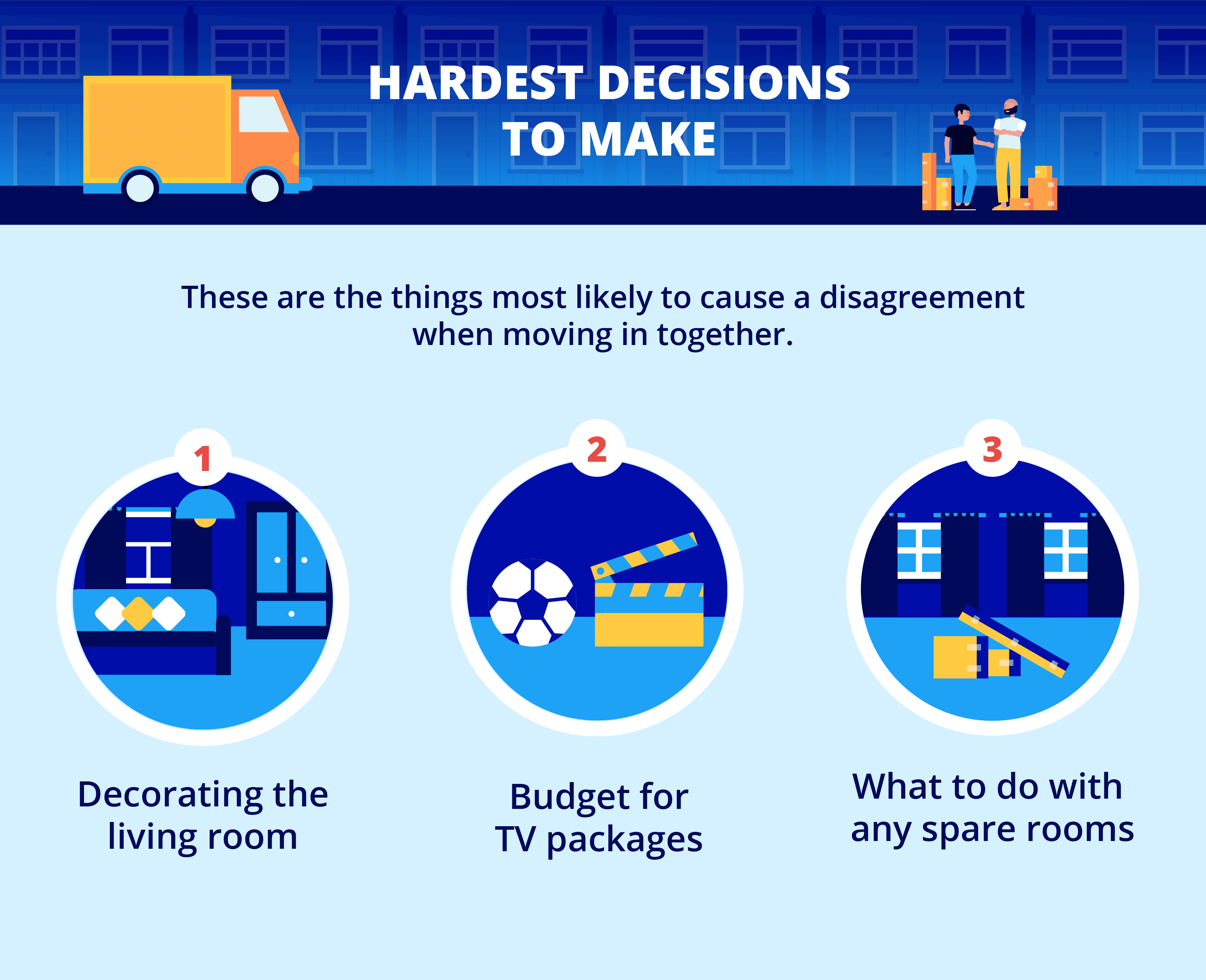 Younger couples find the moving process more stressful
Younger couples found the experience of moving in more stressful overall, with 59% of 18 to 24-year-olds finding the experience stressful compared to just 35% of those aged 55+.
Younger couples also found making compromises in the home more difficult, with compromising on a sofa being the hardest decision to make (17%).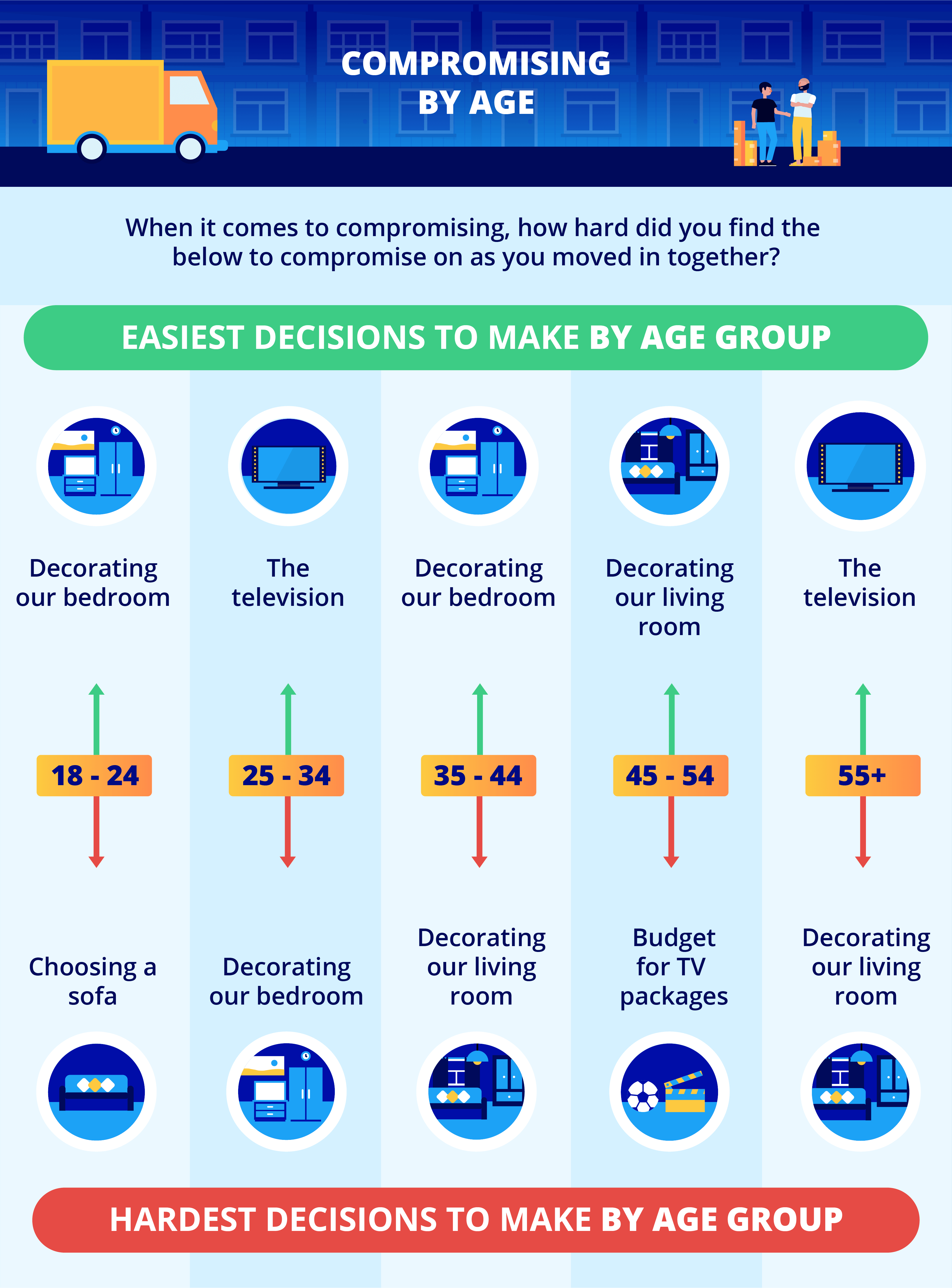 There are parts of moving that, no matter how you frame it, are stressful. Changing your home address seems to add to the stress most of all, with nearly half of all respondents selecting this in their top three stressful tasks.
Another admin task that many said was difficult was finding providers for the household utilities, with close to 40% of respondents choosing this.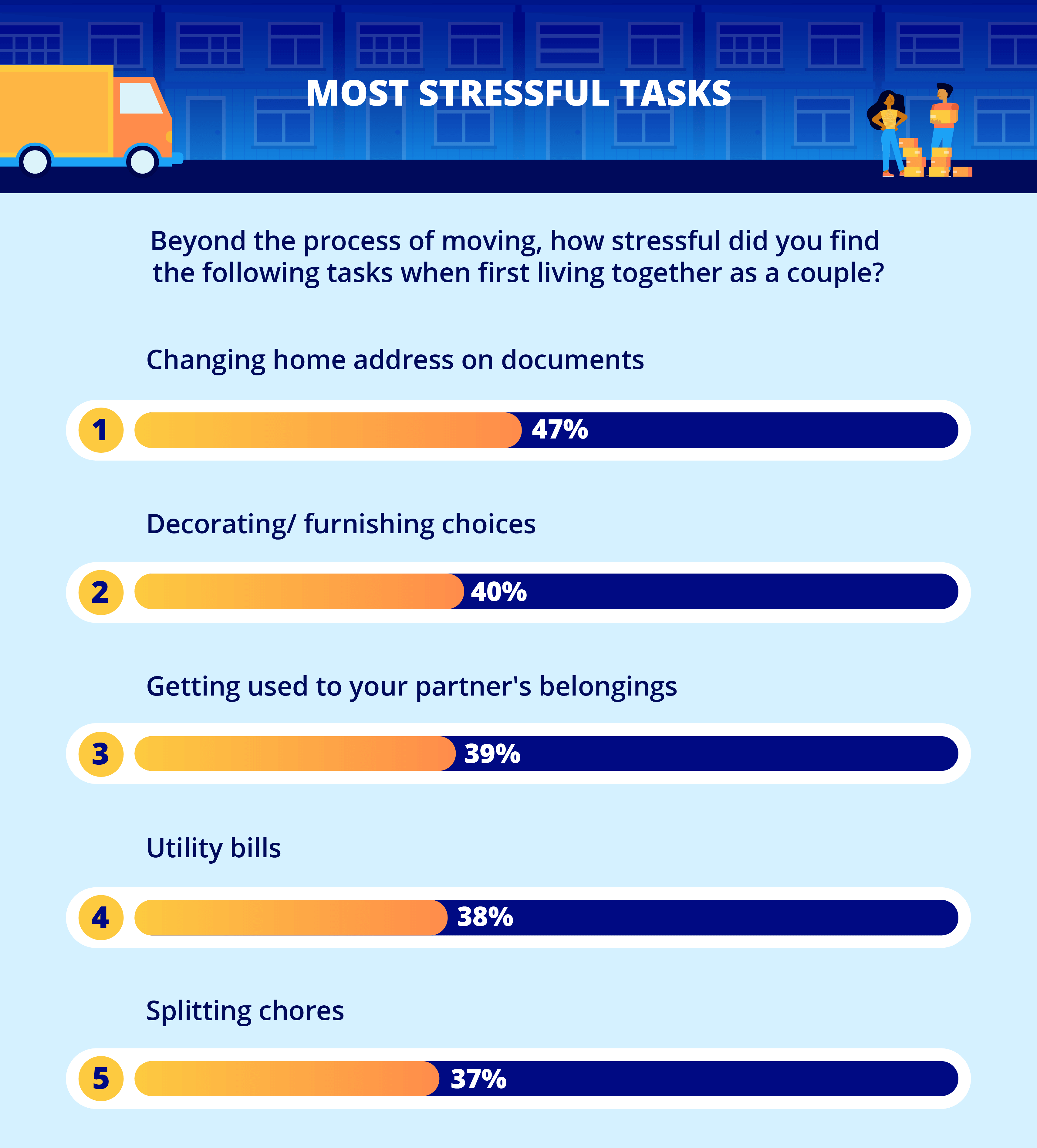 There are, of course, positives to moving in with your partner. Happily, 64% of people said they enjoyed spending time with their partner while moving in. But this doesn't change the fact that moving in can ramp up the pressure.
In fact, nearly half of young couples say that moving in together is stressful. This is largely due to the decisions you now need to make with your partner.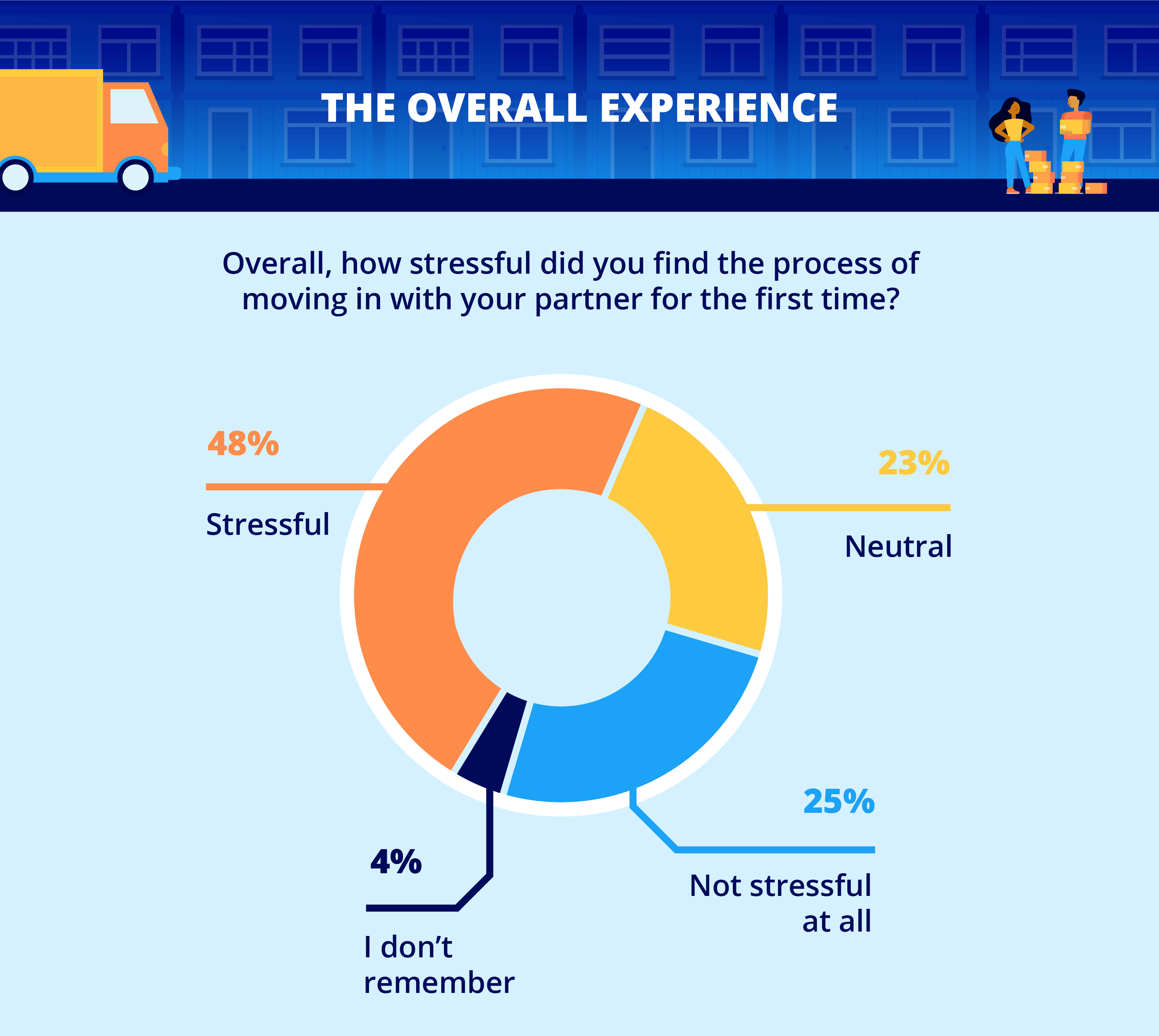 As you share more and more together, you're bound to have disagreements – whether this be about mess (33%), visits from family (14%) or even toilet etiquette (9%) – but these minor disagreements can be overcome.
We spoke to relationship expert Dr Jacqui Gabb about how you can best navigate some of the most common disagreements without letting them affect your relationship.
Wherever you are in the moving process, there is one thing you absolutely cannot forget as you move in with your partner– updating your home insurance. But according to our data, around 33% of recent movers forgot to do this – that is equivalent to 22 million Brits.
To ensure nothing is missed as you move in to your new home, check out our Moving home checklist
Sources & Methodology
We surveyed 2,000 UK homeowners and renters who live with their partner between 04/12/20-08/12/20.
Expert commentary has been provided by Chief Relationships Officer at Paired and Professor of Sociology & Intimacy at The Open University, Dr Jacqui Gabb.