From wedding and engagement rings to watches, gifts and heirlooms, many of us have items of significant value that would be costly to replace. This is why it's important to make sure you have jewellery insurance for your most valuable items.
Whether it's worth £50 or £50,000, it's important you have the correct level of cover in place for jewellery and other valuable items.
You don't want to be left out of pocket if they are stolen or lost and you need to make a claim. Here's what you need to know.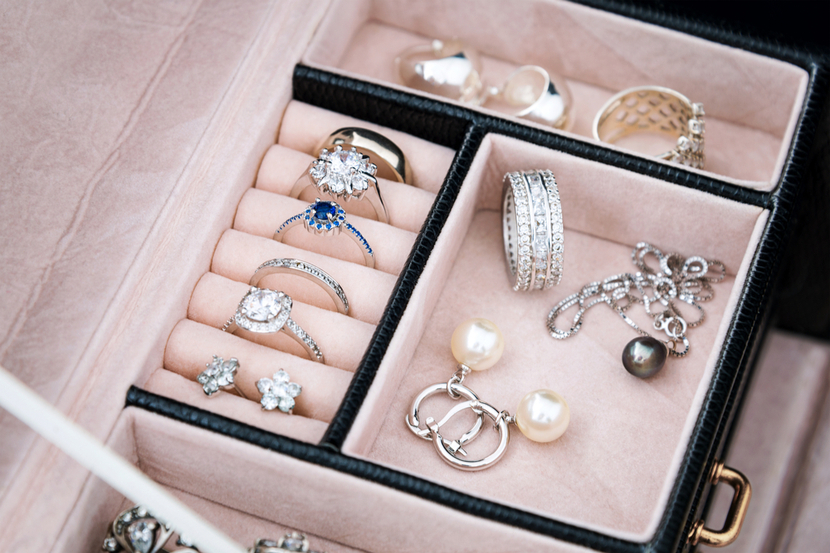 Do I need insurance for jewellery?
Although you can take out specialist jewellery insurance, it's usually covered by your home insurance policy.
Contents insurance should cover you for loss or theft of personal items such as jewellery from your home.
However, it's important to understand the limits of your policy.
Insurers usually have a 'single item limit', which is the maximum you can claim for any one item. It's typically around £1,000 but could be more or less, depending on your policy.
Check with your insurance provider to make sure you've got adequate cover in place for your high-value listed items.
If you have items that are worth more than the single item limit your insurer should be able to arrange additional cover.
However, if you have a large collection of jewellery or its value exceeds what your home insurer can cover, then it might make sense to consider specialist jewellery insurance.
Compare home insurance quotes
What does jewellery insurance cover?
Your insurance for jewellery should cover a range of items including:
Rings

Necklaces and pendants

Bracelets

Earrings

Brooches

Watches
Your valuables should be protected if they're lost, stolen or accidentally damaged. It's important to check the terms of your policy though. You might have to pay extra for cover for personal possessions away from home and accidental damage cover.
If you're not wearing your jewellery, your insurance company might insist you keep it in a secure safe.
How can I make sure I have the right level of jewellery insurance?
First, check if your jewellery exceeds the single-item limit on your policy. If it does, tell your insurer and they can arrange to have it listed separately.
This is likely to boost your costs, but it's better to pay a bit more and know that it's properly covered.
Don't forget to insure any jewellery you no longer wear, or anything you've inherited or been given since your last insurance renewal.
You can also insure a valuable stone or gem. It doesn't have to be set in jewellery.
And regardless of your insurance cover, consider installing a decent burglar alarm and using a safe for extra protection.
Does jewellery insurance have any exclusions?
Jewellery insurance provides cover for loss, theft and damage - it doesn't usually pay out for what the insurer considers to be ordinary wear and tear. The same goes for cosmetic damage like scratches or dents.
You should also check what counts as 'lost'. If you lose jewellery at home your insurer is likely to view it as 'misplaced' and is unlikely to pay out.
For burglary claims your insurer might want to see a crime reference number from the police as well as evidence of forced entry. You might not be able to claim if somebody you invited into your home stole it from you.
How much does jewellery insurance cost?
The cost of your jewellery insurance depends on the level of cover you request and the value of the items you want to insure.
Your contents cover provides some jewellery insurance and many factors from where you live to the total value of your possessions drives the cost of your contents insurance.
However, your cover may cost more if you need high value items of jewellery insured separately.
Specialist insurance could be more expensive but could provide a better level of cover should something happen.
High value jewellery insurance
If you have several items of jewellery that exceed the single-item limit on your home insurance, you may find that specialist, high value jewellery insurance may suit your needs better.
Depending on the policy, high value jewellery insurance may offer additional benefits like worldwide cover and you may not need to list each individual item.
What do I need for a specialist jewellery insurance quote?
Before you get a specialist jewellery insurance quote, you need to gather information about the jewellery you'd like to insure. This is likely to include:
Details of the item ie wedding ring or vintage brooch
The value of the items
The date you bought it
Where you bought it
The level of cover you need
Any extras like accidental damage
This is in addition to basic information about you and where you live.
At the point of getting the policy it's also worth taking photos of your jewellery and making copies of any receipts. This could be helpful if you need to make a home insurance claim.
How can I get a jewellery, watch or engagement ring valuation?
You might not necessarily be asked to prove the value of a piece of jewellery when you get home insurance.
But if you make a claim for loss, theft or damage, you usually have to provide a valuation or receipt. For high-value or antique jewellery it's best to get a valuation certificate. When you buy a new watch or an engagement ring you can also request a valuation certificate. Always keep receipts.
You might want to get annual valuations on expensive pieces of jewellery. The price of gold often changes and the market for high-value items can ebb and flow.
If you don't have valuations for any jewellery, specialist jewellers and pawnbrokers can provide you with valuation certificates. You can also get valuations from high-street jewellers.
Bear in mind that the cost of a valuation service might vary, and items might need to be sent away.
It's important to make sure you value your jewellery accurately to make sure you're not under-insured. Our contents calculator is there help you work this out.
You should always tell your insurance company if you buy an expensive item or get one as a gift, too.
Can I buy watch insurance?
As well as being worth a lot of money, luxury watches often hold deep sentimental value.
But watches make appealing targets for thieves. Also, watches that are regularly worn run the risk of accidental damage.
As with jewellery you should be able to insure a watch under your contents insurance. However, if you can't get the cover you need or it costs an arm and a leg you could consider specialist watch insurance.
If you've got a particularly valuable watch, or a collection of watches, you might find that your main home contents insurer doesn't give you sufficient cover.
As well as possibly being more competitive, claiming on a standalone policy for your watches is unlikely to affect your no-claims bonus on your main home insurance policy.
Can I get engagement ring insurance in the UK?
Engagement rings are likely to be one of the most precious things you ever own – both in monetary terms and in sentimental terms.
As with watches, insurance for diamond rings (not just engagement rings!) should be included in your contents insurance.
However, if your diamond ring or engagement ring's value exceeds the single item limit, you might need to arrange additional cover.
If your contents insurer can't give you the engagement ring insurance you need, you can arrange cover with a specialist jewellery insurer experienced in insuring diamond rings.
There are specific things that can go wrong with engagement rings, such as the settings loosening and the stone falling out.
If the worst comes to the worst and you need a new diamond, it's good to know that your engagement ring insurance might cover the cost of replacing it.
It might also be worth having your engagement ring revalued every once in a while. You might find that you become over or underinsured if its value changes.
If a valuer does find that its worth has changed significantly, be sure to let your insurer know.
Things to remember:
In the event of a claim, your insurer may offer cash, a replacement, vouchers or repair.

Overvaluing your valuables is likely to result in a higher policy cost.

You have to pay the excess fee if you make a claim.

Insurance companies usually pay out only the listed value of an item. So, if your engagement ring has increased in value and you haven't updated your insurance policy, you might not be covered for its current value.

Check the single-item limit on your policy to make sure you've got the right amount of cover in place.
It's a good idea to check your engagement ring is adequately insured straightaway, before you get too sidetracked by wedding planning!
Common jewellery insurance questions
Does my home insurance cover jewellery?
Yes. Your jewellery should be covered against loss, theft and damage by your home contents policy. However, if any item's value exceeds the single item limit you need to ask your insurer for additional cover. This might increase your costs but it gives you the peace of mind that it's covered.
Does insurance for jewellery cover a set or collection?
Whether your home insurance can cover a jewellery set or collection depends on its value. However, if your home insurer can't cover it you should be able to arrange standalone insurance with a specialist jewellery insurance company.
What happens if my jewellery loses value after it is repaired?
Some policies allow you to claim for any loss in value that occurs after your jewellery has been repaired.
Am I covered if I take my jewellery abroad?
Not all policies cover your jewellery while you're overseas so it's important to check before you fly. In many cases it makes sense to leave valuable items at home.
What happens if I under-insure my jewellery?
If your jewellery is under-insured and you need to make a claim, the payout might not be enough to cover the replacement cost. This is why it's important to make sure you have up to date valuations for any expensive jewellery you have.