Contents insurance covers your household possessions against loss, damage or theft. If your home is unfortunately hit by fire, flood or burglary, it's important to have the right insurance cover in place to put things right.
Contents insurance is optional, but it could be worth your while.
Here we take a look at exactly what contents insurance covers and what should you be aware of before you get a policy?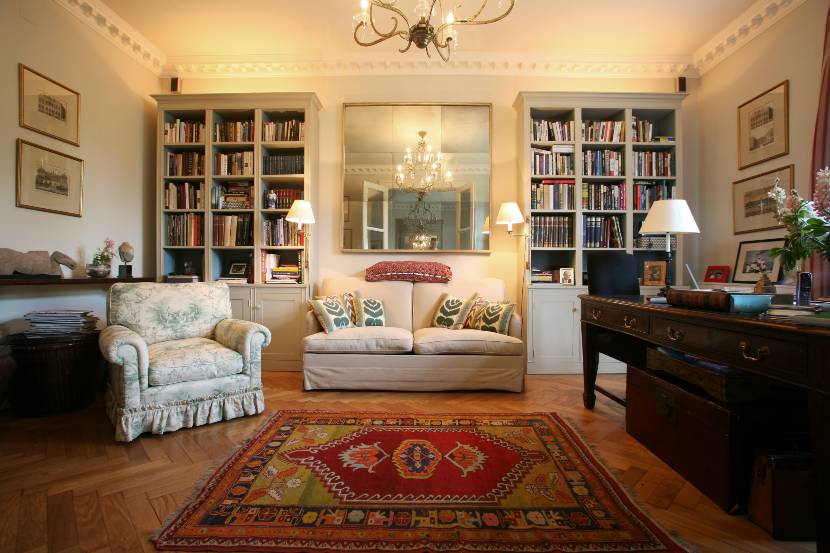 Home insurance is there to protect your house and your belongings. There are 2 types of policy:
Buildings insurance

covers the structure of the house and any permanent fixtures inside it. It covers the cost of repairs or, if necessary, the rebuilding of your home.

Contents insurance

is for your belongings. Generally it's what could go in the removal van if you moved house, plus fittings such as carpets and curtains.
How does contents insurance work?
There are 2 types of home contents insurance policies: indemnity and new for old.
Indemnity insurance takes into account wear and tear on your belongings. So if a leak ruins your 6-year-old rug, the payout would likely be enough to buy another 6-year-old rug.
But if you have new-for-old contents insurance your payout should be enough for a brand new rug.
Because new-for-old payouts are generally higher, these policies tend to cost more than indemnity home contents insurance policies.
What does contents insurance cover?
If your home was burgled, or seriously damaged in a fire or flood, the cost of replacing all your possessions could run into thousands of pounds.
This is where contents insurance comes in. A contents insurance policy should allow you to replace your stuff should it be stolen or damaged by fire or water.
Typical things covered by a contents insurance policy are:
Floor coverings – carpets and rugs.

Furniture – tables, chairs, sofas, beds and wardrobes.

Soft furnishings – curtains and cushions.

Electronics – TVs, laptops, phones and games consoles.

Appliances – ovens, hobs, fridge freezers, washing machines and microwaves.

Eating and drinking – utensils, cutlery, china, glasses, food and drink.

Valuables – jewellery, art and ornaments.

Sport and leisure – sports equipment, bikes, computer games, musical instruments, books and toys.

Garden and DIY – garden furniture, mowers, ladders, hot tubs and tools.

Linen – towels and bedding.

Clothes and shoes.
What doesn't contents insurance cover?
Contents insurance mostly doesn't cover:
General wear and tear.

The structure of your home, such as walls and the roof. This would be covered by buildings insurance.

Mechanical or electrical breakdown when item reaches natural end of life.

Little cover when your home is empty for a long period.

Anything that's over the limits on the value of possessions they cover, specified in the policy.
Do I have to have contents insurance?
No. Mortgage lenders usually require you to have buildings insurance in place. But house contents insurance is entirely optional.
But contents insurance cover is still worth considering. Could you afford to replace everything in your house all at once?
Compare home insurance quotes
Is contents insurance worth it?
Nobody likes shelling out for insurance and if it's optional you might think twice about arranging cover. However it's important to think about how you'd manage if your home was burgled or damaged by fire and you didn't have home contents insurance. It's up to you to weigh up that peace of mind against the cost.
How much contents insurance do I need?
The simple answer to how much contents insurance you need? Insure your belongings for what they are worth.
Ideally you want to have enough cover in place so that you could replace everything you own should something unexpected happen to your home.
To get a total, go room by room and add up the items. And don't forget what's in the loft, the garden, the shed and the garage.
An easy way to keep track of the total is to use our contents calculator.
Be thorough and try to be as accurate as possible. Valuing items too low could mean you not being able to replace them properly.
Valuing them too high could mean paying more than you need for your contents insurance.
And don't forget that a lot of individual things quickly add up.
If you're a keen cook, for example, you may well be surprised at how much your kitchen equipment and cookbook collection come to.
If you have children, don't underestimate how much their toys, video games and sports equipment would cost to replace.
All the stuff that babies need doesn't come cheap either. Some buggies alone can cost £1,000, making pram theft a particular sting in the tail.
And those bits that were used once and then forgotten about, now is the time to remember them and add them to the total.
There are often limits for categories and high-value items that exceed your policy's single item limit might need to be listed separately.
High value items are typically those worth £1,000 or more. This could be things such as jewellery, art, musical instruments, bikes and computer equipment.
How much is contents insurance?
How much your contents insurance costs depends on several factors including:
Where you live.

The value of your possessions.

Whether you add bolt-ons like accidental damage cover or personal possessions away from home.
According to our latest data, the average contents insurance quote is £54.88 per year.*
Contents insurance if you work from home
Many more of us are working from home a lot more these days.
And if you work from home you may need more than basic contents insurance.
If you're an employee and working from home means sitting at the kitchen table with the office laptop, you probably don't need extra insurance. Your employer's insurance should cover the laptop.
But if your work isn't just desk - or kitchen table - based, or you work for yourself, it's best to check the wording of your home contents insurance.
Does it cover the things you need to do your job? If not, some insurers offer extra work-from-home cover as an add-on.
Do people visit you at home as part of your work? You need to make sure your contents insurance covers you for any eventualities here as well.
Do I need contents insurance as a tenant?
If you're renting, your landlord should provide the buildings insurance. It's then up to you to decide whether you want to take out contents insurance for renters that covers your personal possessions.
If you take out tenants insurance it could also cover you for damage to things your landlord owns and so help you keep your deposit. Look out for policies that include tenants' liability cover.
Should students get contents insurance?
You might assume that everything you take to university is covered by your parents' contents insurance. This is not always the case.
Ask your parents to check their contents insurance and find out whether you have insurance for your personal possessions while you're away from home.
Some cover might be provided but it might not be to the level you need. In some cases it could be worth buying your own contents-only insurance.
You might want to consider contents insurance designed specifically for those living in student accommodation too.
Is my bike covered by my contents insurance?
It depends on how much your bike is worth. If it's an old battered bike it's probably going to be covered generally by your contents insurance policy.
But insurers set a limit on how much they cover bicycles for. Above this value and you should specify your bicycleas a high-value item on your policy.
You might also find out that it's only covered as standard if it's stolen from your home rather than when you are out and about.
Depending on the circumstances you may be better off getting a stand-alone bicycle insurance policy.
Does contents insurance cover mobile phones?
Your mobile phone should be covered by your home insurance, just like any other possession. This means if it's stolen from your home in a burglary or damaged in a fire or flood, it should be protected. However, if you really rely on your mobile phone it could be worth adding accidental damage and personal possessions away from home cover to ensure you have more comprehensive protection.
Alternatively, you may want to consider specialist mobile or gadget insurance.
Am I covered for damage caused by my pets?
If your dog destroys your sofa or sends your favourite vase flying this is unlikely to be covered by a standard contents insurance policy.
If you want cover for any damage your pets may cause your belongings you should consider accidental damage insurance.
This is usually an add-on to a contents insurance policy. What's covered depends on the policy.
Check that the add-on is appropriate for the type of damage your think pet could cause before you take it out.
Generally, accidental damage cover protects you for things such as red wine spills and the felt-pen drawing that mysteriously appeared on the sofa.
What to know when buying contents insurance
You can buy buildings and contents insurance together. If you're a homeowner, then combining your buildings and contents insurance could work out cheaper than getting 2 separate policies.

Home insurers offer no claims discount on your contents insurance

. You can also pay to protect this no claims discount. This means that you can still claim and keep the discount, although conditions apply.

You can add extra cover for your contents. The most common include accidental damage, home emergency cover and personal possessions cover.

Higher excess might mean cheaper insurance

. The more excess you choose to pay yourself as part of the claim, the cheaper your insurance costs might be.

Make sure you check the policy exclusions. Exclusions are things that the insurer won't pay out for. Common examples are wear and tear and damage caused by pets.
*Confused.com data February-April 2022 - top average premium excluding quotes with claims or accidental damage.