Electric vans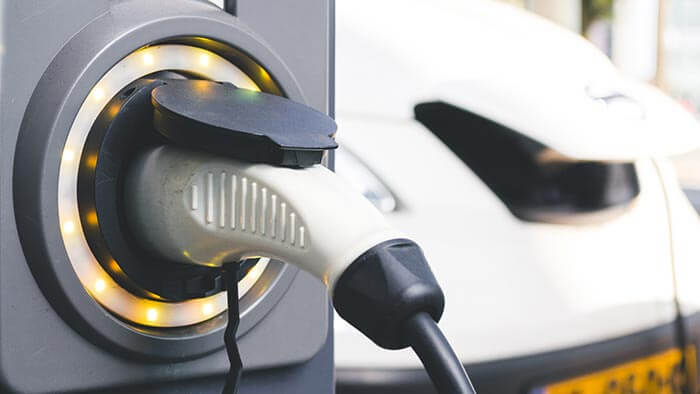 Want to do your bit for the environment and enjoy a few perks on the side? An electric van might be for you.
If you have a category B licence, you can drive an alternatively fueled van after just 5 hours of extra training.
This has made it easier for van drivers to make the switch to electric. But it's still a legal requirement to have van insurance.
So if this has made you consider switching, here are some of the pros and cons of electric vans. And what they're like to drive.
What is the government plug-in van grant?
The plug-in grant was introduced by the government to reduce the price of electric and hybrid vehicles.
These grants cover 20% of the purchase price up to a maximum of £8,000.
The great thing is you don't have to apply for the grant yourself, it's administered by the Office for Low Emission Vehicles.
Usually the dealer will have already taken the grant off the purchase price - something to keep in mind when you're browsing.
Also, not all electric or hybrid vehicles are eligible for a grant, it's only ones that have been approved by the government.
These have CO2 emissions of less than 75g/km and travel at least 16km (10 miles) without any CO2 emissions.
Which vans are eligible for the plug-in grant?
Some of the vans included in the scheme are:
BD Otomotiv eTraffic

BD Otomotiv eDucato

Citroen Berlingo

Mitsubishi Outlander Commercial

Nissan e-NV200 (cargo van)

Peugeot ePartner

Renault Kangoo ZE

Renault Master ZE

LDV EV80 van

LDV EV80 chassis cab
You can find the full list of vans available on GOV.UK.
What are the advantages of an electric van?
There are decent savings to be made on running costs. For example, an electric van is entitled to a greener vehicle discount on the London congestion charge.
And because your electric van doesn't have any emissions it's exempt from Vehicle Excise Duty (tax).
With this in mind, you could expect to save roughly £140 per year on an electric van compared to a petrol or diesel van.
There are also minimal fuel costs, with electricity being cheaper per mile than diesel or petrol.
According to Nissan, the E-NV200 costs 2p-per-mile to charge, which is significantly cheaper than petrol or diesel costs.
And real-life testing suggests high quality traction batteries will probably have at least 80% of their initial capacity after seven to 10 years.
Are there any company benefits if you make your fleet electric?
If your company turns your fleet electric, you could save on tax.
A van benefit charge is applied when an employee is given a van for private use.
This is a flat rate of £3,350 which is paid through the employee's income tax and the employers national insurance. Zero emission-vans currently only pay 40% of the full van benefit charge.
In April 2019, the benefit charge increased to £3,430, with zero-emission vans at 60% of this. The rate will increase until they're equal, so if you want to save, go electric sooner rather than later.
You'll also save on fuel benefits.
The van fuel benefit charge is applied when an employee is given a van and the company pays for the fuel. As electricity is not treated as fuel, no tax is required. However, this only applies if the vehicle is charged in the work place.
For more information on tax benefits, visit the government page on low emissions vehicle taxation.
Also, having a fleet of electric vehicles improves your company's green credentials. As well as reducing running costs in the long term, from an advertising perspective going green is great for publicity.
What are the disadvantages of electric vans?
Buying an electric fleet can be an expensive venture. For example, a 2018 Nissan E-NV200 van costs around £20,000.
Unfortunately, this doesn't include the battery, which is typically leased out separately. Make sure you ask about this before jumping to any decisions.
And of course, if you're wishing to sell your electric van, there's some ambiguity about resale value.
With new models being developed quickly, the depreciation on electric vehicles could be high.
So with the expensive outlay, leasing could be a better option for your business. It also spreads the initial purchase price out and avoids the issue of depreciation.
How far can I travel on one charge?
Charging and range are a worry for electric van considerers. But big steps have been made into improving these.
Let's take a look at some popular models, their cost and distance in one charge:
| Van make and model | Charge time | Vehicle cost | Distance in one charge |
| --- | --- | --- | --- |
| Iveco daily electric | 8 hours | £100,000 | 174 miles |
| LDV EV80 | 7 hours | £60,000 | 120 miles |
| Nissan E-NV200 | 7 hours | £29,755 | 118 miles |
So how do electric vans compare to their petrol and diesel cousins? Find out on our fuel-efficient vans page.
Most other models range from 106 – 174 miles with a charging time of 10-15 hours. Again, most offer a rapid charge or faster charge mode.
Range can vary depending on the load or the way you drive. So knowing where the charging points are on your route is vital on long journeys.
The Nissan E-NV200 offers a solution to this uncertainty however. Using an in-built monitor, the E-NV200 can tell you your charge levels, and where the nearest charging station is.
Also, the battery itself will deteriorate over time, and hold less charge. But batteries are generally covered by warranties and can last around eight years in some cases.
Do electric vans work in cold weather?
Your electric van will work in cold weather conditions, but it can affect the battery and therefore the mileage.
For example, the Renault Kangoo Z.E 33 will travel 124 miles in the summer months, whereas in winter the range can reduce to as little as 75 miles.
What are electric vans really like to drive?
A great thing about driving an electric van is that it's silent, which can make for a more relaxing driving experience.
Reviews online mention that most electric vehicles are also very responsive and can accelerate or stop very quickly.
Tedious gearshifts in traffic jams will also be a thing of the past, as all electric vans are automatic.
And no clutch means no expensive clutch repairs. Which is the bane of every motorist's life.
If buying an electric van isn't an option for you right now, why not convert your van to run on a low carbon-emitting fuel instead?
First published 4 October 2018