When you get a van insurance quote you need to choose a class of use. You should select the class of use according to how you use your van.
Here's what you need to know about the meaning of classes of use such as 'social and commuting' in van insurance.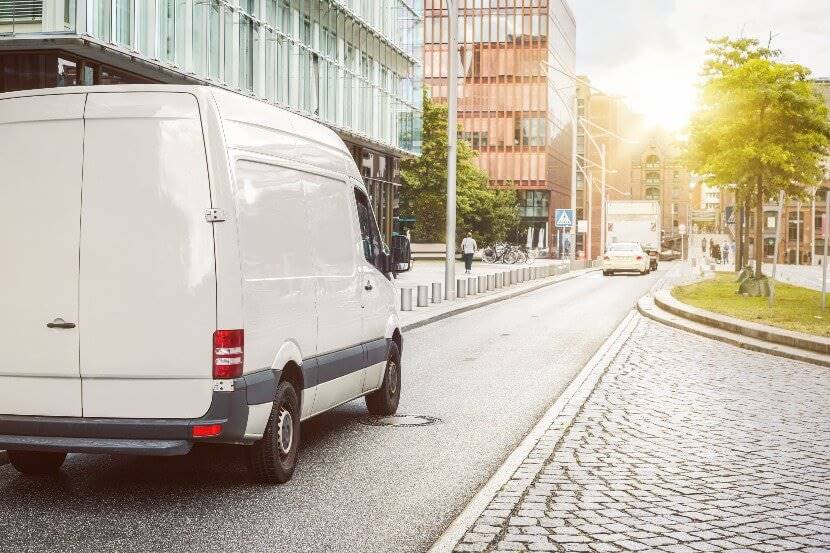 What are the different van insurance classes of use?
There are 4 different van insurance classes of use to choose from:
Social only
Social and commuting
Business use - carriage of own goods
Haulage/carriage of goods for hire or reward
Social only means just that – leisure and domestic use. This is for your general runaround activities. For example, shopping and dropping the kids off at school.
Social and commuting means you can also use the van for driving to and from your regular workplace. The important thing here is that it refers to a single, permanent place of work.
Business use (carriage of own goods) covers the tools and equipment you own that are needed to carry out your job.
Haulage (delivering goods for hire or reward) covers you if you're carrying other peoples goods in exchange for money. This might be as a delivery driver or courier delivering many items to lots of places. Or it might be as a haulage driver delivering items in bulk from one place to another - often warehouses or storage depots.
Anyone using a van for commercial or business purposes should choose between business use and haulage.
What type of van insurance do I need?
The class of use you choose influences how you can legally drive your van and the risks associated with driving it.
Each class of use describes the circumstances and ways in which you use your van.
Social only
If you only use your van for social, domestic and pleasure purposes, then a social only policy is for you. This sort of van cover is sometimes referred to as private van insurance.
General day-to-day use sits within this class. This includes:
visiting family and friends

the school run

shopping
Vans are great for any hobby that uses a lot of equipment, such as surfing, golf or camping. Vans are also great for getting away from it all, taking a road trip, or simply going off on holiday.
Choosing a social only van insurance policy means you're not allowed to use your van for anything to do with business or work. This includes commuting to and from work.
Social use and commuting
Social use and commuting van insurance covers everything that comes under the social only category. But you're also able to use your van to drive to and from your workplace.
It could be the right policy if you're someone who takes their van on camping trips, but also uses it to commute. With this sort of policy, you still can't use your van for anything to do with your business.
The commuting part of the cover is defined as commuting to and from a single, regular place of work.
So if your job takes you to many sites, this class of use likely isn't for you. It's designed for those who drive to and from the same office every day, or to the train station before heading to work.
With commuting comes increased time on the road, especially at peak hours of traffic. This makes it a bigger risk to an insurer, so you might see extra costs to your policy.
Business use (carriage of own goods)
If you use your van for carrying business-related goods, tools or equipment that you own, then you're probably looking for business use.
A commercial van insurance policy is for carrying items that you own relating to your business - you need them to do your work.
This could be the right cover for someone in the building trade who uses a van to transport their own tools and equipment to work. It could also be useful for someone like a mobile dog groomer or a cleaner
This class of use also includes driving to many places as part of your job. This could be to shops, client's buildings and offices, or building sites.
Even if the tools in your van belong to your employer, you should still likely choose this option.
This cover doesn't mean the tools or goods themselves that you carry in your van are covered as standard. For that, you usually need extra tool cover.
If you're looking to cover your van for business use but have no need for annual cover, a temporary business van policy might be what you're after.
Haulage (delivering goods for hire or reward)
This cover could be for you if you're delivering goods belonging to other people in your van in exchange for money.
It's split into 2 categories that are designed for different types of deliveries.
The key part of the cover for each of them is carriage of goods for hire or reward.
Courier insurance
This type of commercial van insurance policy is suited to delivery drivers and couriers.
It provides cover when other people's goods are being carried for payment and when there are multiple drop-offs.
It's a legal requirement for those providing courier services to have a basic level of courier insurance in place.
This should protect against damage to other people and their property when deliveries are being made.
Courier van insurance policies usually don't include goods in transit insurance. This typically covers against loss, theft and damage to your cargo.
The added value of all those goods in your van often means you pay extra for this type of policy
Haulage insurance
Haulage tends to be carrying goods over longer distances than couriers. You're often just delivering the whole load to a single location rather than lots of smaller deliveries. This is often from one depot or warehouse to another.
Van insurance prices for haulage insurance are calculated differently to courier insurance. This is because you're driving longer distances and making far fewer stops, so the risks are different.
Optional extras for van insurance
You can also choose from optional extras to give added protection:
Loss or damage to attached trailers
Provides cover for attaching a trailer to your van.
Legal cover
This is designed to pay your legal costs if you ever have to go to court because of an accident that wasn't your fault.
Breakdown cover
Adding breakdown cover gives you peace of mind. It should make it quicker and easier to get back on the road if you do break down.
Goods in transit cover
This covers your cargo against loss, theft and damage. You need to ensure that the level of cover offered is high enough to meet the value of the goods you carry.
Tools in transit
This optional extra provides cover for any tools in your van against loss, theft or damage. If your tools are expensive, make sure you've got enough cover to replace them.
Is business use more expensive than social use only?
Carriage of goods for hire or reward and haulage insurance tend to cost more than social only van insurance. But, carriage of own goods business van insurance can sometimes work out cheaper than van insurance for social only use.
Insurers use a range of factors to give prices based on the information you enter when getting a quote.
It's unlikely that you only use your van for social use only if you're a builder, for example. This could be a reason why these policies are sometimes more expensive.
Some people assume that a social only policy is cheaper and may think that lying about the class of use won't matter. The truth is, it could invalidate your insurance policy and end up costing you more.
What happens if I lie about how I use my van on my insurance policy?
Giving your van insurer false information could have serious consequences:
It could invalidate your cover, meaning if you had to make a claim as a result of an accident you won't be insured. Things could get pricey!
If the insurer discovers you've misled them, they have the right to cancel the policy or charge you the correct policy price.
If your insurer cancels your policy, you must declare this on any future applications. This could also increase the van insurance prices you're quoted.
There are other ways to bring down the cost of your van insurance that are legitimate:
Consider a black box policy
Join a trade federation
Use a dashcam while you drive
Increase your voluntary excess
Improve your van security with locks and alarm systems
Don't auto-renew – shop around and compare van insurance quotes
For the full list of tips, check out our guide on how to reduce the cost of your van insurance.