Van security: top tips to stay safe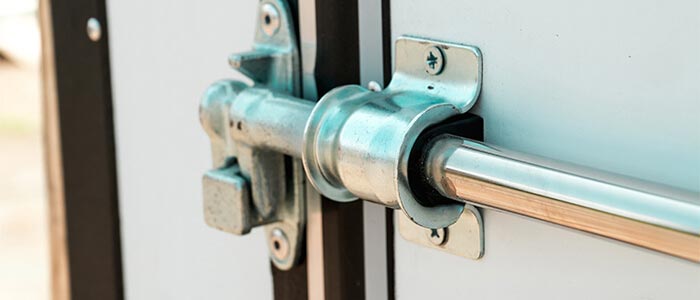 Here's how you keep your van secured from would-be thieves
Since 2016, over 43,000 vans have been stolen, and a further 117,000 have been broken into, according to research from What Car?.
And with criminals becoming savvier in how they break in, it's a good idea to beef up your security.
But where do you start?
Top tips to improve your van's security
Invest in an immobiliser and tracker
Every van made after 1998 has an engine immobiliser fitted as standard.
This stops the engine starting if you don't have the key, so it can't be 'hotwired'.
If you don't have an immobiliser, you can get one fitted by a professional.
Look for immobilisers that are approved by Thatcham. They're the official body on vehicle security.
If you don't have one, it's worth considering a tracker too. These use GPS to locate your van if it's stolen.
It doesn't prevent theft, but it makes it much easier for police to recover it and return it to you.
Improve your van's locks
There are two main types of van locks: a slamlock and a deadlock.
Slamlocks
Slamlocks lock the van as soon as you slam the doors shut.
This makes them easy to secure but you could accidentally lock your keys in the van.
Slamlocks might be a good option for couriers who make short, frequent stops.
Deadlocks
Deadlocks are a separate lock to your van's internal locks.
They're locked manually, but they're difficult to force open - even if thieves get past the regular lock.
Deadlocks might be good for tradespeople who leave their van unattended for a while.
You can also add steel plates around the locks to stop thieves drilling around the lock to break in.
Secure your catalytic converter
Catalytic converters contain precious metals that thieves like to target.
You can get a catalytic converter lock to stop opportunist thieves in their tracks.
Arm your van with an alarm
Most vans tend to have an alarm fitted as standard. So, it's worth checking if yours has one before you carry on.
If you don't have an alarm, you can get one fitted by a professional.
As with immobilisers, it's worth looking at Thatcham-approved alarms. There are two main types you could choose from:
Category 1 - a combined alarm/immobiliser. These are usually for vans that were made pre-2006.

Category 2/1 - an alarm upgrade to your existing security. These tend to be for vans made after 2006.
Write your business details on your van
Having proper van signwriting announces who the van belongs to and how to contact you.
If your van is stolen, it's going to stand out a little. This might make it tough for a thief to make a clean getaway.
So, having your business name on the side of the van could act as a deterrent for an opportunist thief.
Keep your tools safe
Wherever you can, take any tools and valuables out of the van when not in use.
If you have to keep tools in your van, you could invest in a secure storage box to make sure they're extra safe.
You can get boxes that bolt to the floor for added security.
Even the 'no tools kept in the van overnight' sticker is better than nothing. It might be a bit overdone, but it could deter the more casual thief.
You could also look into tool insurance for extra peace of mind.
Be mindful of where you park
Thieves operate day and night, so be careful where you park your van at any time of day.
Look for open, well-lit public places with CCTV cameras to act as a deterrent.
Better yet, if you have the option of a secure car park, be sure to use it.
Mark your van and tools with a UV pen
Use an ultraviolet (UV) pen to write your postcode on your tools and somewhere in your van.
It might make the inside of your van feel like an escape room. But if anything is stolen, the police are more likely to return it to you if they recover it.
Add extra, old-school security
Thatcham says that engine immobilisers and alarms are in the top security categories.
Less sophisticated security features like steering wheel locks are in categories 3-4.
Adding these to complement your van's security gives you an extra level of defence.
So, even if a thief manages to hotwire your van, they won't be able to steer it anywhere.
And, if the van looks like it'll be difficult to steal, it may put off most thieves.
How does van security affect my van insurance costs?
The bigger the theft risk for your van, the higher your insurance costs could be.
So, making your van more secure could help you get cheaper van insurance.
Our van insurance expert Dan McCulloch says:
"Improving your van's security might cost a bit. But it could mean lower insurance costs, as well as less of a headache in having to replace stolen tools.

"Some security features could be considered a modification by some insurers. This could increase your costs.

"So, check with your insurance company before you make any big changes to your van."