Tool insurance
If you transport tools in your van for work, it might be worth looking into a tool insurance policy.
Why do I need tool insurance?
Van tool theft is becoming increasingly popular among thieves. In fact in 2016 alone, a freedom of information request revealed that stolen equipment cost tradespeople across the UK upwards of £94 million.
So whether you're a plumber, dog groomer or builder, protecting the tools you use on a day to day basis is vital.
After all, replacing lost, stolen or damaged tools is not only expensive, but you might lose valuable custom while you're waiting for replacements.
A tool insurance policy provides cover in these situations, so you can be back to work in no time with minimal fuss.
What are the benefits of van tool insurance?
The policies usually include a wide range of tools, such as handheld tools, power and non-power tools, plant equipment, owned, loaned, leased or hire-purchased tools.
Another benefit is the peace of mind that your tools will be replaced quickly so you can get back to work with minimal disruption.
Depending on your excess, replacing them may not be a huge amount of cost to you either.
Read more: Modified van insurance
How do I make sure my tools are insured?
You can either protect your tools as part of your van insurance or as an added extra to your policy. This means that you'll be protected if they're stolen, but also if they get damaged in an accident.
The level of cover you'll need will depend on what you use your van for, and the type of tools you're insuring.
When you declare your tools, you can simply add up the cost, or list the most expensive ones individually on your policy. Never underestimate the value of your tools though.
Visit our specialist goods in transit insurance provider,
Quote me today for a quote
Is there anything else I should consider?
Before you drive off with your tools in tow, you should check your policy for exclusions.
For example, your policy may not cover storage of your tools overnight. You may want to add this, especially if it's a pain to load and unload your tools every evening.
It's also worth checking your existing insurance policies, like your business or home insurance, as your tools may already be covered.
Read more: How to save on your van insurance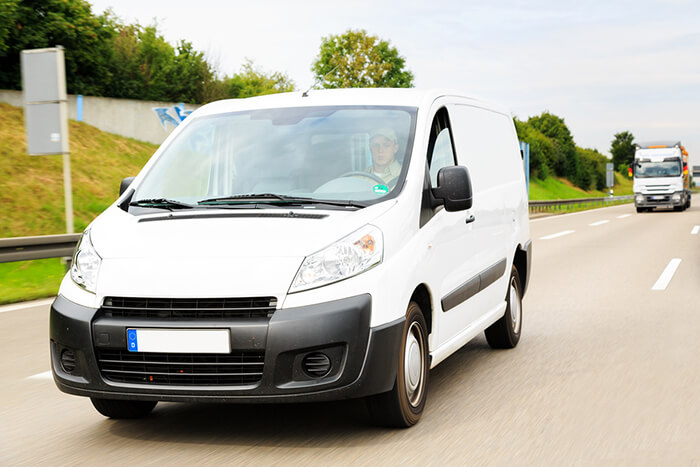 Van security
Even though you have a good level of insurance cover, your insurer will expect you to keep your van secure.
And with criminals becoming more inventive with the way they break into vans, increased security is becoming more important for van drivers.
One method - known as "peel and steal"- involves the criminals using their own body weight to press on the van doors to lift and open the side door. Gaining access to the van and its contents.
Security can be as simple as ensuring your van is locked, keeping your keys with you and installing a working alarm.
Other methods include slam locks, which lock the van as soon as it's shut, and partitions which mask the contents of your van to thieves.
Although impractical for the van driver that's in an out of their vehicle all the time, steering wheel locks are a great, visible deterrent for thieves. Something to look into if you park your van on the street at night.
Investing in proper security for your van and its contents is important for your livelihood, but getting the right level of security could mean lower van insurance premiums too.