If you're a sole trader or running a small business, you might be considering getting a big juicy advert slapped on the side or back of your van.
Getting your van sign written can be an inexpensive way of letting people know that you're open for business.
But it's important to get your van sign writing right.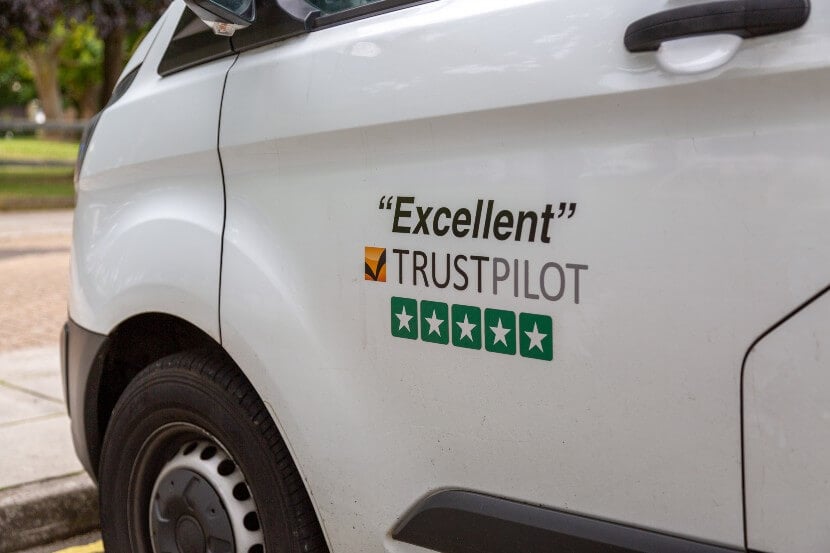 If you're a van owner and you're looking to promote your company, then van signage is one of your cheaper options.
Van signage is increasingly popular among small- to medium-sized enterprises (SMEs) and is an easy way to advertise your business.
But you need to consider what kind of van signs are available and how much each van signage option costs.
We also look at whether having van signage could save you money on van insurance, and whether it's a good idea to get your van signwritten in the first place.
What kind of signwriting can I get for my van?
It's no longer the case that you'd need to get your van sprayed - you have options that are easily removable, such as van sign writing graphics, if you ever have to sell it on.
The following van signage prices are ballpark, as the amount of work required will vary. If you search for "van sign writing near me" or something similar you'll be able to find local businesses providing sign writing services.
Cut vinyl van graphics
Getting stencilling done is pretty cheap, and the adhesive vinyl will preserve the paintwork beneath.
Something basic with the minimum necessary information should cost £60-70 plus VAT.
For something more elaborate, a decent amount of coverage on the sides and back of the van could set you back £300-350 plus VAT.
Vinyl wrap
Vinyl wrap does what it says on the tin - your ad is printed onto vinyl and wrapped around the vehicle.
This style of sign writing can be partial, or a complete wrap if you really want to make an impact.
It's a little more expensive. For a full wrap, you can expect a large-sized van to cost around £3,000.
You may not need total coverage, so it's worth exploring options in-between.
Magnetic van signs
These are the easiest styles of van style writing to slap on and remove.
This is useful if you don't own your van, or you're subcontracted to different companies. It's also good because you don't have to drive around with a huge advert on your van all the time.
They're also pretty cheap with basic prices starting from between £20 and £30 a sign. Be sure to put them on flat panels, and ask for a vehicle-grade magnet that can cope with motorway speeds.
Tracy Clark, managing director of Signarama Milton Keynes, says:
"When thinking about what signage you want for your van, I'd suggest 1 of 2 approaches.
"Either work out roughly how you want your van to look first, have an idea of the coverage, and then ask a signwriter to price it up for you.
"Alternatively, have a budget in mind, and ask what a signwriter can do for that price.
"Obviously the cost will vary depending on the amount of detail and the size of the van, but your signwriter should be accommodating to your needs."
Pros and cons of getting your van signwritten
Cheap advertising is the big one here. Driving around in a big advert is cost-effective marketing. Tracy Clarks says:
"If you budget £350 for an advert that you're driving around for a year, then it works out as less than a pound per day."
Plus your van sign writing should be well targeted, given that it's mostly going to be people in your local area who see it.
According to research by 3M, as many as 3,000 people might see your advert in a single hour in high-traffic areas such as cities. And it's still working for you when it's parked up. Bonus!
One of the main downsides is the perception that having a sign could make your van a target for thieves, impacting your van security.
Having signwriting on a van isn't ideal if you like to draw a strong line between your professional time and your downtime.
Getting an easily removable van signage is probably better for those who want to occasionally switch off, or if other people drive the van too.
Ten top tips for van signwriting
Van sign writing could make a big difference to your business. Follow our top sign writing tips to boost your visibility.
It might sound obvious, but make it absolutely clear what your business does on your sign writing.

Make sure the colour and type face of your van signage matches your brand and is recognisable.

Add your website, logo, social media handles and any other details to your van signage.

Potential customers will be looking for a way to contact you, so make your website and phone number stand out.

Some people may only have a few seconds to process your ad, so make sure it's clear, uncluttered and concise.

The back of the van is generally considered to be the best place for advertising, as someone behind you has longer to digest what it says.

It's very easy to miss your own mistakes, so get a second set of eyes to proofread your sign before it goes to print.

If your van has a sliding side panel, check that your sign won't accidentally say something inappropriate when the door is open.

Use a professional signwriting company and ask for quotes in advance.

Don't be tempted to put too much onto your van sign as it will look confusing and messy.
Will signwriting save me money on my van insurance?
If you want to save money on your van insurance, you might expect that having a big sign on your van would be a bit of a winner.
After all, what's a better deterrent to would-be thieves than a massive sign advertising whose van it actually is?
But it's not quite this simple.
Although the van itself may be less of a target, advertising the nature of your business is sometimes perceived as a menu for what might be inside the vehicle.
In a 2015 survey from ECIS, it was found that 40% of business owners chose to keep their vans free of branding, with 25% of those citing fear of equipment theft - which could see a tool insurance claim - as the reason for doing so.
So what's the answer?
Signwriting is indeed a rating factor - you're likely to be asked about it while making an application for insurance.
As such, there's a likelihood it does have a bearing on the cost.
Dan McCulloch, van insurance expert at Confused.com says:
"Typically having signwriting on a van should ensure that you get a discount with some insurers. This is because some insurers might view businesses with signwriting on their van as more professional and therefore reliable."
There you have it. Not only might having your van signwritten professionally give your business a boost, but it could also score you a discount on your van insurance policy - surely a good sign.