The best vans on the market for 2021
Take your pick of the most popular vans on the market.
The humble van has undergone a dramatic transformation in recent decades. Gone are the rattling, basic, metal boxes that lumbered up and down Britain's motorways.
In their place are a new breed of well-equipped, hugely versatile, luxury machines that are as popular for social use as they are for business.
There are now 4.6 million light commercial vehicles on UK roads – and 3.4 million people use them for work, according to the Society of Motor Manufacturers and Traders.
Such demand has resulted in a fiercely competitive marketplace with manufacturers such as Ford, Vauxhall, Peugeot and Mercedes-Benz going head-to-head.
There are also an increasing number of electric vans in recent years that are gaining popularity.
Choosing your van
If you want to find the best large van – or best medium-sized van – on the market, how do you start? Well, it all depends on your needs.
Are you wanting a weekend family runabout? Do you need a business workhorse for tools and materials? Will you need to transport goods across the country?
Remember, the cost of your van insurance will be partly determined by whether it's used for purely social requirements, acting as transport for your own tools, or delivering other people's goods.
Fortunately, there are plenty of ways to cut your van premiums down to size.
Here we take a look at some of the best vans*.
Ford Transit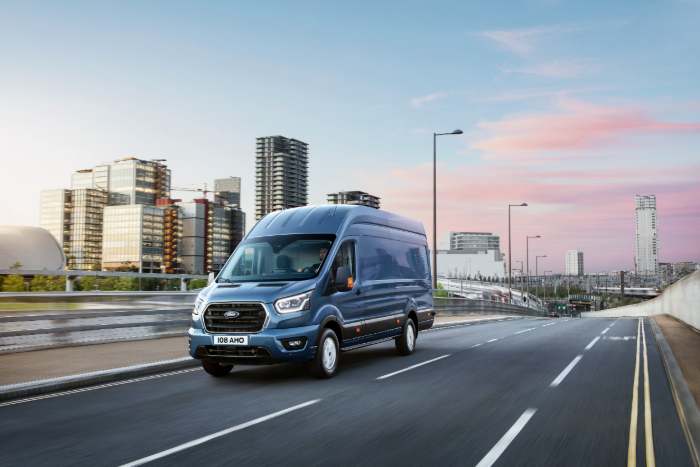 From: £26,235
The Transit has been a much-loved part of British society for more than 50 years. Millions have been sold to individuals, families and businesses.
It was even dubbed 'Britain's most wanted van' back in the early 1970s after Scotland Yard revealed its popularity among armed robbers.
"Ford Transits are used in 95 per cent of bank raids," said a spokesman. "With the performance of a car, and space for 1.75 tonnes of loot, the Transit is proving to be the perfect getaway vehicle..."
Thankfully, these vans are also loved by the law-abiding community, being one of the most popular vans to insure for social, business and haulage use*.
The most recent incarnation of this iconic van comes in a number of variations with different body lengths and roof heights. It also comes in a choice of Leader, Trend or Limited trim levels.
With 15.1 cubic metres of load space, the ability to cope with cargo that's more than three metres long, and a carrying capacity of up to 2.1 tonnes, it is the perfect haulage partner.
Gadgets available include Pre-Collision Assist Pedestrian Detection, which uses radar and camera technology to scan the road ahead.
There is also Roll Stability Control, to keep you stable, a tyre pressure monitoring system, and alarms that help protect your van and its precious cargo.
Maybe consider exploring the entire Transit range. If you're looking for a mid-sized van then there is the Transit Custom. If you need something smaller there is the Transit Connect.
If you're a business owner buying a number of vehicles fleet insurance is a great option for insuring multiple vans.
Vauxhall Vivaro
From: £23,578
There are plenty of Vivaro versions.
The panel vans start with the Edition at almost £24,000, and rise through Dynamic and Sportive to Elite, which costs a shade under £28,000.
Double cabs, meanwhile, are also available that provide space for up to six crew, as well as a fully folding rear bench seat on Edition models.
On a practical level, the Vivaro comes with twin sliding side-access doors, although you can even add electric hands-free opening which gives you access from a flick of your foot.
The optional FlexCargo feature, meanwhile, enables you to create more space, such as fitting in two extra people on a bench seat or using the fold-flat centre seat backrest as a table for paperwork.
On the technology front, there is semi-adaptive cruise control that automatically lowers your speed to keep a set distance from the car ahead. The van can even check for changes in the speed limit.
Other neat touches include a head up display that shows key details such as your speed, right in your line of vision so you can always keep your eyes fixed on the road.
There's also Vauxhall Connect, which is the company's driver safety and security system. It includes e-call with automatic emergency response in case of a crash.
Mercedes-Benz Sprinter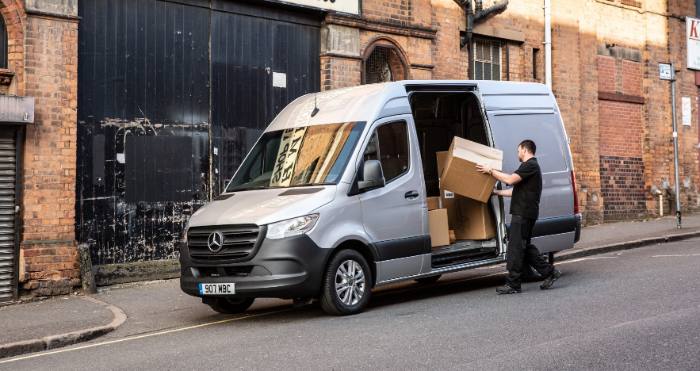 From: £26,120
Versatility is high on the list of priorities for the German manufacturer, which is why the Sprinter is available in many different formats.
There is a choice of roof heights, load areas and vehicle dimensions to enable buyers to pick the perfect combination for their needs.
Comfort and practicality are a given, with fully adjustable electronic driver and passenger front seats and a multifunction steering wheel packed full of controls.
A DAB radio is fitted as standard, along with an MBUX (Mercedes-Benz User Experience) infotainment system that can learn driver preferences through artificial intelligence.
Sprinters also have Mercedes PRO connect – a real-time vehicle monitoring software that connects drivers and businesses to raise efficiency, increase security and improve safety.
Active Brake Assist, Crosswind Assist, Attention Assist and an Emergency Call System are on a long list of safety and security features.
Meanwhile, reversing cameras, an electric parking brake, internally fitted roof racks and a multifunction box on which to complete paperwork are among the available options.
All these qualities – along with the choice of six body styles, four power options, four body lengths and three cargo heights – make this an attractive all-rounder for hauliers.
However, it has a wider appeal and is proving popular with those wanting the best van for a camper conversion.
Peugeot Boxer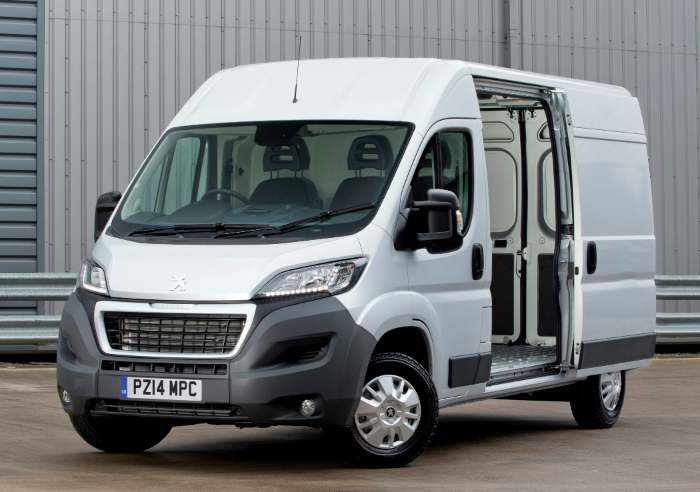 From: £25,195
The Boxer was introduced more than a decade ago and remains one of the best-looking and most practical on the market, with an impressively large load area.
Peugeot's beast is easy to drive, responsive and has plenty of room for three passengers in the cab.
Depending on the model you choose, you can enjoy cruise control, air conditioning, rear parking sensors and 5-inch colour touchscreen with DAB radio and integrated satellite navigation.
In addition to 'S' and 'Professional' levels, the Boxer is now being made in more bespoke GRIP and ASPHALT versions to better suit the needs of particular businesses.
GRIP is best suited to rough terrain and long, dirty roads, which makes it the preferred choice for those wanting the toughest Boxer.
It benefits from Grip Control® with Hill Descent Assist and all-season tyres, a reinforced suspension, engine under protection tray and wheel arch protectors.
ASPHALT, meanwhile, is the more comfort-focused option for drivers who spend a lot of time behind the wheel.
Technology includes a Lane Departure Warning System, Active Safety Brake, integrated satellite navigation, air conditioning and rear parking sensors.
Renault Trafic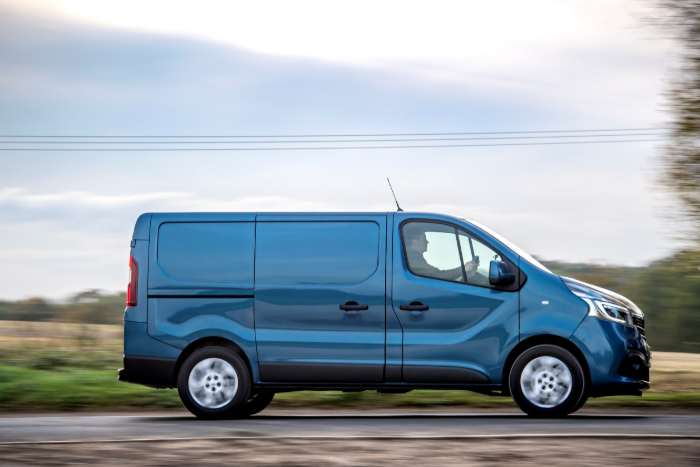 From: £22,950
This is another great contender – and one that has been named Medium Van of the Year 2020 in the annual Fleet World awards.
The judges highlighted the major updates that had taken place, including an improved driving experience, lower emissions and the potential for improved productivity.
The new Trafic is stylish inside and out.
From the smooth lines to all the little touches, including an armrest on the driver's seat, heated door mirrors with electric adjustment, and a DAB radio with Bluetooth.
As with most vans, there's plenty of choice when it comes to dimensions and equipment, with Business, Business + and Sport versions.
Depending on the model and optional extras you choose, you can unlock and start via a hands-free card, enjoy air conditioning and benefit from practical touches like a laptop docking station.
For those wanting a little extra there is also the Black Edition. This beast comes with stylish extras, such as 17" Clyclade black alloy wheels and body-coloured side mouldings.
There's also climate control and a rear parking camera, as well as 'Black Edition' badge and decals to let everyone it's a bit special. The price of this version starts from just under £28,000.
*Jan 19 – Feb 20 sales data from Confused.com