How to become a landlord: your step-by-step guide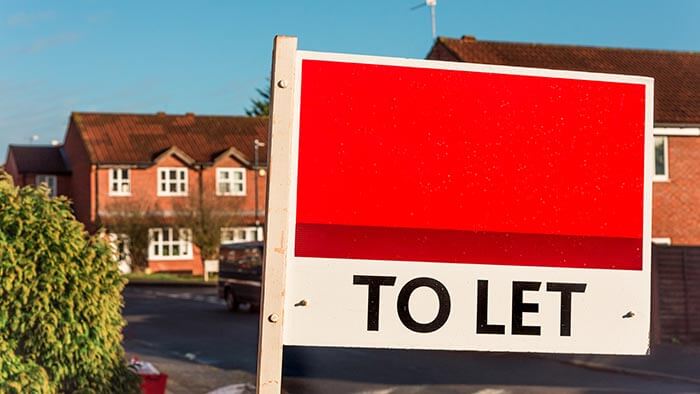 Want to make some extra cash by renting out property? Here's how you do it.
Potential earnings from rent are on the up and up. According to Zoopla, the cost to rent has seen a consistent rise since 2017. The average UK monthly rent at the start of the year was £886.
With that kind of potential income, it's no wonder why some want to take the plunge and become a landlord.
But where do you start? Here's a step-by-step rundown of how you rent out a property.
Make sure you're allowed to be a landlord
If you already own a property outright you can skip this step.
If your property has a mortgage, check with your lender whether you're able to rent it out. You may need to get a specific buy-to-let mortgage for this.
You should check whether the property is freehold or leasehold. If it's leasehold, you'll need permission from the owner to sub-let the property.
Understand the costs of being a landlord and work out how much rent you'll charge
You'll need to balance out your rental income with a host of potential outgoings. These include:
Mortgage repayments

Tax

Stamp duty

Void periods - when the property is empty but you still have to maintain it

Any agency fees

Set-up costs to bring the property up to standard

Any landlord association costs

Ongoing maintenance and upkeep costs
Understand your responsibilities as a landlord
As a landlord, you must:
Maintain the property and be responsible for all repairs

Ensure the property is secure, with functional door and window locks

Follow all energy, fire and building safety regulations

Protect your tenant's deposit.
Read our guide on landlord responsibilities for more information.
Choose your buy-to-let property
If you already have a property sorted, you can skip this step as well as the next.
When you're on the lookout for that perfect property, think about the kind of tenants you want to attract. Consider:
Location. Closeness to certain services may change who might want to live in your property.

Good transport links - commuters and professionals

Schools, GPs and hospitals - families

University campus and town centre - students

Age of the property

State of repair - any renovations and repairs are going to cost you

Accessibility - you have to make reasonable adjustments for tenants with a disability.
If you're considering becoming a commercial landlord then you can learn more about commercial property insurance here.
Apply for a buy-to-let mortgage if you need to
Once you've found a suitable property, it's time to apply for a buy-to-let mortgage. To be eligible, you usually need to:
Be a homeowner already

Have a good credit record

Earn £25,000 or more a year

Be under 70 years of age
The amount you can borrow will likely depend on how much rental income you expect to get.
Roughly, your rental income should be around 30% higher than your mortgage repayments.
Many landlords tend to go for an interest only mortgage. Their rental income covers the interest payments, and they sell the property at the end of the term. This covers the rest of the mortgage debt.
Make sure your property meets building and fire safety regulation
The specifics will vary depending on where your property is.
But in general, you'll need to:
Have a valid gas safety check record and an annual check on all gas appliances. You'll need a GasSafe registered engineer to do this.

Make sure the electrics and all electrical appliances are safe to use.

Fit a smoke alarm on each floor and make sure there's an accessible escape route.

Install fire alarms and extinguishers if you're renting out a house in multiple occupation (HMO).

Make sure any furnishings meet government standards. See the Furniture and Furnishings (Fire) (Safety) Regulations 1988.
For more information read our guide on safety regulations for landlords.
Register as a landlord
If your property is in Wales or Scotland, you'll need to register as a landlord.
In Wales, you do this at Rent Smart Wales. In Scotland, you do this at the Scottish Landlord Register.
If you're a full-time landlord, you'll also need to register as a business. This could change how you pay tax.
If you have full-time employment elsewhere, you don't need to register as a business. You still have to pay tax, though.
The rules on paying tax for landlords depend on where you are. For more information, visit GOV.UK.
Compare landlord insurance
You don't have to get landlord insurance by law. But most buy-to-let mortgage lenders will need you to have it as part of the agreement.
Landlord insurance aims to protect your investment. It protects the physical building from fire, flood and subsidence.
When you get a quote you can choose to add on extras like home emergency cover, it can protect you against things like broken boilers or burst pipes.
If you're furnishing the property, you might want to consider landlord contents insurance. This could help protect things like furniture and appliances from fire and flood.
You might also want to think about public liability insurance. This helps protect you if a visitor injures themselves at your property.
Decide how you want to manage your property
You've two options here.
The first is to manage everything yourself. You'll be able to develop a rapport with your tenants, and you'll save money on agency fees. But you'll have to do all the work.
The second is to use a letting agency. This means you can be pretty hands-off.
Agencies can handle tenants, collect rent and inspect the property.
But letting agents can cost upwards of 20% of your monthly rental income. So it's worth weighing up your options before you make a decision.
Get some tenants
Advertise your property as you would if you were selling it. Invest in good photography and make your property look as neutral as possible.
If you're renting in England, you'll need to check that you tenants have a right to rent. For more information, visit GOV.UK.
Check that your tenants are who they say are, and that they can pay the rent on time. The National Landlords Association can run a basic tenant check for you from £12.95.
You'll also need to secure their deposit into a Deposit Protection Scheme.