You get a call from your tenant and a pipe has burst. What do you do? Arranging an emergency plumber could take some time and it's likely to be expensive. Meanwhile, your property is getting damaged, as are your tenants' possessions.
This is where landlord home emergency cover comes in.
Let's dive into what landlord home emergency cover means for you. And answer the all-important question - is landlord home emergency cover worth it?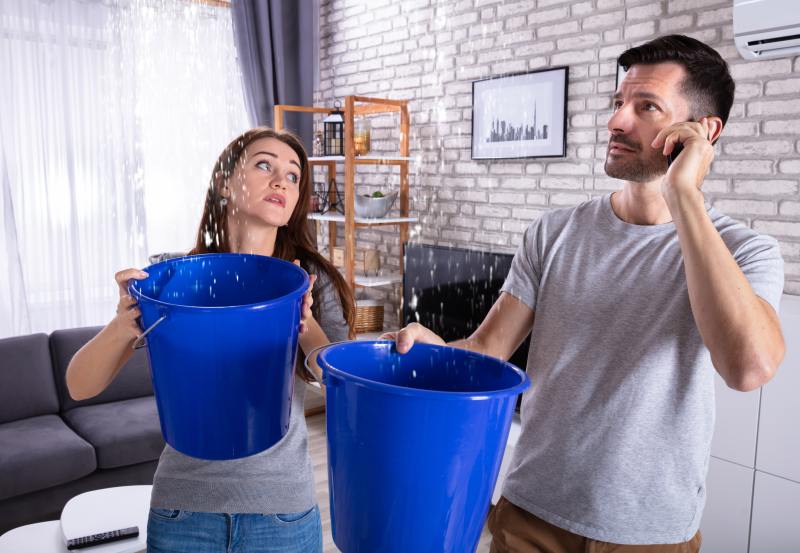 What is landlord home emergency cover?
Landlord home emergency cover is an optional extra to your landlord insurance policy.
You might buy it as a standalone policy or combined as a landlord insurance with home emergency cover policy.
This type of emergency home cover provides emergency assistance for your tenants.
What does landlord home emergency cover include?
Most policies cover emergencies including:
Heating failure
Vermin infestations
Flooding
Water mains failure
Power supply failure, other than a power cut
Roof damage that's caused a sudden leak
Tenants having to gain entry due to lost keys
Blocked drains or sewer problems
Issues with the that which mean it doesn't work
Any damage that means the building isn't secure. For example, to windows, doors or door locks.
What's included in a home emergency cover insurance policy might vary depending on your policy. When you take out your policy, you can talk through what's included and what's not with your insurer.
If your tenant needs to stay somewhere else, some insurers might cover the cost of a hotel or alternative accommodation.
Your boiler should be covered for emergencies with this policy, but a separate boiler policy covers other types of boiler mishaps. Check out our guide to landlord boiler cover for more information.
What's not included in landlord home emergency cover?
As we mentioned earlier, every policy differs. But usually landlord home emergency cover doesn't include:
General wear and tear

Routine maintenance – including boiler servicing

Any repairs that are already covered by your contents and buildings insurance

Any further repairs once the initial problem is resolved

Anything you were aware of when you purchased cover, for example, faults, damage, or infestations

Power failure caused by a power cut
You might also be limited to the number of times you can make a claim in a year, and accidental damage could be excluded.
What are the benefits of landlord home emergency cover?
You should be able to fix the emergency issue quickly, reducing damage to your property and your tenants' possessions.
The cover usually provides help for emergencies 24/7, all year round.
As mentioned, fixing any emergency like the ones listed above might be costly. Having cover like this could reduce the amount you might have to pay to fix the emergency.
But, you should weigh up the costs of paying for the insurance with how much it would cost to fix the problem yourself. You might also already have a basic level of protection on your home insurance policy for emergencies, so it's always worth checking it first.
Do I need landlord home emergency cover?
There are clear benefits to home emergency cover. There can be distressing emergencies for tenants which could potentially damage their possessions. So being able to fix the problem quickly minimises discomfort and provides you with peace of mind.
With this cover, you cut out any middle person. You or your tenant simply call the insurer, and they should then send a tradesperson to fix the issue.
It saves you having to hire a tradesperson yourself, which could be time consuming. You should also be covered for the emergency repair costs, making less of a dent in your funds.
This all comes with the proviso that you keep your property in good condition, otherwise you might not be covered.
But, these policies aren't all the same, so make sure you check the details and you know exactly what's included before you buy. There's no point in buying home emergency cover if you won't be able to use the policy - such as for something already included on your home insurance policy.
For more information see our guide on your responsibilities as a landlord.
How to claim on your landlord home emergency insurance
If there's an emergency in the home, you or your tenant calls your insurance provider. There's usually an emergency number.
They should send a tradesperson out to fix the problem. Don't call a tradesperson directly – your insurer should use their own approved tradesperson.
Most insurers send someone out within 24 hours. They might send someone from the insurance company to assess the damage too.
If they're sure it's emergency damage, their tradesperson usually puts in a temporary fix.
If I claim for home emergency cover can I keep my no-claims bonus?
When you make an insurance claim, this often means losing your no-claims bonus but this depends on the type of home emergency cover you have. If it's a standalone policy, and not linked to your home insurance policy, making a claim shouldn't affect your no-claims bonus.
If it's linked to your home insurance policy you might lose your no-claims bonus. Check the policy details or contact your insurer to find out.
Can I buy home insurance with emergency cover?
Yes. You usually buy it as an add-on to your home insurance policy, sometimes called home insurance emergency cover. Or you buy it from a different insurer as a standalone policy.
It's sometimes added onto packaged accounts so before you buy a new policy always make sure you don't already have one in place.
What are the alternatives to landlord home emergency cover?
Without home emergency cover you might have to do the leg work yourself. Finding a tradesperson, getting them to come out, and paying the cost - plus any extra charges for emergency call outs.
You might also be covered on your home insurance, although this varies depending on the provider and the policy.
Tips for choosing your landlord home emergency cover
There are some key things to check when you're buying landlord home emergency cover. Our home insurance expert, Jessica Willock, suggests:
Checking what your policy covers
Checking whether the company asks for a call-out charge
Making sure the insurance company uses reputable tradespeople
Ensuring they have a 24-hour emergency helpline
Checking the claims limit. Some firms might limit the amount of times you claim.
Some firms might charge an excess. This is the amount you pay towards a claim. You won't have to pay this on landlord home emergency cover bought through Confused.com.
Jessica adds:
"As a landlord, keeping your tenants safe and secure should be your main priority. Landlord's home emergency cover means you can get most emergencies fixed within 24 hours, minimising the disturbance for your tenant.
"Landlord home emergency cover isn't included as standard in a landlord home insurance policy, so make sure you include it when you get a quote."
"You should also make sure you know exactly what you're covered for, so check your policy wording thoroughly."
Where can I find the cheapest landlord home emergency cover?
As with home insurance, home emergency cover has a wealth of policies to choose from. Make sure you take the time to compare policies and providers to find the best one for your needs, at a price you're happy with.
Compare home insurance quotes