Six Nations travel guide
Away matches in the Six Nations can be tricky. Thankfully, we've created an easy to follow guide for visiting every stadium in the Six Nations.
Murrayfield - Scotland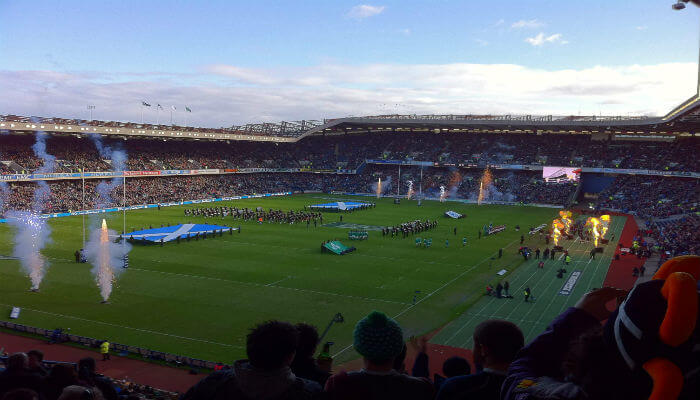 Credit:
https://commons.wikimedia.org/wiki/File:Murrayfield_Flag.jpg
Car - Driving to Murrayfield can be tricky as there are only limited parking spaces available in the stadium. Car park passes are available through the official Scottish rugby website.
Train - Haymarket station is about a mile away from Murrayfield while Edinburgh Waverley station is around two miles from the stadium.
Tram - The Edinburgh tramline runs from the airport to the city centre with the Roseburn stop serving as the closest to Murrayfield. Beware as it can get very busy during a matchday so plan well in advance
Bus - Buses 12, 26 and 31 all pass the stadium so this is a good option if you want to avoid the packed trams.
Air - Edinburgh airport is located around six miles from Murrayfield stadium and around eight miles from the city centre. Once there, you have the convenient option of taking an Airlink bus which passes Murrayfield.
Stay - Accommodation in the Haymarket, Grassmarket and Princes Street areas are great to stay in for both rugby games and are close to Edinburgh's tourist attractions.
Aviva Stadium - Dublin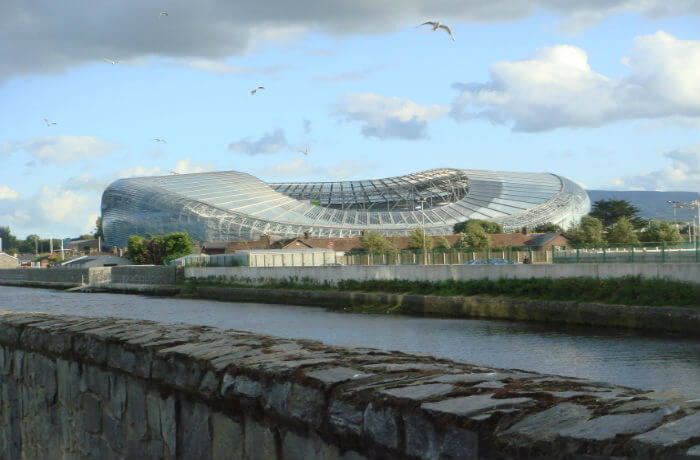 Credit:
https://commons.wikimedia.org/wiki/File:Aviva_Stadium(Dublin_Arena).JPG
Car - Unfortunately, parking at the Aviva isn't possible on match days so your best bet would be to park in the city centre and go from there. Luckily, you have a few options but get in early to avoid queues. If you have the time to do some sightseeing, take a look at our guide to driving across Ireland for some tips.
Train - Dublin's DART railway can take you right to the stadium. Just get off at the Lansdowne Road stop and you're there! In the city centre you can take the DART from Pearse Station, Tara Street station or Connolly station to the Aviva.
Air - Dublin airport is around six miles from the Aviva stadium with an airbus providing transport to the Ballsbridge Hotel near the stadium.
Ferry - Stena line ferries run from Holyhead in North Wales to Dublin port. From there a courtesy coach goes straight to the city centre. Or if you're driving, follow the signs for the Eastlink.
Stay - Staying in the city centre will be the obvious choice for most and Dublin is fantastic for offering accommodation for all budgets and preferences.
Principality Stadium - Cardiff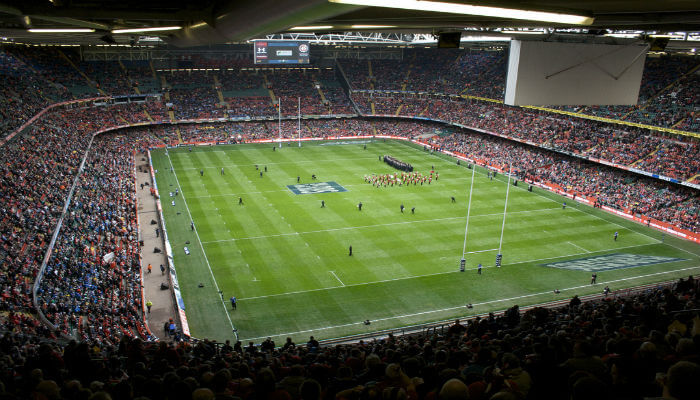 Credit:
https://www.flickr.com/photos/abragad/4473812074
Car - Being right in the middle of the city centre, you'll find that the Principality is easily accessible by most forms of transport. The stadium has no dedicated parking available and while there are plenty of spaces available in the centre it's best to head in early to avoid disappointment.
Train - Cardiff's central train station is right on the doorstep of the Principality while the smaller Queen Street station only offers local rail services.
Air - Cardiff airport is located around 13 miles from the city centre, with a short shuttle bus journey taking you to the local Rhoose train station. From there, it's a 30 minute rail journey to the city centre (Cardiff Central or Queen Street station).
Stay - There is a huge variety of hotels and hostels to stay in around Cardiff city centre. The only thing you'll need to decide on is your budget.
Twickenham - London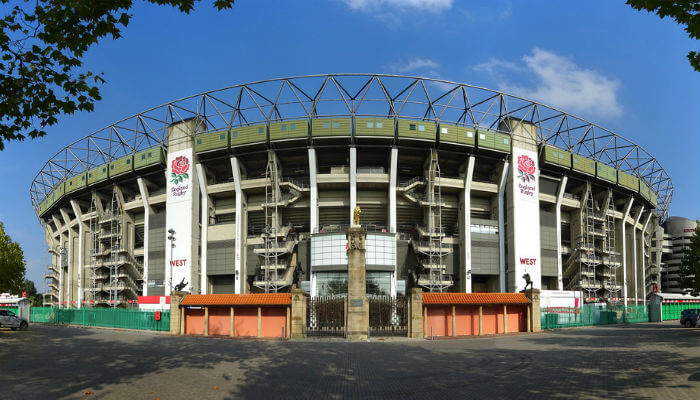 Credit:
https://www.flickr.com/photos/mualphachi/31421044571/in/photostream/
Car - Parking at Twickenham is possible but due to the limited number of spaces, you'll have to book them well in advance before a match day. Most of the surrounding area around Twickenham is residents parking only which makes driving a tricky prospect.
Train - Twickenham train station is located only a short distance away from the stadium making it a great option on a match day. Regular trains run to Twickenham from London Waterloo, Clapham Junction, Reading, Ascot and Windsor & Eton Riverside.

Air - Twickenham is around six miles from Heathrow, 20 miles from London City Airport, 30 miles from Gatwick and 40 miles from Luton.
Stay - Hotels in Richmond and Kingston will cater for most budgets and preferences.
Stade de France - Paris
Credit:
https://www.flickr.com/photos/t_abdelmoumen/2893742578
Car - Driving to and parking at the Stade de France isn't advisable due to the number of restrictions around the area and the stadium. Plus, Paris isn't exactly known as a pleasant driving experience for foreigners. Although limited parking is available in the vicinity of the stadium if you're feeling brave. We've also created a handy guide for those wishing to know more about driving across France.
Train - Most international services will run to the Gare du Nord where you'll be able to get a dedicated train line to the Stade de France.
Air - Paris has three airports, two of which have direct transport links to the stadium. Charles de Gaulle and Orly both provide train services to the Stade de France. Beauvais airport unfortunately doesn't, however there are transport links to get into the city and from there, the stadium.
Stay - The area around the stadium isn't the most appealing, so Gare du Nord is your best bet for food, drink and accommodation. The centre of Paris is excellent in terms of places to stay for all budgets. However, if you're dead set on staying near the stadium there are several hotels located nearby.
Stadio Olimpico - Rome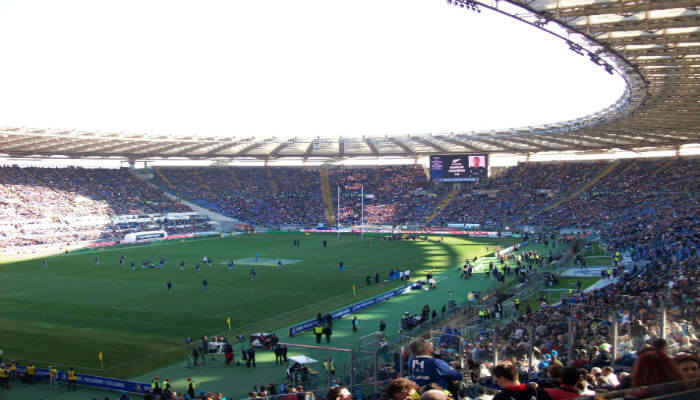 Credit:
https://upload.wikimedia.org/wikipedia/commons/c/c3/2012-11-17_ITA-NZL_Olympic_Stadium.jpg
Train - The majority of train services to Rome will arrive at the Termini station near the city centre. Access to the stadium is available through the city's tramline which can be reached by catching the metro to the Flaminio stop. You'll then want to catch a tram and get off at Mancini which will be right outside the stadium.
Air - Fiumicino airport will most likely be your touch down point when flying internationally, it's located around 20 miles from the city centre. Making your way into Rome should be straight forward as regular express trains head in. Get off at Termini station and the route will be exactly the same as above!
Stay - Food and drink are widely available in and around the stadium during a match day. However, it should go without saying that the best food and drink will be in the city. There are a few options for accommodation around the Olimpico but the majority of fans will no doubt choose to stay in the city. Although we haven't included any advice for driving, if you are taking a car we have a handy guide on driving through Italy.