There's nothing quite like the joy of booking a holiday and starting the countdown until you get away. But then you've got to deal with the stress of packing, dealing with airline restrictions and checking your documents are in order. Having a checklist is a great way to make sure nothing is forgotten.
With that in mind – here are the absolute essentials that you must have in your suitcase or hand luggage.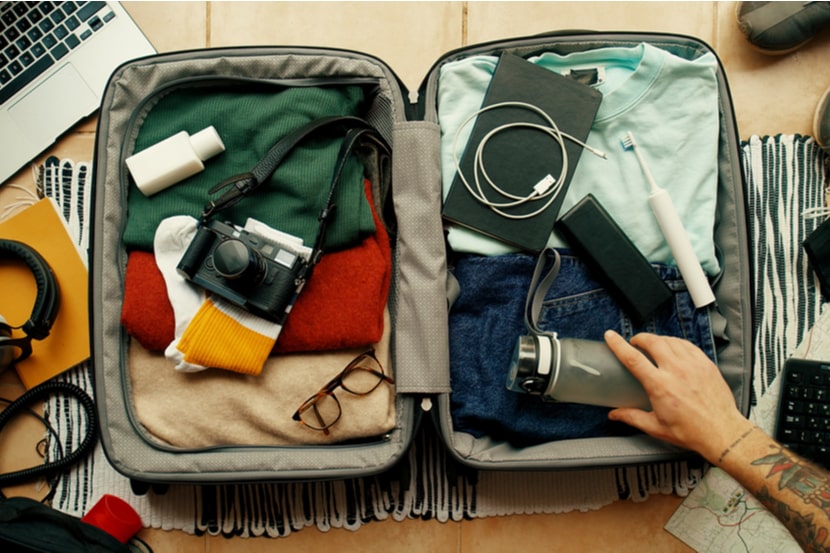 What should be on my holiday checklist?
The most important thing for holiday checklist packing is the administrative stuff, such as passports and visas, Covid-19 requirements, money and travel insurance. Forget these and you may find you're banned from getting onto the plane in the first place or come a cropper when you land.
Other holiday packing essentials like clothes are clearly important, but if you forget something, you should be able to replace it in a pinch.
Passport – check the dates carefully and whether the destination needs you to have a certain amount of time left.
Visas – different countries have different rules and it can depend on your reasons for travelling and length of stay. This government website is a good place to start.
Boarding passes – some airlines charge you extra for printing at the airport so check the rules.
Covid-19 travel documents - check entry requirements carefully, both when you book and before you fly as things can change quickly. You might need vaccination proof, tests, declaration forms and there could be quarantine requirements.
Money – make sure you have some emergency foreign currency on you, even if you're planning to stick to cards while away. This means that you have options if your card fails. If you've got a specialist prepaid travel card or a credit card that's great for use internationally – don't forget to pack them.
Driving licence – particularly important if you're planning on driving
Medication - take more than you need in case of emergencies. It makes sense to split this between hand luggage and suitcases in case one bag goes astray.
Spare glasses or contact lenses – if you lose your specs or don't take enough lenses, finding a replacement can be a nightmare
Face masks - still a requirement on some airlines. Check the rules.
House keys – you don't want to call a locksmith on your first day back.
Travel insurance - sort this from the second your holiday is booked so you're covered if something happens, or you need to cancel travel before you fly.
You can get emergency travel documents, such as a passport, if you realise yours is no longer valid.
What should I pack for a beach holiday?
If you're heading to the beach, you need sunshine specific gear to fully enjoy your trip. As you'll be lounging by pool or sea most of the time, you might be able to keep packing relatively light on the clothes front – more room for books and sunblock.
If you're planning on water sports, don't forget you might need specialist activity travel insurance in case of any injuries.
Here are the main things to consider:
Swimwear
Warm weather clothes
Clothes for the evening – some hotels have rules on this
Waterproof bag
Beach towels
Hats and sunglasses
Sun cream and / or block
Lip salve
Insect repellent, spray on and plug ins
Books or magazines
Audiobooks or podcasts
Inflatables (unless you're buying while there)
Bucket and spade
Beach friendly shoes (sandals or flip flops)
Sunshades / umbrellas
Toys for children
Googles
Fins or a scuba kit
What should I pack for a summer holiday?
Your packing list for a summer holiday is likely to be similar to that for a beach holiday. However, you might be visiting more places, so you'll need extra kit. If it's a family holiday, don't forget that everyone needs cover, so it might make sense to look at family travel insurance.
Here are our top things to add to the list.
All the items from the beach holiday checklist
Push chairs
Baby food
SPF 50
Bite cream
Baby wipes
Light clothing
Sturdy shoes for excursions
Guidebooks
Sunglasses and hats for the kids
Backpack
First aid kit
Family friendly games
Things to distract your children on the flight (including snacks)
Nappy changing back
Favourite toys
Camera
What should I pack for a ski holiday?
Ski holidays can be the hardest to pack for, not least because all the clothes are so bulky and heavy that it's harder to stick to the weight limits. Some equipment you might have with you, while you might be renting other bits out there.
It's really important you have ski travel insurance before you hit the slopes just in case you get hurt.
Here's the list of must-haves.
Skiwear (jackets and salopettes)
Base layers
Ski socks
Gloves
Helmet (increasingly a requirement for winter sports insurance)
Hats
Sunglasses and / or goggles
Sun cream
Lip salve
Skis / snowboards, boots and poles (either with you or rented out there)
Lift pass
Scarf
Warm clothes for off the slopes
Sturdy footwear (e.g. walking boots)
What should I pack for a city break?
For a city break, you should be able to pack lightly as you're likely to only be away for a short amount of time. Many travellers prefer to go hand luggage only, so they can avoid hanging around in baggage reclaim. If you carry a handbag, check if you're allowed this and a separate hand luggage bag. Most airlines let you, but some don't.
Make sure you've got everything on this list before you jet off:
Guidebook
Map (or maps downloaded on your phone)
Local taxi app (Uber equivalent)
GHIC health insurance card if you're travelling in Europe
Comfortable walking shoes
Weather appropriate gear (sunscreen, sunglasses and hat, or hat, scarf, coat and gloves).
Bag that you can carry for decent distances or that's safe out at night (e.g. backpack, cross body bag).
Camera
Medicines and prescriptions
Train, plane or bus tickets if you're travelling within a city
Water bottle or flask
Umbrella
What travel documents do I need?
We've already mentioned the main ones, which are passports, visas, Covid-19 documents, travel insurance, boarding passes and drivers' licences.
However, there are other things to consider. If you're travelling within Europe, you should make sure you take your GHIC card. This is a free document that should get you access to state healthcare in Europe. It's quick and easy to apply.
It helps to have printouts of the most important booking confirmations. Having multiple copies (one in hand luggage and one in suitcases for example) can be a valuable back up.
Documents to print and take with you:
Flight details and boarding pass – including your return flight
Insurance certificate (in some countries, like Cuba, this is a legal requirement and you may be asked to show proof)
Hotel confirmation
Covid-19 documents
Any Visa confirmation (for instance your ESTA confirmation if you're going to America)
Booking confirmation for any internal travel, excursions or activities
Remember to get travel insurance
No matter what type of holiday you're going on, travel insurance helps protect you against cancellations and delays, medical expenses and the costs of any lost or stolen items.
Book this as early as possible, so you can still get your money back if the holiday is cancelled. Too many people leave it till the last minute the day before they fly. But if your airline goes bust or you break your leg commuting, you might want the option to get your money back.
Think carefully about what kind of activities you'll be doing and whether you need specialist insurance, ski or extreme sports cover, for instance. Factor in the location too, as not all basic policies cover everywhere in the world.
Don't just buy the cheapest insurance you can find, either. Often the limits will be low, and you might not have enough cover if something does go wrong. There's no point having baggage insurance worth just £500, if your suitcase has gadgets, jewellery and your best clothes in it.