The price of holidays - including hotel rooms, car hire and flights - can change on a daily basis. But, luckily, there are many ways to cut the cost of your holiday. What may surprise you is that the day you book your getaway is one of them.
Timing your booking carefully can be a tactical way to save some cash and increase your spending money. Find out the cheapest time to book your holiday.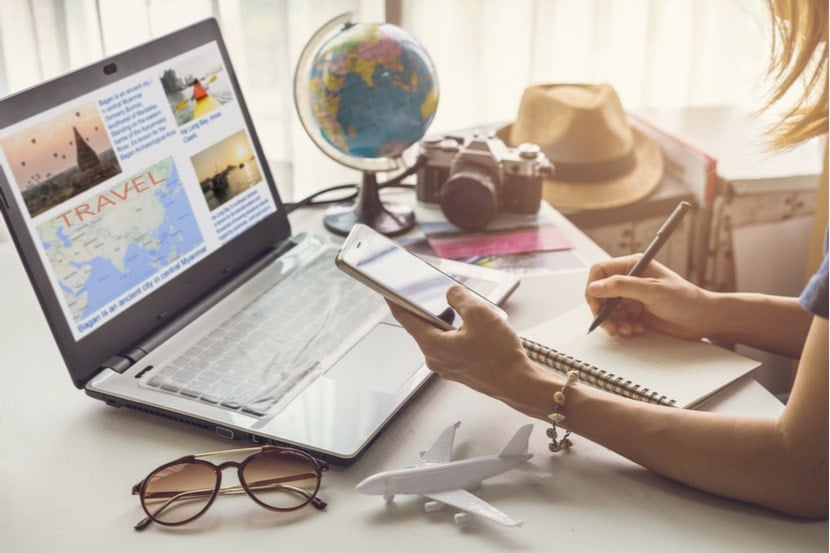 The best day to book flights
Research suggests that Sunday is the best day to book flights before a holiday.
Even though airlines and hotels rarely share how and when they change their prices, analysts at Expedia have done some research to highlight the subject.
The travel comparison site revealed its holiday booking hacks for 2023, which it compiled in association with the Airlines Reporting Corporation.
Expedia claims that the cheapest day to book international and domestic flights is Sunday. Choosing this day of the week to book could save you around 20% on domestic flights and 10% on international flights.
To save even more, it also found that the best day of the week to depart for domestic flights is Saturday, saving you up to 20%. The cheapest day of the week to fly with international flights is Friday, helping you save an average of 15%.
If you want to lower the risk of encountering delays, you should aim to book an early flight. Expedia's data found that departures scheduled before 11 am are 11% less likely to be impacted by flight cancellations.
The best time to book a hotel
According to Expedia's more detailed holiday hack report for 2022, holidaymakers staying in the UK can save 5% by booking a hotel on a Friday. This is compared to Sunday, the most expensive day.
International holidaymakers can also save 5% by booking a hotel on a Wednesday. This is instead of Saturday, which is the priciest day to book an international hotel.
The best day to travel
Thinking about which day of the week you travel can also help you save. But views are mixed and much depends on when and where you're going.
A TUI spokesperson says:
"If you're looking for a bargain in school holidays, it's worth looking out for cheaper midweek flights rather than travelling on a Saturday or Sunday, especially for Easter and summer holidays when children are off for more than a week at a time."
But the Expedia 2023 research suggests flying on a Saturday for domestic trips, where prices could be 20% lower. For international trips, it says flying on a Friday could be 15% cheaper.
For hotel rooms, midweek still seems to trump weekends. Starting a UK hotel stay on a Monday can save you 20% compared to a Saturday. For overseas trips, there's a 10% saving to be made by also starting a trip on a Monday.
The best time to book a holiday
The best time to look at flight prices before booking a holiday is generally as far in advance as possible. Jack's Flight Club suggests booking as soon as flights are released, but ideally between 6 weeks and 8 months.
Expedia's 2023 report says you should book a holiday at least 2 months in advance for domestic flights to save up to 30%. Travellers who booked 70-100 days before their departure dates saved much more compared to those who booked last minute.
If you're booking an international holiday, you should book 4 months before your departure date to save up to 20%.
According to the report, March is the most reliable month to travel. March had the shortest average length of delays while July had the highest average of 184 minutes.
When booking a holiday, also consider booking off-season when possible. Months containing school holidays are often more expensive due to higher demand. As are the summer months due to the increase in temperatures and the improved weather.
So, if you're looking to save some extra cash when planning a holiday, book during the quieter months if your schedule allows it. There's less competition during months like September and October as UK children are back in school. This means you may see lower prices for flights and hotels.
You might be able to get a bargain by booking last-minute flights, but it's not guaranteed. In fact, prices might actually rise as airlines seek to capitalise on those that need, rather than want, to fly.
When is the best time to book travel insurance?
Ideally, it's better to book travel insurance immediately after booking your holiday. Even if you're booking a trip a few months in advance, it's worth arranging your travel insurance as soon as possible.
This should protect you if unforeseen circumstances mean you have to cancel your trip. These may include:
An accident
An illness
A bereavement
If you've been made redundant and can no longer afford the trip
Best time to book car rentals
If you're planning a road trip, car hire can be an expensive part of your trip.
According to Expedia's 2022 research, the best day to book car rentals in the UK is Saturday. For international car hires, Sunday is typically cheaper.
Other ways to save money on your holiday costs
Trying to understand travel companies' pricing strategies can be difficult. But there are plenty of other ways to save money on your holiday - especially if you're flexible.
A TUI spokesperson says:
"Many of our customers want to go away for more than 7 nights this year to make up for lost time. And while 10 and 14-night holidays are favourites, it's often possible to book 11 nights for the same price as 10, or even less in some cases. This is due to the flexibility and frequency of our regional flying to certain destinations over peak dates.
"Long haul is a popular choice this summer and it's often possible to book 7 nights for a similar price or just a little more than Cape Verde or Greece to the Dominican Republic. A lot of our long haul hotels are 24-hour all-inclusive, so it's worth checking individual hotels to see where, for just a fraction over budget, going further afield offers great value for money."
The 2022 Expedia research also found that huge savings are possible if you're prepared to drop 1 star on your hotel choices.
Dropping from 5 stars to 4 stars can save you an average of 50% while going from 3 stars to 2 can reduce your bill by 30%.
But if you want to add luxury to your trip, the cost of flying in premium seats has dropped. During 2021, premium economy seats were 250% more expensive than economy seats. This is compared to 380% in 2019 before the pandemic.
Get holiday deal alerts
Another top tip for saving is to sign up to email newsletters from airlines, hotels and cruise companies. Make a note of when budget airlines release new flights for your chosen routes too.
It's also worth following holiday companies on Twitter, Facebook and Instagram.
Travel comparison services are also making it easier to keep an eye on changing prices.
Kayak's price alert tool, for example, lets you know of any noteworthy changes to the price of your chosen route or hotel. This is helpful if you've got a specific trip in mind but are flexible in terms of when you can go.