There are many ways to cut the cost of your holiday, but did you know that the day you book your getaway is one of them? Find out the cheapest time to book your holiday.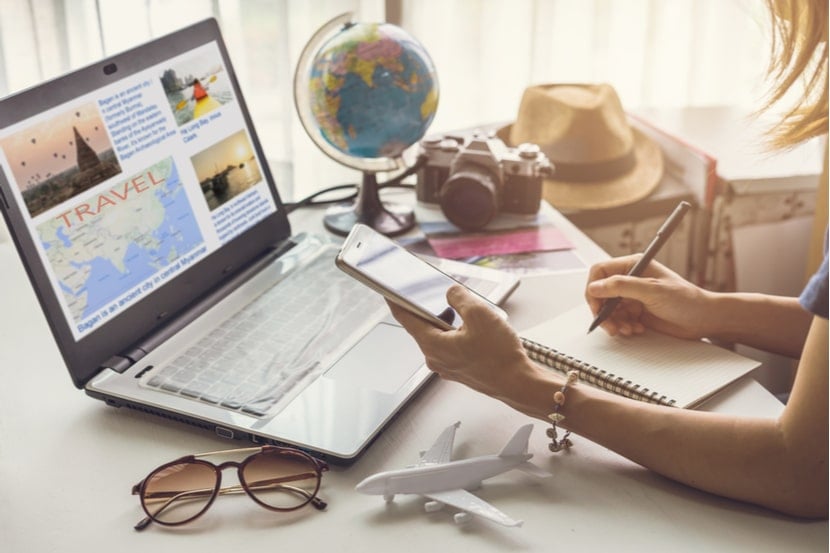 Just like any commodity, the price of holidays - including hotel rooms, car hire and flights - can change on a daily basis. That means timing your booking carefully can be a tactical way to save some cash and boost your spending money.
The catch is getting to grips with how travel companies price their holidays and, unsurprisingly, they hold their cards pretty close to their chests.
A Tui spokesperson explains: "Like all tour operators and airlines, TUI uses a dynamic pricing model which means that prices can go up or down. Many variables influence this including when people want to travel, and where they want to travel to and from."
The best day to book flights
Even though airlines and hotels never share how and when they might change their prices, analysts at Expedia have done some research to shed some light on the subject.
Earlier this year, the travel comparison site revealed its holiday booking hacks for 2022 which it compiled in association with the Airlines Reporting Corporation.
Many people believe Tuesday is the best day to book a holiday. However, this year's results challenged the popular notion that booking mid-week is cheapest.
It found that the best day of the week to book domestic flights is a Sunday, saving 15% compared to the most expensive day, a Friday.
It claims the cheapest day of the week to book international flights is also Sunday, instead of Friday, but savings this time are 20%.
The best day to book hotels
According to Expedia, holidaymakers staying in the UK can save 5% by booking on Friday, compared to Sunday, the most expensive day.
International holidaymakers can also save 5% by booking on a Wednesday, instead of Saturday, the priciest day to book.
The best day to travel
Thinking about which day of the week you travel can also help you make savings.
Perhaps unsurprisingly, views can be mixed, and timing may often be an art rather than a science. Much depends too on when and where you are going.
A Tui spokesperson says: "If you're looking for a bargain in school holidays, it's worth looking out for cheaper mid-week flights rather than travelling on a Saturday or Sunday, especially for Easter and summer holidays when children are off for more than a week at a time."
The Expedia research, however, tips flying on a Friday for domestic trips, where prices could be as much as 20% lower than a Tuesday. For international trips it says flying on a Friday could be 10% cheaper than flying on a Wednesday.
For hotel rooms mid-week still seems to trump weekends. Starting a UK hotel stay on a Monday can save you 20% compared to a Saturday, according to Expedia. For overseas trips, there's a 10% saving to be made by starting a trip on a Monday rather than a Saturday.
The cheapest time to book a holiday
In addition to thinking about what day of the week you book, you may also want to think about your timing.
Expedia says the cheapest time to book domestic flights is November, which is typically 45% cheaper than March.
For international travellers it suggests the best month to fly is September where flights can be close to 40% cheaper than flying in the peak month of December - when people are flying to see friends and family for Christmas.
The best time to look at flight prices is generally as far in advance as you can.
Jack's Flight Club suggests booking as soon as flights are released, but ideally between eight months and six weeks.
You might be able to snap up a bargain by booking last-minute flights, but it's not guaranteed in any way. In fact as flight dates draw closer prices might actually rise as airlines seek to capitalise on those that need, rather than want, to fly.
Even if you are booking a trip months in advance, it's a good idea to arrange your travel insurance as soon as you can. This should protect you if unforeseen circumstances force you to cancel your trip.
Best time to book car rental
If you're planning a road trip, or like to explore when you go on holiday, car hire can be an expensive part of your trip.
According to the Expedia research, the best day to book for the UK is Monday, for a trip starting on a Tuesday.
Saturday is the cheapest day to book an international car rental, for trips that begin on a Sunday.
Other ways to save on your holiday costs
Trying to get to grips with travel companies' pricing strategies can lead you down a rabbit hole, however there are plenty of other ways to save money on your holiday - especially if you're prepared to be flexible.
A Tui spokesperson says: "Many of our customers want to go away for more than seven nights this year to make up for lost time. And while 10 and 14 night holidays are favourites, it's often possible to book 11 nights for the same price as 10, or even less in some cases due to the flexibility and frequency of our regional flying to certain destinations over peak dates.
"Long haul is a popular choice this summer and it's often possible to book seven nights for a similar price, or just a little more than Cape Verde or Greece to the Dominican Republic. A lot of our long haul hotels are 24 hour all-inclusive, so it's worth checking individual hotels to see where for just a fraction over budget, going further afield offers great value for money."
The Expedia research also finds that huge savings are possible if you are prepared to drop one star on your hotel choices.
Dropping from five star to four star can save you an average of 50%, while going from three star to two can knock 30% off your bill.
If, on the other hand, you want to add luxury to your trip, the cost of flying in premium seats has dropped. During 2021 premium economy was 250% more expensive than economy, compared to 380% in 2019 before the pandemic.
Get holiday deal alerts
Another top tip for saving is to sign up to email newsletters from airlines, hotels and cruise companies.
Make a note of when budget airlines release new flights for your chosen routes too.
It's also worth following holiday companies on Twitter, Facebook and Instagram as well.
Travel comparison services are also making it easier to keep an eye on changing prices. Kayak's price alert tool, for example, lets you know if there are any noteworthy changes to the price of your chosen route or hotel stay. This can work brilliantly if you've a specific trip in mind, but are flexible in terms of when you go.