If you're going to take the time to complete house renovations, it's important you have the right home insurance policy to cover you.
But your current insurance policy might not cover major renovation work like extensions or loft conversions. So before starting the work, inform your insurer of your plans.
So what renovation work is usually covered and when might you need specialist renovation insurance?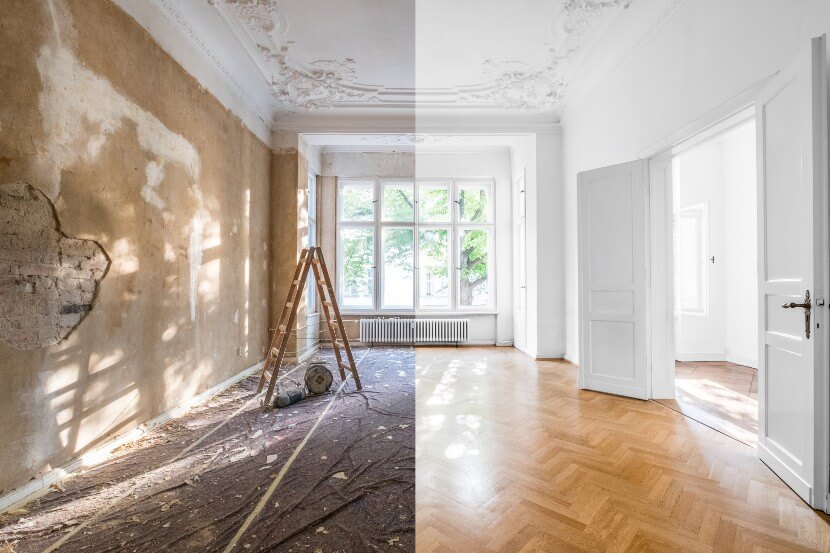 What is home renovation insurance?
Renovation insurance is a type of home insurance policy that protects your property and its contents when building work is being carried out. It covers the additional risks that come with renovating a home, protecting you until the work is complete.
Policies differ between providers, but home renovation insurance tends to cover:
Accidental damage

Damage to the structure of the property

Damage to the contents of the home, including through fire and flooding

Unoccupied property insurance if you can't stay there for more than 30 days

Theft of building materials, tools and equipment

Damage to a neighbour's property as a result of the work

Public liability cover in case of injuries

Legal expenses should there be a dispute
How much does home renovation insurance cost?
The cost of renovation insurance can vary depending on a variety of factors. This includes:
The length of the process
The nature of the work
Who's conducting the work
But home renovation insurance policies don't typically have a fixed rate.
When buying specialist renovation insurance, make sure you're honest with the provider. Give them as much detail about the renovations as possible to ensure the policy covers the work you're planning.
Does home insurance cover renovations?
A lot of home insurance policies only cover DIY and redecoration. So there could be different restrictions depending on the work being done.
Some minor work like like fitting a new kitchen liekly falls under the minor building works clause of some home insurance policies. But more extensive structural work might not be covered, so speak to your insurer before starting the work.
If no changes need to be made to your policy, you may be allowed to start the work as planned. Alternatively, if your policy doesn't cover the renovations, you may need renovation insurance.
When comparing home insurance policies, consider any plans you have to renovate your property. Our home insurance expert Jessica Willock says:
"When you get a home insurance quote through us, we'll ask you if your home is undergoing building work because the property will be a higher risk.
"It's important when you're doing renovation work to notify your insurer. Otherwise, it could void your home insurance if you need to make a claim."
Compare home insurance quotes
Do I need to tell my insurer about building work?
Yes, otherwise your insurance policy could be invalid. This means you might not be able to make a claim.
Many insurance providers use rebuild values to calculate your insurance costs. Renovations can affect the rebuild cost of your home, so your provider needs to be told in advance.
Update your insurer if you're planning:
Structural renovations, for example significant rewiring or re-roofing
Alterations to the layout of the house such as an extension
Loft, cellar, basement or garage conversions
You don't need to tell your insurer about cosmetic improvements or redecorating. But if you're unsure whether your policy covers the work, speak to your provider before starting.
What details do I need to tell my insurer?
Your insurer may ask you questions to see what level of risk the work adds to your property.
When discussing the renovations with your insurer, you need to tell them:
The cost of the work
How long the job is likely to take
Your contractor's details and whether they have public liability insurance
Whether your home will be unoccupied during the process
Will renovations increase my home insurance costs?
This depends on what renovation work you're having done.
Major renovations like extensions can result in higher insurance costs as they increase the cost to rebuild your home.
If you're still unsure, speak to your insurer directly. But, typically, if the work increases the cost of rebuilding your home, there's a chance your insurance costs could also go up.
Do I need renovation insurance?
If you're planning work that affects the structure of the building, it's worth considering renovation insurance. For example, your home insurance policy may not cover substantial home renovations such as loft conversions or extensions.
If you're painting or redecorating your home, it's unlikely that you need renovation insurance.
If in doubt, speak to your insurer before deciding as some providers offer additional renovation cover.
Does a loft conversion count as a renovation?
Yes, loft conversions are often seen as extensive home renovations.
A standard home insurance policy might not cover the work involved with a loft conversion. If you're planning this type of renovation, contact your insurer before starting the job.