If you've just bought, or are planning to buy, a new build home – congratulations! It's understandable that you might want to ensure that your new property is protected, so a new build home insurance could be essential.
But is home insurance for a new build home the same as for older bricks and mortar properties, or do you need anything extra?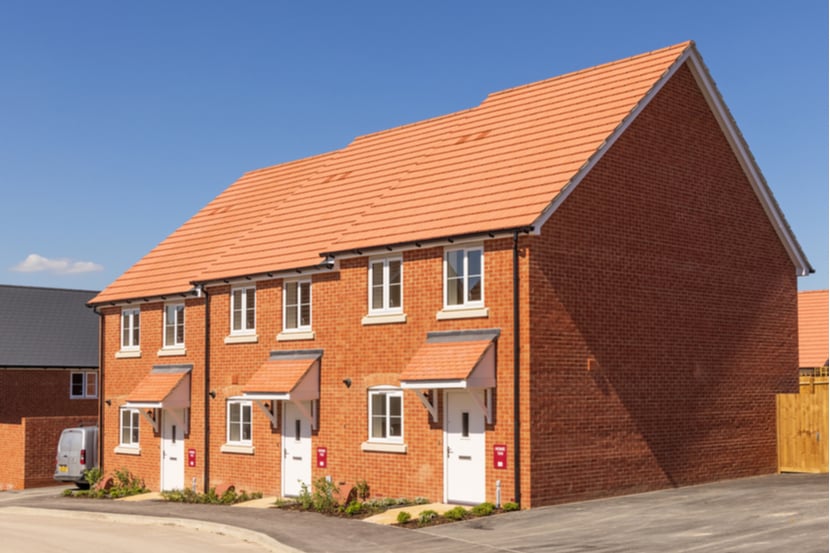 Do I need home insurance for a new build?
It's not a legal requirement, but it's worth considering. Just because your home is brand new, that doesn't mean it doesn't need insurance. Fires, floods, subsidence as well as burglaries can all happen regardless of the age of your property.
If a car crashes into your house, there's a fire, a break in, or your pipes burst, it would be your home insurance that you'd likely turn to.
Just like any other property, if you're buying it with a mortgage, your lender is likely to insist you have buildings insurance at the bare minimum.
Make sure that your policy kicks in from the day you exchange contracts, not the date you move in. This ensures you're covered from the moment the house is legally yours.
What does new build home insurance cover?
In many ways, new build insurance is like regular home insurance and is often split into buildings and contents insurance. You can get them separately but many homeowners buy combined cover as it often works out to be less expensive.
Buildings insurance covers the structure of your property and permanent fixtures (like a fitted kitchen or bathroom) from damage that results from:
Fire
Flood
Subsidence
Burst pipes
Theft
Contents insurance protects all the possessions you keep in your home that you'd take with you when you move. This covers your furniture, appliances, clothes, jewellery and tech. These are covered in the event of:
Theft
Loss
Damage (accidental damage normally at an additional cost)
What's classed as a new build?
A new build is a property that's brand new and has never been lived in. It usually refers to a home that has been built within the past couple of years.
Sometimes the term conjures up images of new housing estates and large building sites. Or properties bought 'off-plan'.
This means buying the property before it's been completed or, in some cases, before construction has even started. But a new build can just as easily be a single property.
What is an NHBC Buildmark Certificate?
If the developer of your new home is a member of the National House Building Council (NHBC), you start off with an advantage.
That's because its members offer the Buildmark Certificate, which is a 10-year warranty. Under the terms of the warranty, you should have extra protection if things go wrong.
For the first 2 years of the warranty, any defects arising from the construction of the property should be put right for you.
So, if the guttering is playing up, the windows are leaking or the kitchen tiles are coming loose, the builder should sort it.
For the remainder of the 10-year period, any structural problems that can be blamed on the build should be covered. This includes issues with the roof, the staircase, the floor, walls and ceilings.
The warranty kicks into life as soon as you exchange contracts. This means you should have some protection if the builder suddenly goes out of business and can't finish building your property.
Do I still need new build home insurance if I have an NHBC Buildmark Certificate?
If you want full protection for your home, then it's worth considering a home insurance policy. Regardless of the Buildmark Certificate.
Your NHBC certificate only covers problems that result from the construction of your home. It might not provide any cover for problems that are outside of the builder's control - for example, theft and fire.
How do I get new build home insurance?
Developers might encourage you to speak to their recommended insurance partners. Your mortgage provider might do the same. But don't take their word for it being a good deal.
The best way to find a new build home insurance policy that's right for you is to shop around and compare home insurance quotes yourself.
The whole process takes a few minutes but having a few details to hand might speed up your quote:
What door locks and other security measures are on the property

The estimated rebuild cost of the home

The total value of your contents

The value and description of any high-value items

Details about your occupation
Compare home insurance quotes
Applying for new build house insurance is much the same as with any other property. There are a couple of extra things to bear in mind though.
The first thing you see when you compare home insurance quotes is the postcode of the property. If you've bought a property that's still under construction, this might not yet exist!
The world of insurance relies heavily on data, so without a postcode the application process could grind to a screeching halt.
Even if you do have a postcode, insurers that haven't updated their databases won't be able to identify where you're going to live.
It's your builder's or developer's responsibility to register a new address with the local authority.
Once they've done this the details then get added to the national database. So, it's a good idea to check where they've got to in this process when you first talk to them about buying a property.
Are new builds cheaper to get home insurance for?
You might be able to find a cheaper deal on your home insurance for a new build than in your previous home.
This is because the benefit of a new home is that they're normally more secure than older homes. And with modern building techniques they might be less expensive to repair and rebuild.
How is the rebuild value calculated for my new build home insurance?
You can calculate your rebuild costs using the Building Cost Information Service (BCIS) calculator. The calculator provides a rough estimate based on the information you give.
Your new build's home rebuild value is calculated based on a variety of factors, such as:
Type of property
Size of your property
Age of your property
The building materials used on your home
Location
Subsidence risk
Getting an accurate figure helps to ensure you have the right amount of home insurance cover, so that your new build home can be rebuilt.
Tips for new build home insurance
Consider legal expenses cover
Check your cover levels
Take care of your new home
Consider legal expenses cover
If you're dealing with a builder or property developer it might be worth considering legal expenses cover. This add-on comes at an extra cost, but could help in the event of a dispute over the quality of the build work. It could also come in handy if you have any disagreements over boundaries with your new neighbours
Check your cover levels
It's always important to do your due diligence and make sure you have enough home insurance cover. This includes ensuring you have the right rebuild value for your buildings cover and that your contents aren't under insured.
Take care of your new home
Don't forget to carry out regular maintenance checks on your new home. Just because it's new, it doesn't mean you can afford to skimp on these chores. If you make a claim for a problem that could have been prevented by proper maintenance, your insurer might not pay your claim.