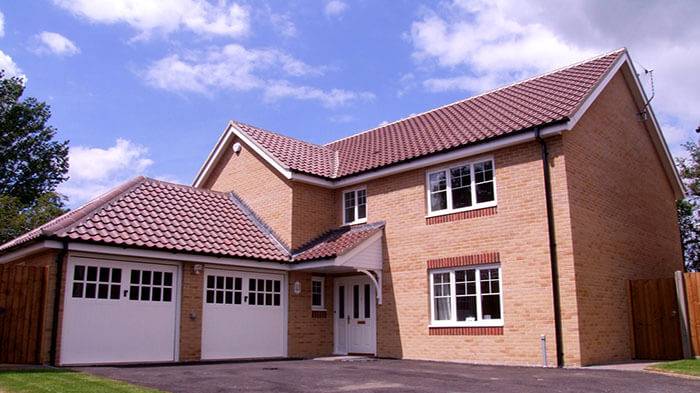 If you've just bought, or are planning to buy, a new home – congratulations! Here's how you make sure it's insured.
You'll no doubt want to ensure that your new property is protected, so home insurance is essential.
But is home insurance for a new build home the same as for older bricks and mortar, or do you need anything extra?
What does new build home insurance cover?
Your home might be brand-spanking new, but that doesn't mean things can't go wrong. And fires, floods and subsidence can happen regardless of the age of your property.
In many ways, new build insurance is like regular house insurance. A buildings insurance policy will cover the structure of your home and permanent fixtures within it, such as a fitted kitchen.
It'll cover the rebuild cost of the property (although not the value of the land it is built on).
Meanwhile, you should also think about taking out contents insurance.
Again, while this applies to people in buildings of all ages, if you've just moved into a new home the chances are that you've got some swanky new possessions in there too.
If there was a burglary or they got damaged, you'd face misery on top of heartbreak if you didn't have them insured.
One of the benefits of new homes is that they're normally more secure than older homes. So you might be able to find a cheaper deal on your home insurance than in your previous home.
Compare home insurance quotes
What's classed as a new build?
A new build is a property that's brand new and has never been lived in. It usually refers to a home that has been built within the past couple of years.
Sometimes the term conjures up images of new housing estates and large building sites. Or properties bought 'off-plan'.
This means buying the property before it's been completed or – in some cases – before it's even been started. But a new build can just as easily be a single property.
What is an NHBC Buildmark Certificate?
If the developer of your new home is a member of the National House Building Council (NHBC), you start off with an advantage.
That's because its members offer the Buildmark Certificate, which is a 10-year warranty. Under the terms of the warranty, you should have extra protection if things go wrong.
For the first two years covered by the warranty, any defects arising from the construction of the property should be put right for you.
So if the guttering is playing up, the windows are leaking or the kitchen tiles are coming loose, the builder should sort it.
For the remainder of the 10-year period, any structural problems that can be blamed on the build should be covered, including issues with the roof, the staircase, the floor, walls and ceilings.
Having a Buildmark Certificate can also benefit you before you even move in by helping you secure a good mortgage deal.
The more protection you have in place in your new home, the happier lenders will be to finance your dream.
The warranty kicks into life as soon as you exchange contracts. This means you should have some protection if the builder suddenly goes out of business and can't finish building your property.
Do I need home insurance on my new build?
Yes. For starters, if you have a mortgage on your new home, your lender will probably insist that you have buildings insurance.
Even if you're in one of the 80% of new builds that come with an NHBC Buildmark Certificate, that doesn't cover you for things that are outside the builder's control.
So if a car crashes into your house, there's a fire or your pipes burst, it would be your home insurance that you'd need to turn to.
It's also important to make sure that your policy kicks in from the day you exchange contracts, not the date you move in.
Home insurance tips for new build properties
There are all sorts of add-ons available for home insurance policies but legal expenses cover is one that's worth considering when you're buying a new build.
If you end up in a dispute with your builder over the state or quality of your new home, legal expense cover could help towards your fees if you end up taking legal action.
This cover will also help should you encounter any surrounding boundary disagreements with your new neighbours.
It'll add a little bit to your insurance cost, but it could prove well worth it if you need to call on your legal expenses cover.
Most of these policies offer broadly the same coverage, such as a legal helpline. As with all insurance policies – check the wording so you know exactly what you are covered for.
Other than that, it's important to follow the usual advice regarding due-diligence. For example making sure you have enough cover and that your policy is fit for your needs.
Don't forget to carry out regular maintenance checks too, you shouldn't skimp on these just because your home is new.
Checks like these can help spot problems before they develop into something worse.
How to get new build home insurance
Applying for new build house insurance is much the same as with any other property. There are a couple of extra things to bear in mind though.
Almost the first thing you're asked when you apply for a new policy is for the postcode of the property – and this might not yet exist!
The world of insurance is heavily reliant on data. And with postcode information being a key part of it, this can bring the application process to a screeching halt.
Even if you do have a postcode, insurers that haven't updated their databases won't be able to identify where you are going to live.
It's your builder's or developer's responsibility to register a new address with the local authority.
Once they've done this the details then get added to the national database. So it's a good idea to check where they've got to in this process when you first talk to them about buying a property.
Developers might encourage you to speak to their recommended insurance partners.
There's no harm in doing this because you might find you get a good deal, at least be able to identify your new postcode on their system!
But just because it's a recommended deal doesn't make it the best deal. In terms of either cover or price, make sure you shop around for home insurance quotes, too.