Passing your driving test gives you freedom. But there are lots of things to learn before you can actually take to the road on your own. Here's what you need to know.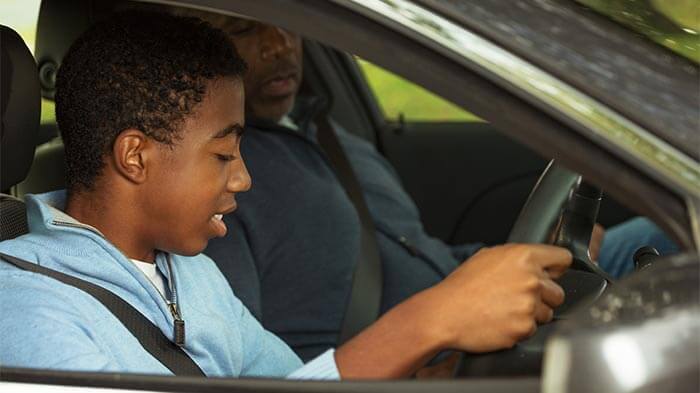 Coronavirus restrictions
Remember – you'll need to follow coronavirus regulations. At the moment, you and any passengers should wear face coverings when you're learning to drive. In Scotland, you could be fined £60 – reduced to £30 if you pay within 28 days - for not wearing a covering during a lesson.
For more information, visit GOV.UK.
How long does it take to learn to drive?
You'll always find someone claiming to have passed first time after a couple of lessons. If they're telling the truth, they're a rarity.
On average, learning to drive requires around 45 hours of professional lessons – and a further 30 hours of practice. That's a lot of time on the road.
What do I need before I can drive?
Before getting on the road, you need:
The correct driving licence

To be the minimum driving age

To meet the minimum eyesight rules.
You'll also need to be supervised by a qualified driver and display L plates on the vehicle. In Wales, you can also use a D plate.
What age can you learn to drive?
Most people can learn to drive a car – and take a test – when you're 17 years old. You can check the minimum age to drive various vehicles on the GOV.UK website.
How good does my eyesight need to be?
You need to be able to read – with glasses or contact lenses, if necessary – a car number plate made after 1 September 2001, from 20 metres.
Also, you need a visual acuity of at least decimal 0.5 (6/12) on the Snellen scale, once again with glasses or contact lenses.
Finally, you must have an adequate field of vision. All of these can be tested by an optician.
For more information, visit GOV.UK.
How to get your driving licence
You need to be at least 15 years and nine months old to apply for your first provisional driving licence – but usually can't actually start learning to drive a car until you hit 17-years-old.
If you get, or have applied for, the enhanced rate of the mobility component of Personal Independence Payment (PIP) then you can drive at 16 years old.
A provisional licence costs £34 to apply online. You can pay by MasterCard, Visa, Electron or Delta debit or credit card.
Unless you have a UK biometric passport – which has an embedded microchip holding your information, as well as your photograph – you'll need to provide extra information.
This will be:
Addresses where you've lived for the past three years

Your National Insurance number.
Your licence should take about a week to arrive.
Who can I learn to drive with?
A friend or family member can supervise you in the car. But they need to be over 21 years old and qualified to drive the vehicle in which you're learning.
For example, they must have their own manual licence to supervise you in a manual car.
They also need to have had their full driving licence for three years.
You can be fined up to £1,000 and get up to six penalty points on your provisional licence if you drive without the required supervision.
It's also illegal for whoever is supervising you to use a mobile phone while you're driving.
How to choose a driving instructor
You need an instructor that's been approved by the Driver and Vehicle Standards Agency (DVSA).
You can search for driving instructors using the DVSA tool.
You can also check to make sure your instructor is qualified by running their name and ADI number past the DVSA. Email customerservices@dvsa.gov.uk or give them a ring on 0300 200 1122.
It's worth asking family members and friends for recommendations as well.
Getting insurance as a learner driver
You need your own insurance as a learner driver if you're using your own car. Your family member or friend will also need to check they're covered.
If you're driving someone else's car, their insurance policy must cover you as a learner driver so check to make sure this is the case.
It's worth remembering that some insurance companies require the person supervising you to be over 25 years old.
Buying insurance as a learner might be expensive. You'll also have to decide on the level of cover: third party; third party, fire and theft; and fully comprehensive.
It's worth shopping around to find the best deals. You could consider annual learner driver car insurance that you can update once you've passed your test.
Alternatively, you can opt for a short-term policy that covers you just while you're learning.
Whatever you choose, make sure you have the correct insurance. Failing to do so can result in an unlimited fine, a driving ban and up to eight penalty points.
Do I need a certain number of driving lessons?
You'll usually need an average of 45 hours with a professional instructor. Whether this is enough will also depend on whether you can practice between lessons.
The cost of lessons will vary depending on where you live. But you can expect to pay around £25-£30 per hour.
This means professional instruction to get you ready for the test could be up to £1,350.
Theory test - What you need to know
You must have lived in England, Wales or Scotland for at least 185 days in the last 12 months before the day you take your driving theory test.
How to book a theory test
You can book your theory test online. You'll need your UK driving licence number, an email address, and a credit or debit card to pay the fee.
If you have any queries, you can ring the DVSA on 0300 200 1122.
Can you learn to drive before taking a theory test?
Yes, you can. It comes down to personal preference. Some people prefer to do all the studying prior to their 17th birthday and take the theory immediately to get it out of the way.
Others prefer to have had real life experience on the road before sitting the test. Think about whichever suits you best.
How much does it cost?
The theory test cost £23, which you pay at the time of booking.
How do I prepare for my theory test?
Books and software are available to help you prepare.
The multiple choice section is based on the following three books:
You can also take a practice theory test.
For the hazard perception test, you can get one of the following:
Taking the theory test
Multiple choice section
You'll have 57 minutes to answer 50 multiple choice questions.
Before the test starts you'll get instructions on how it works – and the chance to do practice questions to get used to the screens.
A question and several possible answers will appear. You have to select the correct one.
Three of the questions are based on a short video, which will be silent. You can watch it as many times as you like.
The video will be of a normal driving scenario, such as driving along a country road or through a town centre.
Don't panic during the test. You can flag questions you're unsure about and return to them. In addition, you can go back to any question and change your answer.
Take a break! You can then have up to three minutes to gather your thoughts before the hazard perception test begins.
Hazard perception test
You'll be shown a video explaining how the test works.
Then you'll watch 14 video clips, each of which features a usual road scene.
Every clip has at least one developing hazard – but one of them will have two.
You score up to five points for each developing hazard. The quicker you spot it, the higher your score.
However, you only get one attempt at each clip.
Passing the theory test
To pass the test you need to have correctly answered 43 questions out of 50 on the multiple choice section and scored 44 out of a possible 75 on the hazard perception.
If you're successful, you will get a letter and a pass certificate number at the test centre. You'll need this when you book and take your driving test.
The certificate lasts for two years. You'll need to pass your driving test within that period. If not, you'll have to retake the theory.
If you've failed the theory – even if you passed one of the sections – you'll need to wait at least three working days before booking and taking the full test again.
The practical test
Your practical test can be booked online up to 24 weeks in the future . You'll need:
Your UK driving licence number

A credit or debit card to pay for the test

Your driving instructor's personal reference number if you want to check they're available.
The cost is £62 on weekdays, rising to £75 for evenings, weekends or bank holidays.
You can also check to see if any earlier appointments are available once you've booked
You must take the following to your test:
Your UK driving licence

Your theory test pass certificate

A face covering – unless you've a good reason not to wear one

A car – either your instructor's or your own.
Once booked you can also check your driving test appointment details on the DVSA website.
What happens in the practical test?
There are five parts:
An eyesight check
You'll need to read a number plate from 20 metres if it has a new-style number plate, and 20.5 metres for older plates
Show me, tell me questions
You'll be asked two vehicle safety questions. The 'tell me' will be asked at the start of your test and the 'show me' while you're driving.
General driving ability
You'll demonstrate your abilities in various road and traffic conditions, apart from motorways. This includes hill starts, pulling out from behind a parked vehicle, and an emergency stop.
Reversing your vehicle
You'll be asked to carry out one of three exercises: parallel park at the side of the road; park in a parking bay; pull up on the right-hand side of the road, reverse for two car lengths and re-join traffic.
Independent driving
You'll then have to drive for about 20 minutes by following either directions from a sat nav or traffic signs.
How to pass the practical driving test
You need to make no more than 15 driving vaults – often referred to as 'minors' – and no serious or dangerous faults, which are known as 'majors'.
As the name suggests, a dangerous fault is something that involves actual danger to you, the examiner, the public, or property.
A serious fault is something that's potentially dangerous - a driving fault that isn't dangerous but could become serious if it's constantly repeated.
What happens next?
If you pass, you'll get a certificate and can apply for your full licence.
If you fail, the examiner will tell you what faults you made. You'll then have to book another test and pay again. The re-test must be at least 10 working days away.
You can appeal the result of the driving test, if you have grounds for appeal.