Top 10 reasons people fail their driving test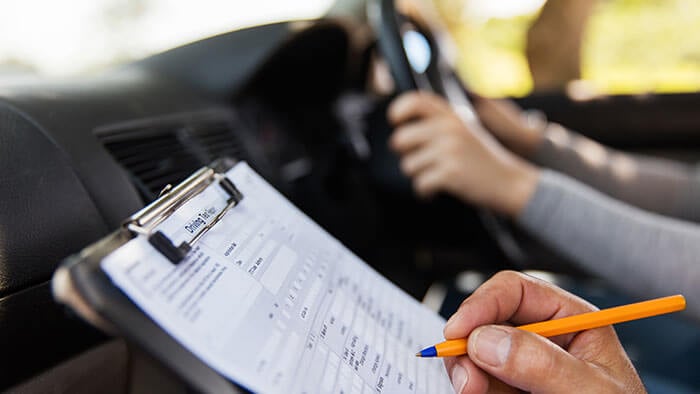 Brush up on your driving skills and avoid these 10 motoring mistakes
In 2019, more than half (55%) of people failed their driving test, according to GOV.UK.
And when you look back, the reasons why learner drivers failed haven't changed much in over a decade.
Now many of us have had about a year where we didn't drive as much, you might be a bit rusty getting back on the road.
It might be more nerve wracking for learner drivers who might have had a serious delay to their lessons.
So, to help learners getting back on the road, here are the 10 most common reasons people fail their driving test*.
If you're helping a learner driver, these 10 areas could help you focus your efforts when teaching them.
Lack of observation – especially at junctions
Junctions can be a headache for inexperienced drivers. There are cars coming from all angles, and it's a job to judge their speed and whether it's safe to move out.
When approaching junctions, an extra degree of caution doesn't hurt. Assume that all the other drivers aren't paying attention, so you need to make sure it's safe to move onto a new road.
Not using mirrors when changing direction
Before you take any action with your car, you should use your mirrors. Never assume that your path is clear.
Use your mirrors whenever you slow down, change gear, set off or change direction. Get into the habit of regularly checking them, even on long, straight patches of road.
If you're a learner, try moving your head a little to look at your mirrors instead of moving your eyes. This'll make it obvious to your instructor or examiner that you're using the mirrors.
Poor steering control
The key word here is 'control'. You need to show that you are in control of the car at all times.
The '10 and 2' or '9 and 3' hand positions on the steering wheel are the best way to do this.
These positions let you pull the steering wheel to the left or right with one hand, while your other hand slides to meet it.
This pulling and sliding method lets you maintain control of the steering at all times.
You should never cross your arms while steering, and never let go of the wheel when turning.
And mounting the kerb while driving is never a good thing.
Bad positioning when turning
This one is particular to turning right at junctions.
When you're driving normally, you should remain as close to the centre of your lane as is safe to do so.
Then, when turning right, position your car towards the right of your lane. This lets other cars pass you safely. If you're coming up to a roundabout with a right lane, use that if you're turning right.
Moving off without making safety checks
This happens especially where there's a blind spot. This could be because you're on a hill, or behind a parked car.
Whenever you move off from a stop, you should check your blind spot behind your right shoulder. Just using the mirrors isn't enough. Even if you've stopped for a few seconds, you should still look.
If your view of the road is blocked, use reflections in nearby windows to alert you to oncoming traffic.
Traffic light mishaps
Driving through a red light is bad no matter what your level of experience. That's not only failure territory – it's downright illegal.
But it's also bad to stay at the lights once they've turned green. Maintain your focus and move off as long as it's safe to do so.
And if there's a space for cyclists at the traffic lights, stay behind it, even if there aren't any cyclists in sight.
Poor lane positioning
As mentioned earlier, stay in the centre of your lane as long as it's safe to do so.
If you run too close to the kerb, or too close to the centre line, you could be putting yourself and others at risk.
Keep an eye on how you move when using a roundabout, especially one without lane markings.
Follow the curve of the roundabout and avoid moving into an area where other cars could be coming up behind you.
Ignoring road signs
It sometimes feels like there are too many signs on the road, we get this. But ignoring these signs could mean you put other drivers at risk.
Pay particular attention to speed limit changes, bus lanes and 'no right/left turn' signs.
There are proposals to amend the Highway Code to put more emphasis on speed limit signs, so it's best to stay aware.
READ MORE: Making sense of road signs
Poor control of the car when moving off
Finding 'the bite' and moving off smoothly is a skill that takes time to build. And stalling the car is something that happens even to the most experienced drivers.
But what could cost you the test is repeatedly stalling the car. Or, worse still, stalling and then rolling back.
Take your time to find the right balance of clutch and accelerator before attempting to move off. And try not to let yourself get flustered – that's when you're more likely to make repeated mistakes.
Losing control of the car when reverse parking
The reverse park into a bay and the parallel park. Two of the most dreaded manoeuvres in any driving scenario.
The biggest mistakes here are:
Mounting the kerb when making the manoeuvre

Taking too many attempts at parking the car.
You can find many tutorials on YouTube with helpful tips on:
How to position your car before making the manoeuvre

What to line up with before you start turning.
Brush up on your skills, pass first time
With lockdown restrictions easing and driving tests back on the menu, you might be chomping at the bit to go for it.
But it might be worth having a few more lessons and making sure you've got these 10 areas nailed.
We estimate that it costs over £1,200 to learn to drive (assuming you pass first time). So, it's worth your while getting it done right rather than trying to do it quickly.
If you can, get some more practice under your belt outside of your lessons. Make sure you have learner driver insurance or are covered on an existing policy before you set out.
*Source - GOV.UK