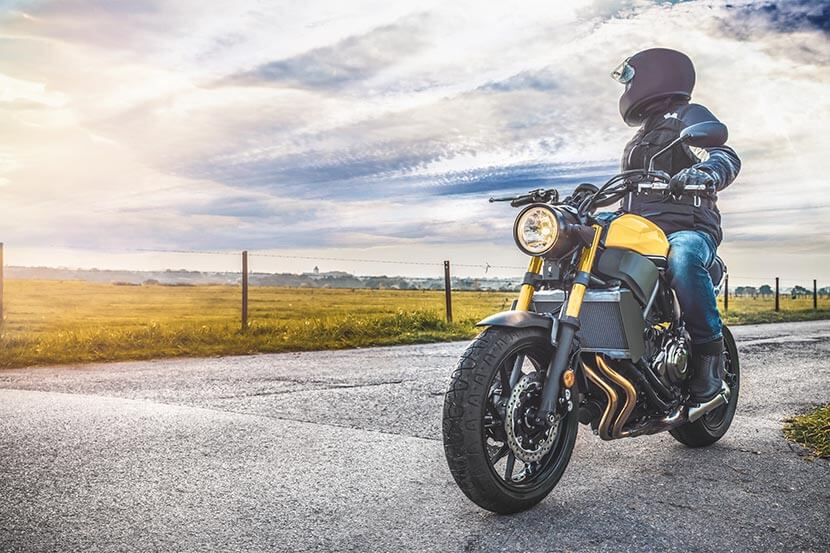 Whatever the reason, here's all you need to know about cancelling your cover.
There could be a number of reasons why you want or need to cancel your motorbike insurance policy.
You may have decided to sell your motorbike and opt for an alternative means of transport before your existing policy is up for renewal.
Or your ride may have been stolen or written off and you're not ready to buy a replacement.
Whatever the reason, how you go about cancelling your cover, and whether you'll lose out financially as a result, depends on a few factors. Let's take a look.
Is cancelling your motorbike policy a good idea?
If you're selling your motorbike and buying a new model, you may not need to cancel.
Most insurers will allow you to update your policy to cover the new model. Although the price you pay for your insurance could change to reflect the new machine's risk rating.
It's unlikely that your provider will be unwilling to cover your new motorbike. But, you may have to pay a charge for making an amendment to a policy which is still running.
This varies from company to company but the details of the fee should be set out in your policy booklet. In most cases, however, the cost of amending a policy is less than cancellation.
If your insurer raises its premiums by a large amount for your new motorbike, it could be worth comparing quotes from other insurers.
You could save money by cancelling your policy and moving to a new provider, even once the cancellation charge is taken into account.
If you're thinking of cancelling your policy over the winter months because your motorbike is in storage, you'll have to foot the bill if it's stolen. Is that a risk you are willing to take?
It might be better to change your policy if:
You want to add a named driver.

You're planning on riding a motorcycle in Europe and wish to extend your cover to the Continent for a short period.

You or a named rider have changed jobs, or the way you use the motorbike – for example, you've started to use it for commuting.

You or a named rider are convicted of a motoring offence.

You move home or change where the motorbike is kept overnight. You can find out more about this in our motorbike security guide.

Your motorbike licence has changed after you have completed a course.
Compare motorbike insurance quotes
Cancelling at the start of the policy
The law states that consumers have a 14-day 'cooling off' period when they purchase most kinds of insurance.
This means that if you want to end a policy within two weeks of receiving your documentation, you should receive a refund.
If you cancel within the cooling-off period, you may have to pay an administration fee (typically less than a full cancellation charge).
You'll also have to pay the cost of however many days you were covered for. If your policy has not yet come into effect when you cancel, you should only have to pay the administration charge.
But you won't be able to cancel in this way if you've made any claims within the cooling-off period.
Cancellation after the cooling-off period
Once the 14-day cooling-off period has passed, the financial penalties for cancelling are likely to be greater.
You'll be charged a cancellation fee, and the amount you'e refunded for the unused premiums could be limited.
For example, if you cancel with only a short period left on your insurance, you may not be entitled to a refund.
In a case like this, it may not be worth cancelling the policy at all, as doing so will incur a cancellation charge.
However, if you no longer own the motorbike for any reason (you sell it, for example), the law requires that you cancel your motorbike insurance.
Don't always expect a full pro-rata refund even if you cancel much earlier during the policy term.
Check your insurer's policy booklet to see what their fees are before you go ahead.
If you don't want to renew your cover
It may be that you simply want to stop your policy being automatically renewed when the year is up. Perhaps you've found cheaper cover elsewhere.
Many providers will now extend your cover for a further year (possibly at a higher rate) unless you expressly tell them not to.
If you don't want to renew, it's not enough simply to cancel your direct debit. You have to tell your insurer, either by phone or in writing.
But you won't face any fees for this, provided you cancel before the new policy comes into effect.
Consequences of cancelling
If you end your policy before the year is up, you'll miss out on the no-claims bonus for that period.
If you have motorcycle breakdown cover or other protection included with your motorbike policy, that will also come to an end. – You may not get any refund for this.
How do I cancel my policy?
If you do want to go ahead and cancel, you need to contact your insurer to tell them, and return your Certificate of Motor Insurance.
You may also need to sign and return a declaration that you want the cancellation to go ahead.
In most cases, the cancellation will take effect only once the signed declaration has been received by your insurer. You'll then get a letter to confirm the policy has been cancelled.
What to do if you disagree with the charges
As you can see, the potential penalties for cancelling early can be quite significant.
If you think they're unfairly high – or if you have to cancel because of what you think is a mistake on the insurer's part – you can complain to the company.
Ask for an address for customer services, and write giving clear details of your case, including what happened, when, and why you think you have been unfairly charged.
Even if the fees are laid out in the policy booklet, you may be able to challenge them.
Keep a record of anyone you speak to and any letters you send (and use special delivery so you have proof they have been received).
If the company does not deal with your complaint to your satisfaction, you can take your case at no cost to the Financial Ombudsman Service.