There could be several reasons why you might want or need to cancel your motorbike insurance policy.
You might have decided to sell your motorbike and before your policy is up for renewal. Or your ride might have been stolen or written off and you're not ready to buy a replacement.
Whatever the reason, how you go about cancelling your cover depends on a few factors. Let's take a look.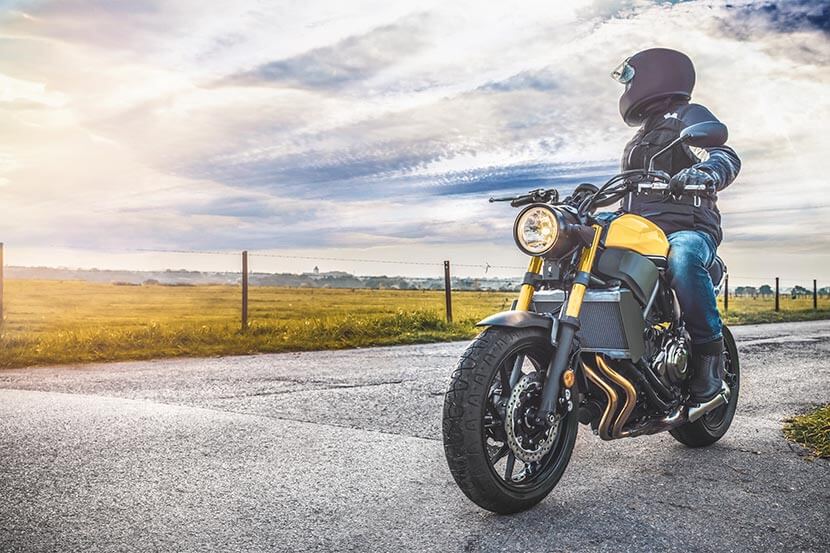 Can I cancel my motorbike insurance?
Yes, you can always cancel your motorbike insurance – no matter how far into your policy you are.
Cancelling right at the start of the policy term is usually the easiest. All motorbike insurance policies legally have to come with a 14-day cooling off period during which you can cancel without having to pay a cancellation fee.
You might have to pay an admin fee though – but this is usually fairly small.
Cancelling outside the cooling off period is a little trickier, and often costs a bit more.
In this case, you might have to pay a cancellation fee as well as the admin fee. If you're entitled to any money back, this is usually on a 'pro-rata' basis. This means that if you cancel 6 months into a year-long policy, you only get a refund for the remaining 6 months.
How to cancel motorbike insurance
To cancel your motorbike insurance policy, you just need to contact your insurer to tell them you want to cancel.
You usually do this over the phone, although your insurer might allow you to cancel online. They normally tell you how to cancel on their website.
Depending on your reasons for cancelling, your insurance company may try to change your mind by offering you a discount or giving you a free add-on. It's up to you whether you decide to take them up on their offer, but you're under no obligation to do so.
Once you've confirmed that you want to cancel, you have to return your Certificate of Motor Insurance. Your insurer normally gives you details on how to do this.
You usually have to sign a formal declaration stating your intention to cancel. Once this is done and the cancellation has been approved, you get a letter to confirm the policy has been cancelled.
If you still own the motorbike, you then either have to:
Get a new motorbike insurance policy with with a new insurer
Give it a SORN and keeping it off the road
Failing to do so could land you with a hefty fine, so be sure not to skip this step.
Is cancelling my motorbike policy a good idea?
It's entirely your choice whether or not you cancel your motorbike insurance. But there are often better alternatives available to you.
If you've sold your motorbike or your motorcycle been stolen,cancelling is likely your best option.
But in some circumstances, it's not the best idea, and cancelling could mean that:
You have to pay a cancellation fee
You lose your no-claims bonus, meaning potentially higher costs in the future
Youmight only get a few months' worth of cover refunded
You need to SORN your motorbike, if you still have it
Here are some circumstances where cancelling might not be in your best interests:
If you've sold your old motorbike and bought a new one:
Most insurers let you update your existing policy to cover a new motorbike. Although you might need to pay an admin fee to do so, this may work out cheaper than cancelling your old policy and buying a new one on your new ride.
But it's still worth comparing motorbike insurance quotes before you make a decision. Even with the cancellation fee factored in, you might be able to find a better deal elsewhere.
Compare quotes now to see just what other insurers could offer you.
Compare motorbike insurance quotes
If you're storing your bike over winter:
Cancelling your insurance over the winter might seem like a good idea, as your motorbike is likely getting a lot less ride time. But there are a few drawbacks.
Without a policy in place, your motorbike isn't covered against theft. And even if you're up on your motorbike security measures, thieves can be determined.
Without a motorbike insurance policy in place, you're unable to ride at all if the feeling takes you. You'd also have to keep it off the road completely.
What if my motorbike insurance policy is due to auto-renew?
Most insurance policies renew automatically to make sure you're legally covered to ride. If you don't want to renew, it's not enough to cancel your direct debit. You have to tell your insurer, either by phone or in writing.
If you set your policy to cancel at your renewal date, you shouldn't have to pay any fees.
Can I challenge the cancellation fee?
Yes, you can. If you think the fees are unfairly high – or if you have to cancel because of what you think is a mistake on the insurer's part – you can complain to the company.
Ask for an address for customer services. When you write to them, give clear details of your case, including:
What happened and when
Why you think you've been unfairly charged
Even if the fees are laid out in the policy booklet, you might still be able to challenge them.
Keep a record of anyone you speak to and any letters you send. Use special delivery so you have proof they've been received.
If the company doesn't deal with your complaint to your satisfaction, you can take your case at no cost to the Financial Ombudsman Service.