An overseas motorbike tour takes a bit of planning – especially with vital paperwork and documents.
We've done the legwork to ensure you have the right cover if you're planning on touring Europe on a motorcycle.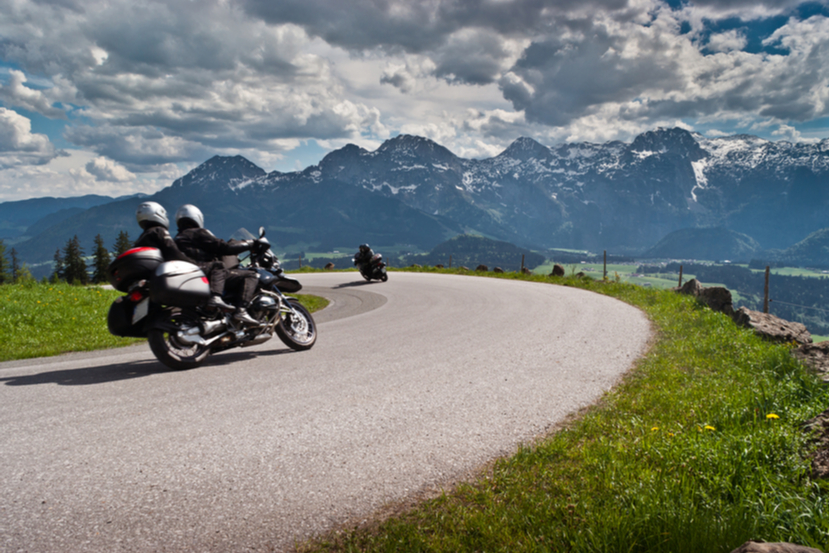 What licence do I need for a European motorcycle tour?
You'll need a full UK motorcycle licence to ride in Europe. The Compulsory Basic Training (CBT) assessment and certification won't be enough.
If you've got an A1 UK licence – which lets you ride up to 125cc motorbikes – you're still limited to the same engine size in Europe.
The DVLA has a useful flow chart to navigate your way through the training and licence maze. It covers both A1 and A2 motorbikes as well as all age-group limitations.
It covers mopeds up to full size tourers, and we think it's helpful and clear.
Does my current motorcycle insurance policy cover me for touring Europe?
Every UK motorbike insurance policy should have some basic measure of EU cover. But some policies might be more generous than others.
And some policies might not be up to the standard you're used to on home turf. Does it include fully comprehensive cover? Or is it third-party only?
If it's third party then you could be exposed to theft and fire damage risk plus any accidents that are your fault.
Think hard about how often you intend to ride in Europe. Do you need single-trip cover? Or multi-trip cover that gives you protection for up to 3 months of the year perhaps?
Check the specific time allowance here. Some insurers might give you up to 60 days' cover. Other insurers could stretch this to 90 days. You don't want to be caught out if you're on European roads for some time.
Look closely at the countries you plan to travel in. Are there any country-by-country policy exemptions or differences in how motorbike riders are treated?
As the UK has left the EU, it means policy differences matter more than ever.
Compare motorbike insurance quotes
What insurance cover do I need when touring Europe on a motorcycle?
Before buying a policy, you'll need to decide if you want cover for just 1 machine – or any motorbike you use.
As always, be honest with your own attitude to risk. While you might be comfortable with a basic level of cover at home, beefing up your level of cover while abroad might sound sensible for many of us.
Some other considerations:
What are the time limits on your EU trip? Can you easily extend it if you need to?
Does your insurance policy include the cost of breakdowns and most emergency repairs?
Are there limits to any breakdown cover you have?
Will your policy give you 24/7 access to an English-speaking helpline? If so, will they organise recovery to a local garage – or back home to the UK, if needed?
What motorbike or car hire options are offered while your motorbike's off the road? Are there any financial cover limits?
Would the policy cover overnight accommodation if needed?
The UK motorbike insurance market remains competitive, but market forces play their part. It's worth looking at the whole policy rather than just the price.
Going for the cheapest option could leave you vulnerable when you most need support.
So always shop around and get to know the level of cover you feel is right for you, wherever you and your motorcycle end up.
Think about any modifications you've made to your motorbike. If your insurer doesn't know about them then your policy could be invalid when you make a claim.
While some modifications could push up your premium many common ones like crash bars and upgraded braking systems might have little impact.
Does my motorcycle insurance policy include European breakdown cover?
Some policies might, but some won't. Most motorbike insurance policies should offer a measure of European cover – but not all will be to the same level as you get in the UK.
Some insurance companies might let you have European breakdown cover as an optional add-on.
If you're not offered full breakdown and accident recovery across the EU, perhaps ask yourself some questions:
What level of cover would make you comfortable in an emergency?

Will your policy give you unlimited roadside assistance – or is there a cut-off?

Are repatriation costs included?

Is there a 24/7 English-speaking helpline?
What documents do I need for a European motorcycle trip?
Until recently any UK biker or driver needed a green card from their insurer to travel in the EU. The EU Commission has now confirmed it's now ditching this requirement. Good news!
In other words, nothing has substantially changed since the UK was part of the EU. This makes things simpler and less of a hassle.
There's still a bunch of other paperwork you need when you take your motorbike out of the UK.
You'll need your insurance certificate and original vehicle registration certificate or V5C document. If it's not in your own name do get a letter of consent from the registered keeper.

You don't need an IDP to ride in the EU, Switzerland or Norway if you've a UK-issued photo card driving

licence

. But if you

only have a paper UK licence you will need an IPD card.

You can check online with the Post Office on the latest

IDP guidance

on any country in the world you may want to ride in. The cost of a permit is just £5.50.

Do make sure your

motorbike

MOT

and

tax

is up-to-date as well.

Last of all, make sure you've got your European breakdown cover policy documents to hand. You might be able to access these details online as well, but don't rely on it!
What motorbike travel insurance do I need for riding in Europe?
It is possible to get travel insurance for motorcyclists on a European tour.
As with any insurance policy, it's important you know what you're covered for when you take out a touring travel insurance policy.
In the unfortunate event that something goes wrong, you don't want to find out that you haven't got the protection you need.
At least make sure you're insured for:
Lost or stolen baggage

Delayed or missed departures

Cancellation or curtailment of your trip

The loss of your passport

Medical cover

Repatriation costs

Personal liability
Meanwhile, even after Brexit, if you've got a UK-issued European Health Insurance Card (EHIC) then it's valid until the date it expires (see the bottom right of your card).
As it approaches its expiry date, some people can apply for a new EHIC if they have rights under the UK/EU Withdrawal Agreement.
Otherwise, you can apply for a Global Health Insurance Card (GHIC), which provides healthcare for free or at a reduced cost across the EU and Switzerland. It doesn't provide protection for Norway, Iceland or Lichtenstein, even though EHICs are recognised in those countries.
A GHIC is not valid in the Channel Islands or the Isle of Man either.
Not all countries that accept EHICs or GHICs have a free healthcare system like the NHS. Having a card simply entitles you to receive the same level of healthcare at the same cost as that country's own residents get.
What do I need to know when planning a motorcycle trip to Europe?
This is where it can get a bit confusing. The threat of fines, in some cases, make it important to get this right.
GB or UK stickers

High-viz jacket

Spare bulbs

Breathalyser kit
GB or UK stickers
On 28 September 2021, the law switched from GB to UK identifiers, which includes Northern Ireland.
Riders with GB plates can buy a new UK plate or fix a UK sticker over the GB symbol. Any extra GB stickers will also need to be replaced with a UK sticker.
High-viz jacket
If you're motorbike touring in France you'll need a hi-vis jacket. If you break down then you must wear it. There are fines for not following the legal requirements for riding a motorcycle in France.
A simple hi-viz jacket packs up tightly and is easily available online.
Spare bulbs
In most EU countries you must carry these, for the front and rear lights.
Breathalyser kit
A simple breathalyser kit is required in some EU countries. If you're stopped by the police without one you might be fined. This can be a bit of a fluid situation, depending on the EU country you're riding in.
Do be prepared for requirements like these and try to think ahead while you're out enjoying the road.
Key tips to keep you safe and legal when touring Europe on a motorcycle
Always ride with caution. You'll be riding on the other side of the road and the local driving style might be different to what you're used to.
Here are some simple ideas to keep you safe, legal and relaxed:
Take a paper map

Take regular breaks

Mind your load

Be respectful of local traffic laws

Call your insurer

Anticipate border controls

Enjoy yourself
Take a paper map
We don't mean to be old-fashioned, but paper maps are super light and pack up easily. They'll also serve as a great backup if your phone signal or battery packs in.
Michelin, AA, Collins and Philip's maps remain popular.
Take

regular breaks
Most road safety organisations recommend at least 15 minutes minimum every 2 hours.
Mind your load
As your motorbike will be loaded up, this changes your machine's performance. So, anticipate that braking and acceleration might be different. Possibly slower and less responsive.
Also pay attention to any balance issues, including passengers.
Be respectful of local traffic laws
For example, different EU countries have different rules around slow-moving or stationary traffic. Some allow filtering. Other countries, like France, don't.
The same goes for emissions standards. In some areas of Europe, you're required to display your vehicle's emissions category. This is the case in Paris and Grenoble, for example.
Call your insurer
If you're unlucky enough to have an accident, call your insurer immediately. Most have emergency 24/7 phone lines. If you've got a smartphone, take photographs of any damage.
Also make any notes of local conditions – weather, time, registration details, exact location.
Anticipate border controls
You might need to use separate EU, EEA (European Economic Area) and Swiss lanes when queuing. Your passport should also now be stamped.
Enjoy yourself
Which means an unhurried pace for many of us. Plenty of breaks for food, coffees and great views. So stop – a lot – and go with the flow.
What about roaming charges in Europe?
Take care with any roaming charges you're now exposed to. This is especially important if you're using your phone as a sat nav.
Since 2017, UK citizens have been able to use their regular tariff – data, minutes and texts – when in the EU.
But from early 2022, many UK mobile networks began to charge their customers to roam when in Europe again. Check with your provider but if you're not sure, just switch roaming off and use wifi whenever possible.