An motorbike tour overseas takes a bit of planning – especially with getting the right paperwork and learning the rules of the road abroad. But with a bit of planning, it should be no fuss and all fun. Let's take a look at what you need to know.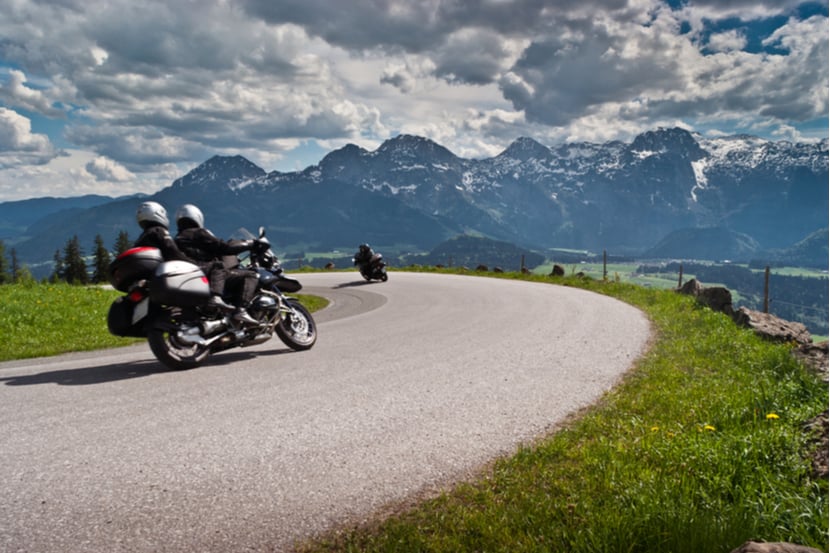 What licence do I need for a European motorcycle tour?
You need a full UK motorcycle licence to ride in Europe. The Compulsory Basic Training (CBT) assessment isn't enough.
If you've got an A1 UK licence – which lets you ride up to 125cc motorbikes – you're still limited to the same engine size in Europe.
The DVLA has a useful flow chart to navigate your way through the different motorbike licence requirements. It covers both A1 and A2 motorbikes as well as all age-group limitations.
Does my current motorcycle insurance policy cover me for touring Europe?
Every comprehensive UK motorbike insurance policy should have some basic measure of EU cover. But some policies might be more generous than others.
Standard comprehensive motorbike insurance policies tend to give you third-party cover in Europe for up to 90 days. This covers other riders and their property, not your own.
This also means that if your motorbike is stolen while riding abroad, your policy might not cover you.
Some motorbike insurance providers might offer enhanced European cover. If you think you'd want this extra cover, contact your insurance company and see what they offer.
Compare motorbike insurance quotes
Does my motorcycle insurance policy include European breakdown cover?
Some policies might offer breakdown cover as standard, but this isn't common. Usually, European breakdown cover is an optional add-on.
These policies normally offer you the same benefits as a UK policy but covering multiple countries, including:
Roadside assistance

Help getting to the nearest garage or to your destination

Assistance if you can't get your motorbike started
It's worth comparing breakdown cover policies, especially if you want Euopean cover. You might find a standalone policy works out less expensive than adding it to your motorbike insurance.
What documents do I need for a European motorcycle trip?
There are a few important documents you need when you take your motorbike out of the UK.
Certificate of insurance

V5C document or logbook

Passport

Valid tax and MOT certificat

European breakdown cover policy documents
The good news is that you don't need an insurance green card to travel in most European countries. These includ:
The EU
Andorra
Bosnia and Herzegovina
Iceland, Liechtenstein
Norway
Serbia
Switzerland
If you're riding to a county not on this list, check the Foreign, Commonwealth & Development Office (FCDO).
What motorbike travel insurance do I need for riding in Europe?
It is possible to get travel insurance for bikers on a European tour. As with any insurance policy, it's important you know what you're covered for when you buy a touring travel insurance policy.
Make sure you're covered for:
Lost or stolen baggage

Delayed or missed departures

Cancellation or curtailment of your trip

The loss of your passport

Medical cover

Repatriation costs

Personal liability
You can also apply for a Global Health Insurance Card (GHIC), which provides healthcare for free or at a reduced cost in:
The EU
Montenegro
Norway
Iceland
Liechtenstein
Switzerland
Not all countries that accept EHICs or GHICs have a free healthcare system like the NHS. Having a card simply entitles you to receive the same level of healthcare at the same cost as that country's own residents get.
What do I need to know when planning a motorcycle trip to Europe?
This is where it can get a bit confusing. The threat of fines, in some cases, make it important to get this right.
It's best to check the specific requirements of the country you're visiting, but in general you should have:
UK stickers

High-viz jacket

Spare bulbs

Breathalyser kit
GB or UK stickers
Riders with GB plates can buy a new UK plate or fix a UK sticker over the GB symbol. Any extra GB stickers will also need to be replaced with a UK sticker.
High-viz jacket
If you're motorbike touring in France you need a hi-vis jacket. If you break down, you must wear it. There are fines for not following the legal requirements for riding a motorcycle in France.
Spare bulbs
In most EU countries you must carry these, for the front and rear lights.
Breathalyser kit
If you're stopped by the police without a breathalyser kit, you might be fined.
Key tips to keep you safe and legal when touring Europe on a motorcycle
Always ride with caution. You'll be riding on the other side of the road and the local driving style might be different to what you're used to.
Here are some simple ideas to keep you safe, legal and relaxed:
Take a paper map

Take regular breaks

Mind your load

Be respectful of local traffic laws

Anticipate border controls
Take a paper map
Paper maps are super light and pack up easily. They'll also serve as a great backup if your phone signal or battery stops working. Michelin, AA, Collins and Philip's maps remain popular.
Take

regular breaks
Most road safety organisations recommend a break of at least 15 minutes every 2 hours.
Mind your load
As your motorbike will be loaded up, this changes your machine's performance. So, anticipate that braking and acceleration might be slower and less responsive.
Be respectful of local traffic laws
Different EU countries have different rules around slow-moving or stationary traffic. Some allow filtering. Other countries, like France, don't.
The same goes for emissions standards. In some areas of Europe, you're required to display your vehicle's emissions category. This is the case in Paris and Grenoble, for example.
Anticipate border controls
You might need to use separate EU, EEA (European Economic Area) and Swiss lanes when queuing. Your passport should also now be stamped.