You don't need to wait until you've passed your motorcycle test, but you need 125cc motorbike insurance before you hit the open road. We look at everything you need for riding a small bike and how to cut down the cost of your motorbike insurance.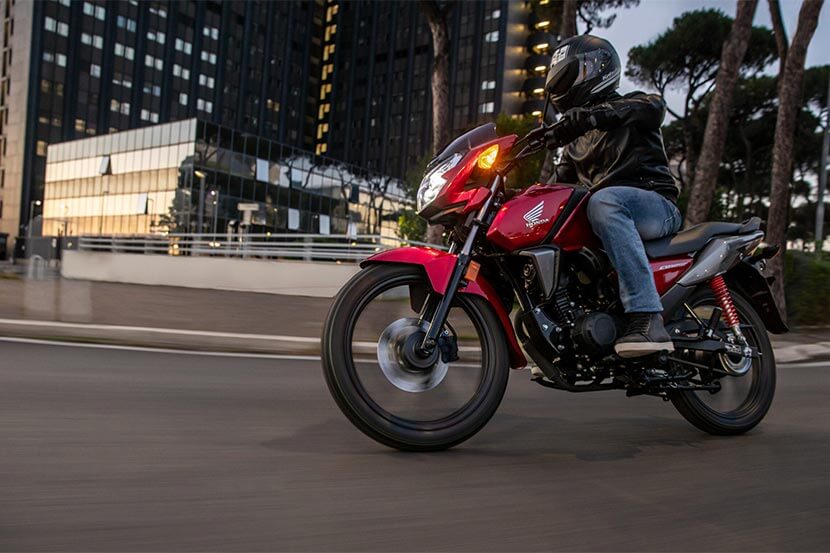 What is a 125cc bike?
Anyone over 17 can ride a 125cc bike, scooter, or moped. But what makes it different to other motorbikes is the size of the engine.
It has a smaller engine, which means it can't go as fast as other motorbikes on the road. These bikes usually have an upper limit of 70 mph. Some of the best-selling 125cc motorbikes include the:
Honda CB125R
Kawasaki Ninja 125
Lexmoto ZSB 125
Suzuki DR125SM
Yamaha YZF-R125
The 'cc' in the name stands for cubic centimetres. The higher the number, the more powerful the bike should be. It's also often called a learner bike, a 125, or an 'A1 compatible' bike.
If you're aged between 17 and 19 you can only start out on a 125cc bike. Older riders who don't have a full licence also have to stick to this smaller bike.
Because of its size it's one of the cheaper bikes to buy. And 125cc motorbike insurance could be more affordable than insurance for more powerful bikes because of this. Petrol costs tend to be relatively low too, and they can usually do 70 - 100 mpg.
You can't just buy the bike and go though.
Although you don't need your full licence, there are a number of other requirements - including having a125cc bike insurance policy - to have in place.
This isn't the smallest bike on the market, though. There's also a 50cc bike or moped that 16-year-olds are allowed to ride. If you're looking for moped insurance, we've got you covered there too.
What type of licence do I need to ride a 125cc motorbike?
To ride a 125cc motorbike you'll need to:
Take compulsory basic training (CBT)

Be aged 17 or over

Have a provisional licence

Have a valid 125cc bike insurance policy
If you've got a full car driving licence, you could then apply for a provisional motorcycle licence to be added to it by contacting the DVLA.
If not, you could apply for a provisional motorcycle licence by filling in a 'D1' form at GOV.UK. You can also can pick one up at your local post office.
When you have your provisional licence you then have to complete the CBT. It's a test to teach riders how to ride safely on the road before they get their full licence.
This is essential for riders. If you don't have it, you could be fined £1,000 and get six points on your licence.
You can book your CBT course with a motorcycle training school. The cost of your CBT varies depending on where you do the training and if you use your own moped or motorcycle.
But it usually costs around £130.
What can I expect from the 125cc CBT test?
The test takes a day and it has several different elements including:
An eye sight check

On-site training and riding

On-road training and riding
You won't pass or fail the CBT, like with a full driving test. Instead, it's a course you'll have to complete before you can ride on your own.
Once you've done it you'll get a certificate. You can then ride your bike as long as you have learner plates clearly displayed on it.
You're allowed to ride your bike without taking the full driving test. But you'll need to retake the CBT test after two years if you still only have your provisional licence at this point.
What do I do if I want to ride a motorbike above 125cc?
There are some confusing rule differences from the DVLA but it has a flow chart to help you find out which licence you need.
If you want to start riding a more powerful bike with a bigger engine, you need to pass your full moped or motorcycle test.
There are several different tests you can take to get your full licence. But the 'A1' is the minimum you'll need to pass to ride a 125cc bike without your L plates.
For more information see our guide on how to get your motorbike licence.
What are the pros and cons of riding on a provisional licence?
It's completely legal to ride with a provisional licence, as long as you're following all the rules and have your L-plates displayed at all times. Some riders might choose to keep doing this even if they have the chance to take a full test.
Pros of riding on a provisional licence
It could be cheaper than paying for a full licence

You don't need to pay for and arrange lessons

You can ride straight away, and skip a lot of extra administration around the full licence

You could earn a no-claims bonus for every year you don't claim on your insurance, even if you don't have a full licence
Cons of riding on a provisional licence
You can only ride certain bikes

You won't be able to carry passengers or use the motorway

Your motorbike insurance could cost more

If you don't pass your test within two years, you have to retake your CBT
Types of 125cc motorbike insurance
There are three main levels of cover for 125cc motorbike insurance and they work the same way as car insurance.


Third-party only
As the name suggests, the only cover you will get with this level of insurance is damage to a third party's property or vehicle. It provides the lowest level of cover but isn't necessarily the cheapest option. Any costs to repair damage to your own bike comes out of your own pocket.
Third-party, fire and theft
You get the same cover as drivers choosing third-party insurance, but you're also covered if your bike is damaged by fire, or stolen.
Comprehensive
If you choose comprehensive insurance, you get the same benefits as third-party, fire and theft. The main benefit of comprehensive cover is that it offers protection for your motorbike if it's involved in an accident, even if it's deemed to be your fault.
Comprehensive policies sometimes come with additional elements, which could include a replacement bike, personal accident cover, or travel outside of the UK.
What 125cc insurance do I need to take my CBT?
It's worth thinking about the type of insurance you have when you complete your CBT. If you use a bike that the CBT centre owns, you might be covered under its insurance.
You could also use your own bike, but you have to arrange the insurance beforehand if you do.
When you're looking for an insurance policy, pay attention to the terms and conditions around cover while you're doing your CBT test.
Some policies might only cover you if you're supervised by an instructor. If this is the case you might need to arrange for your bike to be delivered to the centre.
Or, you might have to have an instructor meet you at home and start the test from there.
Compare motorbike insurance quotes
How do I save money on my 125cc motorbike insurance?
The cost of your 125cc insurance depends on several different factors including:
Your age

Your occupation

You driving experience

Where you live

Where you keep your bike
That's why it's important to shop around and to compare prices before you sign on the dotted line.
Motorbike insurance is competitive, which that means you should take the time to compare the prices from different insurers. This makes sure you're buying a policy that not only meets your needs but one you can afford as well.
The cost of insurance could also change depending on what kind of licence you have. Riders with a provisional licence might pay higher prices because they're seen as being at a greater risk of having an accident and making an insurance claim.
There are a number of other ways to cut the cost of 125cc bike insurance:
Enhance your motorbike security. This includes measures like installing a tracker or ground anchor. These could lower your costs as they make your bike more secure.

Store your bike in a safe place, such as a lockable garage, instead of keeping it on the road.

Consider advanced rider training. The more driving experience you have, the cheaper your insurance tends to be. But it might also be worth investing in advanced riding courses. These not only improve the way you ride, but could lower your insurance costs.

Look at how you use your motorbike. Your costs could change depending on how you use your bike. If it's for everyday commuting you could pay more compared to occasional, social use.

Raise your excess. If you choose to pay a higher motorbike insurance excess, your costs might be lower. Just make sure you could afford to pay the excess if you did make a claim.

Pay for your insurance yearly, in one lump sum. It tends to be cheaper than making monthly payments that charge interest.
For more information, check out our guide on how to get cheaper motorbike insurance.