Thousands of motorbikes are stolen every year. Mopeds, scooters, trail bikers and superbikes are all regularly stolen – and many of them to order.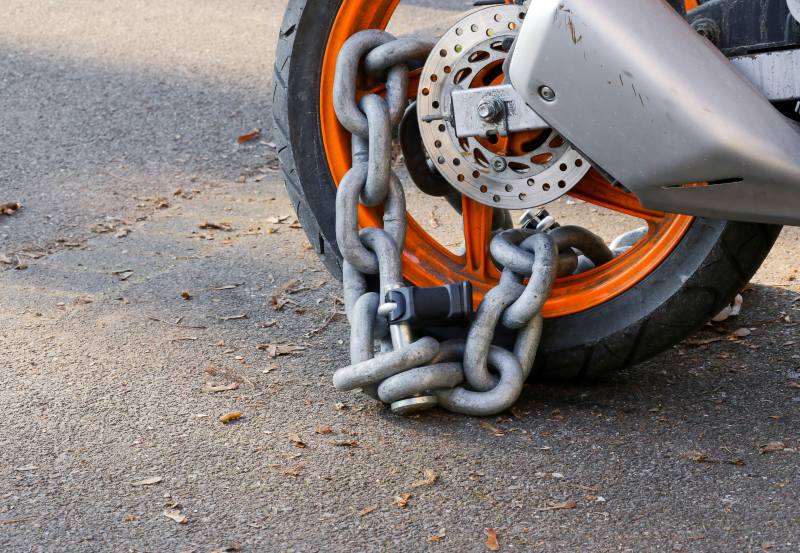 In fact, estimates suggest around 40,000 bikes go missing every year, according to crime survey estimates from the Office for National Statistics.
It's easy to understand why. Motorbikes cost thousands of pounds and have a high resale value on the black market so demand is high.
Even the largest bikes can easily be put in the back of vans so the risk of getting caught is less than it would be for stealing a car.
Consequences of motorbike theft
The likelihood of seeing your bike again after it's been stolen is remote.
In worst case scenarios they will have been stripped and sold for parts within hours.
While it's obviously worth reporting the crime to your local police force – and using social media to track down potential witnesses – your chances of success are slim.
Aside from the misery of your beloved bike vanishing, there's also the inconvenience.
What will you do if you ride it to work every day?
Then there are the financial consequences. Bike theft could have an impact on motorbike insurance premiums, potentially pushing them up.
So it's always best to avoid having to make a claim in the first place.
What can you do to avoid becoming yet another gloomy statistic? Well, the good news is there are plenty of ways to deter would-be thieves.
How can you stop your motorbike being stolen?
The key here is to make stealing your bike as unappealing as possible.
For example, keeping it out of public sight is the best option.
Similarly, anti-theft devices can delay criminals trying to steal it away.
The longer they'll need to spend breaking through the security, the less likely they will be to try.
Thieves may think twice about cutting through a chain in the middle of a bustling estate.
Conversely, leaving it unsecured in a dark, secluded area is asking for trouble.
Motorbike storage
The ideal scenario is to keep your pride and joy safely locked away.
Putting it in a garage - or using a secure outbuilding at the bottom of your garden – is ideal.
Of course, you'll still need to ensure those locations are secure.
An unlocked garage could actually be even more of a risk as the thief can work out of sight.
If your garage is linked to your house then consider extending your burglar alarm to cover it.
If not, consider installing a separate system and home security cameras.
Don't forget that windows will be a weak point.
Consider bricking them up completely. At the very least, putting in window locks or security grilles.
Try to keep it around the back of your house or under a cover.
You may love a flashy bike but you want it hidden when you're not riding it.
Secure parking
If you haven't got access to a garage, it's worth seeing if you can keep it on a driveway.
Getting it off the road should be looked on favourably by insurance companies.
A better level of security lessens the risk of theft – or it being damaged on the road by other vehicles – and could help you secure cheaper motorbike insurance premiums.
There are also secure car parks. The bonus with these is they are often patrolled regularly by security guards or monitored by CCTV cameras.
Some of them are also password protected which provides another layer of protection.
Discuss these issues with the company you have your motorbike insurance with to see what they prefer.
Compare motorbike insurance quotes
Motorbike security
You may want the bike itself hidden from view, but the security device should be as bright as possible.
The whole idea is to deter a would-be thief, not win a concourse competition.
However, make sure they bear the SOLD SECURE logo, which is part of the Master Locksmiths Association. This will prove it's been properly tested.
So, what devices should you consider?
Motorbike locks
Use a disc lock to help secure the front brake disc, or a grip lock to secure the brake and throttle controls, advises Northants Police.
You could also use a D lock on the front wheel to stop it being wheeled away.
Chains
Thieves often steal a bike by breaking the steering lock and wheeling it away.
Use a chain lock through the back wheel as the front wheel can be removed, points out Northants police.
"Secure your bike, with the lock taut to an immovable object such as a ground anchor or street furniture," the force advises.
This action should stop thieves from cutting a lock trailing on the ground using an angle grinder.
An alternative, if this isn't possible, is to thread the chain through your bike frame and back wheel.
Ground anchors
A ground anchor provides a fixed point to which you can chain your bike.
While they're usually attached to the floor, they can be just as easily fixed to a wall if necessary.
There are plenty of different anchors available.
At its most simple, it'll be a basic metal look that can be secured in some way to a flat surface.
The best, however, can be dug into the ground – and then the hole filled with concrete – for the maximum amount of security.
Prices, however, will also vary.
The cheapest can be picked up for less than £30, while you be looking at more than £100 for a top end version.
Alarms
These can also be a useful deterrent. Ensure that any alarm you choose has been approved by Thatcham, the not-for-profit insurer-funded research centre.
This organisation was established in 1969 and launched categories for alarms and immobilisers in the 1990s. They have become an industry benchmark.
Certification from Thatcham provides reassurance around the performance of alarms, their design, and suitability.
Motorbike covers
Gangs of thieves may drive around the area looking for potential targets.
Therefore, even keeping your bike under a cover can help.
Very few thieves will want to draw attention to themselves by trying to peer underneath the cover.
It's far easier to move on to the next potential victim.
You can get a basic cover for less than £50. As well as acting as camouflage, it will also protect your bike against rain, hail and dust.
Disable your bike
Another easy option to deter thieves is removing the spark plug or HT cap.
The benefits are that it's quick and relatively straightforward.
Of course, none of these will stop them lifting your bike onto the back of a low loader, but as an added tier of security it's definitely worth considering.
Other motorbike security tips
Property marking
It is certainly worth marking as much of your bike as possible, according to advice from the Metropolitan Police.
This should make it more difficult for criminals to sell parts on – and your bike less attractive to steal.
It'll also help police identify parts and return recovered stolen bikes.
There's no shortage of bike marking providers.
You can pick up pens cheaply online and do it yourself or explore specialist marking system, such as Datatag.
Deflating tyres
It will be hard for thieves to ride off on your bike if the tyres are flat.
However, it's not fool proof, obviously, and will be irritating if you have to pump them up before every ride.
Taking photographs
Make sure you take plenty of photographs of your bike – particularly if it's rare or you have made modifications that make it unique.
Even quick mobile phone snaps will be useful for alerting people if it goes missing.
The hope is you'll make it hot property – and the thief will dump it rather than risk getting caught.
Of course, sometimes bikes will be stolen – regardless of how much security you have in place. In those situations, you'll need to know how to claim on your motorbike insurance.