According to a report by the Motorcycle Action Group, motorbikes are 11 times more likely to be stolen than cars. Making sure your motorbike is secure reduces its risk of theft and could mean you get cheaper motorbike insurance. Some insurers offer discounts if you've got an approved lock or security device fitted to the motorbike. Adding secure markings and secure overnight storage can also help lower your costs.
Here's what you need to know.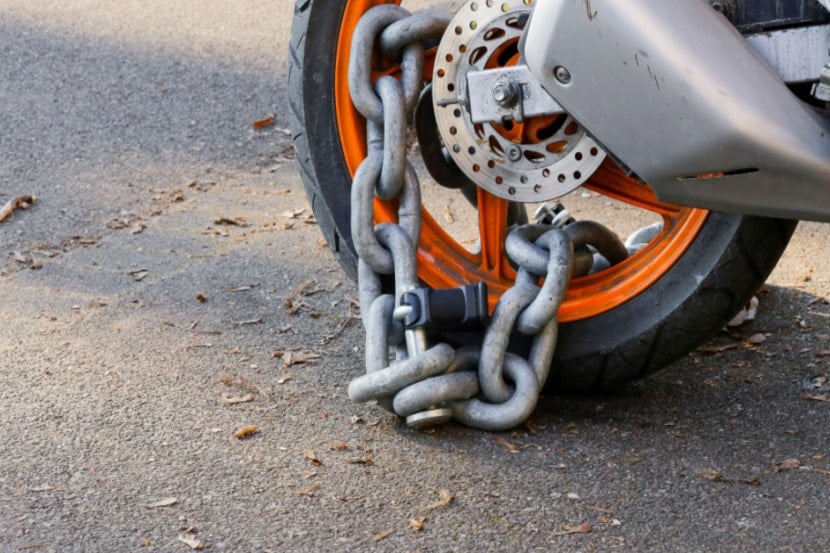 What's the best motorbike lock for insurance?
There's no single best security device for insurance, as insurers have their own lists of approved motorbike security devices.
When you compare motorbike insurance with us, we'll ask you "Do you use any security devices?"
If you select 'yes', there's a long list of devices you can choose from that include:
D-locks / U-locks
Chain locks
Disc locks
Ground anchors
Alarms
Immobilisers
The option 'factory fitted' is selected by default.
Although you can have as many security devices fitted to your motorbike as you want, you can only select one when you get your quote. There's no additional insurance saving for having multiple security devices fitted to your motorcycle.
If you already have a security device, it's worth speaking to your insurer to see if they have it on their list of approved devices.
Whichever lock you use, make sure it's approved by Sold Secure. You can search Sold Secure's database of approved devices to see if your motorbike lock is on there.
There are 4 grading levels that Sold Secure uses:
Bronze
Silver
Gold
Diamond
Bronze provides the most basic protection, whereas diamond offers the highest level of resistance.
What do the different types of motorbike security do?
D-lock / U-lock: These locks have cut-resistant shackles, making them difficult to remove. You secure the motorbike to an immovable object by looping the D-lock through the frame.
Chain lock: Similar to the D-lock, the chain lock offers more flexibility when securing the motorbike to frames and barriers. Make sure the chain doesn't touch the ground, as this makes it easier for thieves to break it.
Disc lock: A portable lock that you secure to the motorcycle's brake disc, stopping it from being moved or wheeled away.
Ground anchor: This secures your motorbike to the ground using a heavy chain that's looped through the wheel, stopping it from being lifted.
Alarms: A noisy deterrent for would-be thieves. You can also get locks that have their own alarm to reduce the risk of tampering.
Immobiliser: Prevents the motorbike being started by anything other than the authorised key.
Covers: Makes the motorbike less attractive to opportunist thieves who won't know at a glance if the motorbike is particularly desirable.
What's the difference between a D-lock and U-lock?
There is no difference - they're just different names for the same kind of lock. You'll see them called both names depending on where you go, so we've mentioned them both here.
Is a disc lock enough for a motorcycle?
Disc locks are useful to stop opportunistic thieves, but may not be enough to stop a determined criminal.
Where possible, use disc locks as an extra layer of defence, combined with a ground anchor or chain lock.
If you've only got disc locks, consider getting one for both the front and back wheels. This should make it a lot harder for a thief to wheel the motorbike away.
Do motorbike security markings help lower my insurance costs?
They could help, but not as much as a motorbike lock or alarm. This is because motorbike security markings help police recover your motorbike if it's stolen - they don't prevent the theft from happening in the first place.
When you get a motorcycle quote with us, we'll ask you "Does the motorbike have any secure markings?". If you select 'yes', you can choose from the following options:
Alpha Dot
Alphadot Security Sy
Datatag
SelectaDNA Motorbike Kit
Smartwater
Smartwater Instant
These security marking kits do largely the same thing. Some come with extra features and cost a bit more, but most kits come with:
Microdots - tiny dots that contain a unique serial number. These dots are painted on several areas of the motorbike, making it easy for police to identify it.
Deterrent warning labels - vibrant stickers to warn would-be thieves that your motorbike is protected.
Database registration - making it easy for the police to return your motorbike if it's stolen.
Depending on which kit you get, you can also get:
Transponders - discrete electronic markers that police can scan to bring up the owner's details
UV etching - a unique code is etched into the motorbike's frame that can only be seen under ultraviolet (UV) light
Forensic DNA - marks your motorbike in several places with a unique DNA code
Motorbike security marking kits cost between £30-90.
Where is the cheapest place to store a motorcycle for insurance?
Generally, the more secure the area you store your motorbike in, the lower the risk of theft. This should help keep your motorbike insurance costs in check.
When you get a quote, we'll ask you "Where will the motorbike be stored overnight?". You can choose from the following options:
Driveway
Locked garage
Road
Car park
Locked compound
Kept on private property
We'll also ask you whether the motorbike will be kept at home overnight or stored elsewhere.
In general, keeping your motorcycle in a garage or locked compound should be safer than keeping it out on the road. But this is likely to change depending on your location.
If you keep your motorcycle in a garage, consider installing a Garage Defender. These locks are bolted to the ground and make it harder for thieves to force the garage door open.
If you use a car park, it's worth looking at ParkMark - a map of secure car parks that have been vetted by the police and have increased security, such as:
CCTV cameras
Security fencing
Exit and entry barriers
Floodlights
Regular patrols
You can filter the map to only look at car parks that have spaces for motorcycles.
Compare motorbike insurance quotes