Advanced motorcycle training helps you become a safer rider, giving you skills to handle riding in tricky situations. But these courses also help you keep your motorbike insurance costs low. Here's what you need to know.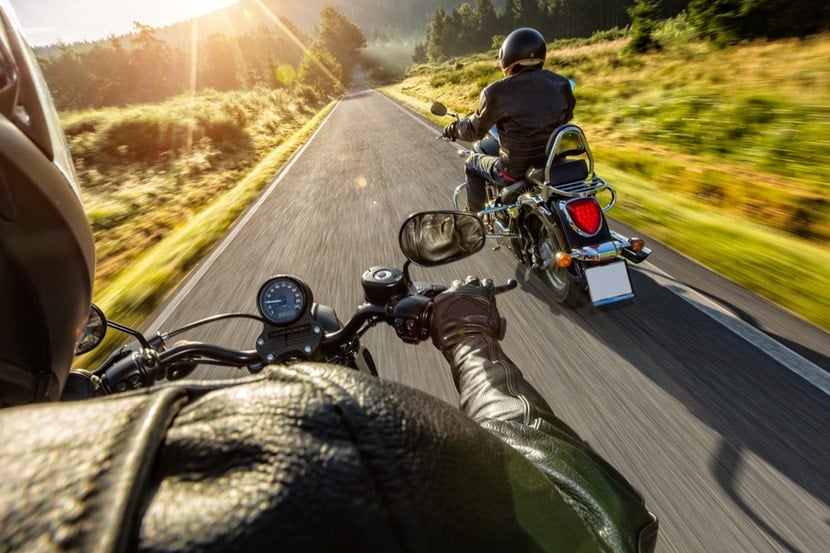 What is advanced motor cycle training?
Advanced motorcycle training courses are for anyone who wants to improve their on-the-road skills and technique.
These courses help you deal with with tougher traffic and environmental conditions including:
Wet leaves
Handling more powerful machines
Anticipating the road ahead
There are several types of advanced motorbike training, and we'll take you through each of these.
Although there is some theory, there are also plenty of observed training rides, sometimes followed by an evaluation or a test.
It can also be fun. Learning a range of new and improved techniques – from machine control to observation and general road skills – is hugely satisfying.
Do advanced motorcycle training courses save you money?
It depends on your motorbike insurance provider. Some insurers discount your annual motorbike insurance policy if you have an advanced riding qualification. If you're unsure, speak to your insurer directly or check the policy wording of your motorbike insurance documents.
There are loads of courses available, all offering different benefits and catering to a variety of skill levels.
Before signing up to a course it's a good idea to talk to your insurer about what training bodies they recognise. Or what they require in order to offer a discount:
Do they need paper certificates as proof?
Are there any time limits to how long they recognise a qualification?
It's best to shop around for a course that suits you. There are several schemes available with a spread of training offers.
Here's a summary of some of the best-known courses.
Enhanced Rider Scheme – Good range of skills enhancement with no formal pass or fail test. This is run by the Driver and Vehicle Standards Agency (DVSA).
RoSPA – several courses are offered by the Royal Society for the Prevention of Accidents, including an enhanced rider scheme.
IAM – The Institute of Advanced Motorists offers advanced training with up to 8 sessions including a riding test.
BMF – The British Motorcyclists Federation offers its Blue Riband Rider Award held over a day and a half.
If you're thinking of doing this to save money on your motorbike insurance, there are some other things you can do. For more information, check out our guide on how to cut the cost of your motorbike insurance.
Compare motorbike insurance quotes
How much does advanced motorcycle training cost?
Prices for advanced riding courses vary depending on where you live and how easy it is to access the training. Some offer a flat fee. For example, the Institute of Advanced Motorists Advanced Rider Course costs £175.
The government-backed Enhanced Rider Scheme costs depend on the trainer and your training needs, but can be around £179. There's also the British Motorcyclists Federation (BMF), which costs around £250.
Think about your own development priorities before choosing a course based on cost:
Are there specific riding weaknesses or habits you want to improve on or address?
Do you want a course that focuses on theory and Highway Code knowledge?
Are you looking for a refresher course after some time off the road?
Before you take any course, the Enhanced Rider Scheme could be a good foundation, especially if you're new to motorbikes and road safety.
What's the best advanced rider training course for me?
There's no 'best' course. Each course has its own strengths and weaknesses.
What's important is how each course addresses your safety and training priorities.
Enhanced Rider Scheme
The government-backed DVSA Enhanced Rider Scheme (ERS) is targeted at those who've recently passed their test. Or anyone considering upgrading to a more powerful machine.
The ERS says you're entitled to insurance discounts once you've completed the 1-day course. It's organised through local training teams.
This is a good starting platform for other more advanced tests. This scheme is a 1 to 2 hour assessed ride with an expert motorcycle instructor.
If your riding is of a good standard and there's no need for further training you can get your DVSA Certificate of Competence immediately.
If there are areas you need to improve on you get personal training and get a certificate when finished. These training sessions may be 1 or 2 short sessions or an all-day course.
BikeSafe
The BikeSafe course is run across the country by 36 police forces.
There are 75 workshop venues, so there should be one not too far from you.
They're also a fine stepping-stone for further advanced training if you want to develop your skills even further.
IAM RoadSmart Advanced Rider Course
The Institute of Advanced Motorists has offered a well-established Advanced Rider Course for many years and costs £175 including a welcome pack and manual.
You sign up with your nearest local group and go on several observed rides with trained volunteers over 3 to 6 months.
Your sessions include plenty of time with skills such as:
Road control
Observation and timing
Best road positioning
Dealing with unpredictable roads
Dealing with the behaviour of other road users
IAM RoadSmart claims advanced riders have fewer collisions per year compared with other riders in their age group, and a lower rate of collisions. It says that IAM RoadSmart riders have collisions, on average, every 15,000 miles, as opposed to non-IAM RoadSmart riders who have collisions, on average, every 9,400 miles.
RoSPA Advanced Motorcycle Training
The Royal Society for the Prevention of Accidents (RoSPA) has a number of courses including Advanced Motorcycle Training and its Advanced Motorcycle Test.
RoSPA's Advanced Motorcycle Training is a 4-day course. The main emphasis is 'deliberate, responsible and exemplary' riding. This is the primer for RoSPA's Advanced Motorcycle Test, which RoSPA says is its most challenging motorcycle test.
There's a strong risk reduction strand to RoSPA's approach including human emotions such as attitude and fatigue. A good knowledge of the Highway Code and Motorcycle Roadcraft – the UK Police Rider's Handbook – is expected.
The Advanced Motorcycle test has several gradings – gold, silver and bronze – and is available right across the UK.
British Motorcyclists Federation Blue Riband
The British Motorcyclists Federation Blue Riband advanced rider training usually lasts up to 1 and a half days. With theory, demonstration rides and practical training, The BMF advises that it can be quite intense.
The BMF day is divided into sections and your finish time is 'dependent on the candidate's progress, weather and enthusiasm', the BMF says.
Providing you've reached their standard by the end of the first day, you're able to take the Blue Riband rider award assessment. This takes place as soon as possible – usually the following day.
This final assessment usually takes between 60 and 90 minutes. It's where you're judged on your:
Control of the machine
Information gathering skills
Junctions
Psychology
Road craft
The BMF advises that you could cover up to 150-180 miles over the course. So make sure you're familiar with your machine, as some of the riding techniques may be completely new.
Your bike should also have a minimum 33bhp (25KW) power output. The BMF says:
"It should also be able to maintain progress at the national speed limit on both A-roads and motorways, and be able to overtake quickly when required."
What will I learn on an advanced rider course?
It depends on the course – and where you feel your own skills need a boost.
But typically you'll be focusing on a combination of road survival skills and technical competence across a range of riding issues.
For example, the DVSA Enhanced Rider Course should see you ride out with an approved trainer for several hours. They evaluate what you're good at. They also look closely at the areas where you might need to improve.
Here are some of the skills you might develop:
Riding your motorcycle in hazardous weather conditions
Stopping distances, puddle avoidance, traction control and staying visible to other road users
The importance of good hydration and rest
The importance of good helmet ventilation and anti-fogging coatings
Developing observational skills to help you anticipate road risks
Adapting to wind and turbulence
Adjusting your body posture and grip
How temperature can impact road conditions
Looking out for rainbows in the road, and the risk of oil spills
More effortless and intuitive riding that keeps you safe
No aggressive acceleration or hard braking
Keeping your style smooth, stable and comfortable
Lean angles, cornering and lane discipline
Judging the best speed for cornering
Understanding your vulnerability
While some motorcyclists rely on road instinct and common sense, advanced training provides that extra bit of control. This is especially important in situations that we can't control, such as in bad weather.
What do I need before I start advanced rider training?
You need a valid motorbike licence to ride a motorbike. For more information, check out our guide getting your motorbike licence. Your motorcycle needs to be fully insured, and have valid tax and motorbike MOT.
Normally you'll ride your own motorbike. If this isn't possible you might be able to borrow a motorcycle for a small fee.
Don't feel under pressure to own a motorbike that's powerful or relatively new. Motorcycle training courses aren't about your machine. The overwhelming emphasis is improving your safety and your skill levels.
How does the advanced motorcycle training test work?
It depends on the test and the organisation. It's unlikely you'll be put forward for a test until your trainer or observer feels you're ready.
The IAM test takes an hour and a half and can be up to 40 miles.
RoSPA's advanced motorcycle test has been approved by the Driving Standards Agency and is generally considered the 'gold standard'. Its test is generally around an hour and a half.
For any test make sure your motorbike is clean and that you're wearing the right gear for the weather. You can expect the test to contain things like:
Pre-trip checks and to show an examiner why you're making these actions
Driving on unfamiliar roads, as there's not usually a fixed test route
Examiners looking for advance planning and good road positioning