How to get a motorbike licence
Take the hassle out of getting your motorcycle licence and pass first time with these tips.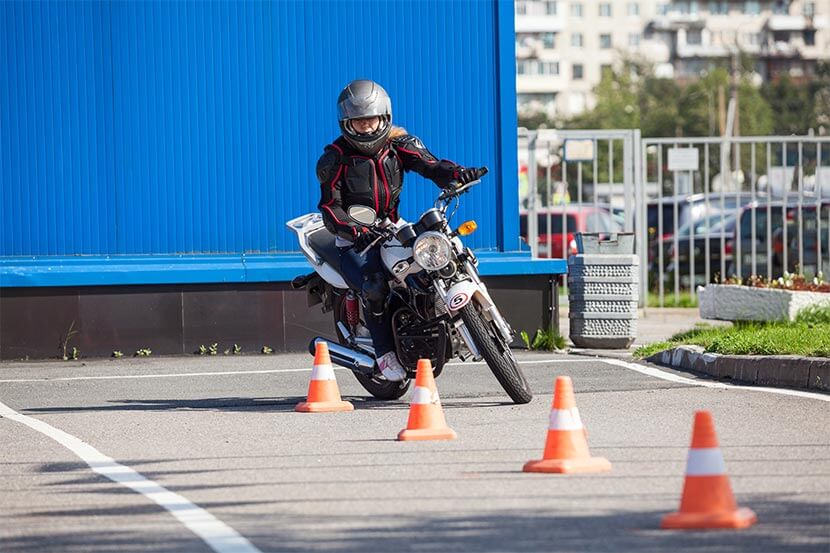 Before you can don your leathers and hit the road, Easy Rider style, you'll need to pass your motorbike test.
There are a few hoops to jump through, but if you're prepared, you'll be a fully-fledged biker in no time.
Apply for a motorbike licence
Before you can take any test, you need to apply for a provisional licence. This is the same licence as the one that lets you drive a car. If you already have that - or a full UK driving licence - you can skip this step.
If you have a full driving licence, you may be entitled to ride a 50cc moped without any additional training. This'll depend on when you passed your driving test.
The provisional licence costs £34 if you apply online, or £43 by post. After your application, it should take 1-2 weeks for the licence to get to you.
Compulsory basic training (CBT)
Every would-be biker needs to take basic training before they can take lessons on the road.
If you have a full driving licence which you passed before 1 February 2001, you don't need a CBT to ride a 50cc moped. However, you will need a CBT to ride any vehicle with a larger engine than 50cc.
The CBT involves a day's ride where you learn the basics of using the bike. It's not a test – it's a training day.
You can take the CBT on your own bike or on one belonging to the training centre.
If you use your own bike, you'll need to tax it and make sure you have valid motorbike insurance in place before your CBT.
How much does the CBT cost?
A CBT tends to cost around £130, but the price can vary between instructors. Use GOV.UK to find your nearest training body.
The CBT covers a number of important on- and off-bike topics, including:
an eyesight check

basic maintenance checks

braking

manoeuvring

changing gear

riding behaviour

riding in typical traffic conditions

U-turns

emergency stops
The on-road part of the training should take at least two hours to complete. The full course usually lasts the entire day.
It's difficult to "fail" a CBT, as you're not being tested. However, if the instructor feels that your riding is dangerous, they could refuse to give you a CBT certificate.
As with the theory test, your CBT certificate is valid for two years.
Motorbike lessons
Once you've completed your CBT, how you learn to ride the bike is up to you. You can:
ride with an experienced biker to build up your experience

take hourly lessons with a qualified instructor

take an intensive course
Intensive courses can cost anything from £400 to £900, depending on your level of experience.
You must get your bike fully taxed and insured in order to use it for lessons, or to ride it using 'L' plates before you gain your full licence.
Regardless of how you decide to learn, the point is to be safe and confident on the road. Only when you think you're suitably prepared should you take your practical test.
Passing your motorcycle theory test
The motorbike theory test follows the same format as the driving theory test:
A 50-question, multiple-choice test.

A hazard perception test that uses video clips.
You can take practice motorbike theory tests to brush up on your knowledge.
How much does the motorbike theory test cost?

The bike theory test costs £23 and should take around an hour to complete.

You'll need 43/50 on the multiple-choice round and 44/75 on the hazard perception round in order to pass. You'll know if you passed or not straight after the test.

When you pass, your theory test certificate is valid for two years.
During those two years, you'll need to pass both parts of the practical test. Otherwise you'll have to retake your theory test.
Practical motorbike test
The practical test is split into two modules. Module one is an off-road riding test that covers a number of the basics including:
wheeling the bike around

riding in a slalom and figure-of-8

controlled and emergency stops
Module two is an on-road riding test that covers topics such as:
"show me, tell me" safety questions

road riding

independent riding
Aside from the independent riding, you'll be instructed through an earpiece for the duration of the test.
As of 1 Jan 2019, only certain motorbikes are allowed to take the practical test. You can view the full list on GOV.UK.
How much does the practical motorbike test cost?
Module one costs £15.50 and module two costs £75 (£88.50 on weekends).

Both modules together should take little over an hour, and you need to pass both to be given a full licence. You'll also need to pass both parts of the practical test within two years of passing the theory test.
Upgrading your licence
The time has come at last to get your motorbike licence and become a true biker. Things are a little more complicated for bikes than they are for cars, however.
The kind of motorbike licence you get depends on a few things, and changes with the type of bike you ride.
The requirements here are in addition to passing your theory and practical tests, and completing your CBT:
| Licence type | Requirements | Motorcycle types allowed |
| --- | --- | --- |
| AM | 16+ years old | Moped up to 50cc, top speed 28 mph |
| A1 | 17+ years old | Up to 125cc, maximum power 11KW |
| A2 | 19+ years old | Up to 500cc, maximum power 35KW |
| A | 21+ years old; held A2 licence for two years | All |
| A | 24+ years old | All |
Once you have your motorcycle licence, you can officially rip off those L-plates and hit the road! Take a look at our favourite biking routes for inspiration.