Looking for a new bike but don't want to pay top prices for a brand-new model? Here's everything you need to know about buying a used motorcycle.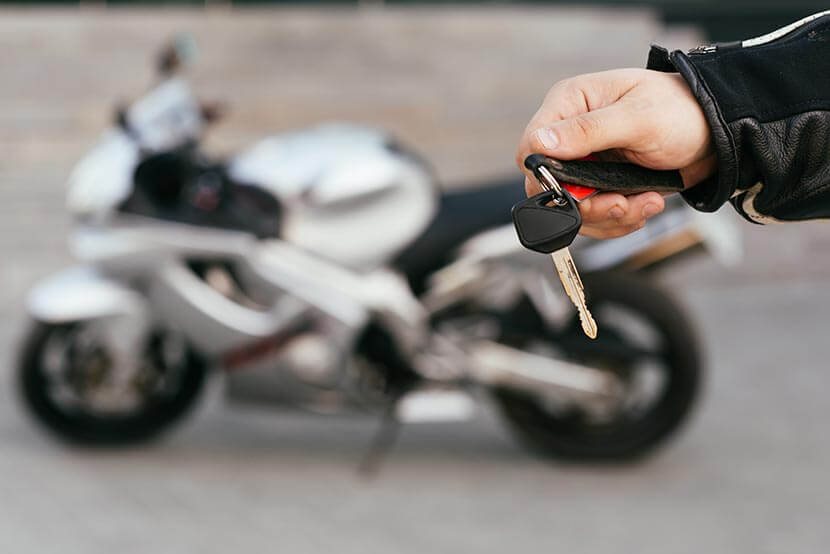 Getting your hands on a secondhand motorbike could be a much more cost-effective way to enjoy the thrills of motorcycling.
The good news is that there are likely to be hundreds of bikes – if not more – in your price range regardless of your budget.
But as is the case when buying any kind of pre-owned vehicle, there are a number of potential pitfalls to watch out for.
This applies whether you're buying from another owner or from a motorcycle dealer.
Pros and cons of a buying a used bike
As is the case with buying pretty much anything secondhand, the chief attraction of going for a used motorbike is its price.
Like with cars, the value of a brand-new motorbike drops rapidly as soon as it's ridden away from the dealership.
This means even models that are just a year or two old are likely to be considerably less expensive.
And it's not just the purchase price you're likely to be making a saving on by buying a used motorbike.
The less a bike costs, the less you might pay for your motorbike insurance.
This is because your premiums are partly based on the cost of replacing your bike in the event of it being stolen or damaged beyond economical repair.
But there are potential downsides to buying used.
You're unlikely to get the full benefit of the manufacturer's warranty, or the latest bells and whistles when it comes to safety or other technology.
You also need to make sure the bike fits the seller's description and make sure it hasn't been involved in any accidents.
If you're not sure what kind of bike is going to be most suitable for you, take a look at our guide to the different types of motorcycle.
Should I buy through a dealer or a private seller?
One of the main choices you make before buying a secondhand motorbike is about who you're going to buy from: a private seller or a dealer.
This doesn't need to be an either/or decision. You can simply look for the most suitable bike and if it happens to be available from a private individual or a dealer, proceed accordingly.
Most online listings of used bikes combine private and dealership sales in any case.
But it's useful to understand the differences between buying through a dealer and buying from a private seller.
If you buy through a dealer, you can expect to get some kind of warranty on the motorbike. That's in addition to a greater degree of legal protection under consumer protection laws. With a dealer, you might also be able to offer your current bike as part-exchange. This is something a private seller is unlikely to offer.
Dealers should also have carried out checks on any bikes they get to sell on. They might also be in a better position to provide you with a service history.
Another upside of buying from a dealer is that they might be able to offer finance options to spread the cost of your purchase.
But bear in mind that dealer finance might not be the most suitable way of borrowing, and it might also be worth considering a personal loan.
The downside to this extra protection is that motorbikes from dealers are often more expensive than when buying secondhand from a private seller.
Private sales can certainly be cheaper, and if the seller can provide their bike's service history, this could be a great option.
But you might not get the same peace of mind that you get when buying from a dealer.
Questions to ask a private seller
There are a number of questions you should ask the seller, ideally in front of a witness – a good reason to take a friend along with you.
It's important to check whether there are any bike modifications that might improve its performance or make it more valuable – or more attractive to thieves.
It's vital to tell your insurer about alterations like these as they could lead to higher premiums.
When you apply for a motorbike policy, your insurer should ask you about modifications so you can provide the details at that point.
You should also ask whether the bike has been involved in a crash or if it's been dropped.
And check if there's any outstanding finance secured against the bike.
If the owner is still paying off a personal loan used to buy the motorcycle, this shouldn't affect you as it wouldn't normally be linked to the bike.
Buying a used bike on eBay
Auction website eBay is an excellent online option when looking for a used motorbike.
You can use a wide range of filters to narrow your search, whether it's according to the:
Make, model or age of the bike you're interested in
Engine size
Geographic location
The rating system used by eBay can be useful, especially if you're buying from private sellers (although sometimes dealers, too, also list their bikes on eBay).
Before you decide to proceed with a private sale, check the seller's feedback scores, paying particular attention to those posted most recently.
Mixed ratings from other people who've made purchases from the seller should be a warning sign.
Other red flags to be aware of include a failure to use pictures of the actual bike that's on sale.
Some sellers might use stock photos from the manufacturer, perhaps to make the bike seem more attractive.
But it could be because the bike they're actually selling is in poor condition.
And as with anything you see for sale online, if the price is too good to be true, it probably is.
What to look for when buying a used motorcycle
It's important not to let your impulses get the best of you. There are various reasons for this.
First, as with any purchase, you need to make sure that what you're buying is what's being promised.
You also need to be sure the other party has the right to sell it to you.
Is it safe? Are the documents genuine? If there's a problem later on, will the seller be available to put it right or compensate you?
That's why it's crucial you take the time to make adequate checks on any secondhand bike that takes your fancy.
It's also worth running a quick check on how much your insurance could be as you might be able to get cheaper motorbike insurance with a different bike.
Checks to make on secondhand bikes
If you're buying a secondhand motorbike, ideally you should see it in real life before handing over your money.
This is especially true if you're buying from a private seller.
If you don't feel confident enough to make these kinds of checks, take someone with you who is, if you can.
But what should you be looking for when you inspect a used motorcycle?
Has the bike been warmed up before you view it?
If you're looking at the bike at the owner's home address, there's no reason it should already be warm.
This could be an indication that the seller has taken steps to make sure the bike starts straight away when you turn the ignition.
As a buyer, you need to be sure it will start first time even when cold.
Are there stickers on the bike?
These aren't necessarily a problem, but they may have been put on to mask small dents or other bodywork damage.
Is there damage underneath the bike?
Check underneath the bike for any oil leaks or signs of damage in the exhaust.
Does the suspension work?
Check the suspension by bouncing the bike on the front tyre as well as the back.
Are the brakes in working order?
Make sure the brake discs are unscored and that there's plenty of material left on the brake pads.
Does the steering work as expected?
Ensure that the steering moves freely and that the lights, the horn and the indicator all work.
It's not unusual to come across minor faults with a used motorbike. Anything you find on your inspection could be used to haggle for a lower price.
But if there seem to be a number of issues that the seller hasn't warned you about, it might be best to walk away.
What paperwork should you check?
As well as running the rule over the bike itself, it's vital to ensure all relevant documentation passes muster:
Always check the V5 registration document
Genuine V5s have a watermark. And the details on it should match the bike you're looking at and the person you're buying from.
Any discrepancies, such as a different owner's name or an engine number that doesn't match, should be treated as major red flags.
Is there a valid MOT certificate?
All motorbikes older than three years need to have passed their motorbike MOT.
Also look at the service history. Does the mileage on the motorcycle match the history?
You can also carry out an HPI check on the motorcycle's registration plate to make sure it hasn't previously been written off or stolen.
This should also let you check whether or not there's any finance outstanding on it.
Taking a secondhand motorbike for a test drive
Most genuine sellers won't mind you taking the bike out on to the road for a test ride – especially if they haven't got any issues to hide.
Check how the bike starts, in particular when the engine is cold.
Do the clutch, brake and throttle controls work smoothly, and is it straightforward to change gear?
Is the suspension comfortable?
Before you head off, make sure that you or the owner has the right motorbike insurance policy to cover you when you take the bike out for a spin.
Compare motorbike insurance quotes
If not, you can get temporary motorbike insurance to cover you for that day.
After all, if you take a bike out onto the road without insurance, you're the one breaking the law.
Your consumer rights when buying a secondhand motorcycle
In recent years, the government has beefed up buyers' rights when it comes to purchasing used cars, vans and motorcycles from dealers and motor traders.
But you should note that these new, improved rights don't apply to private sales.
Under the Consumer Rights Act 2015, any secondhand motorbike should be of "satisfactory quality" and as described in any sales or marketing material. This includes online ads or listings.
If your bike isn't as described or has a serious fault, you have the right to reject it within 30 days of purchase and get a full refund.