In most cases, making a claim on your motorbike insurance should be straightforward. Once you've got the necessary information, you contact your insurance company and the claim process begins.
But things can get more complicated if blame is disputed or the other party is uninsured. We look at how you go about claiming and how you can get back on the road as soon as possible.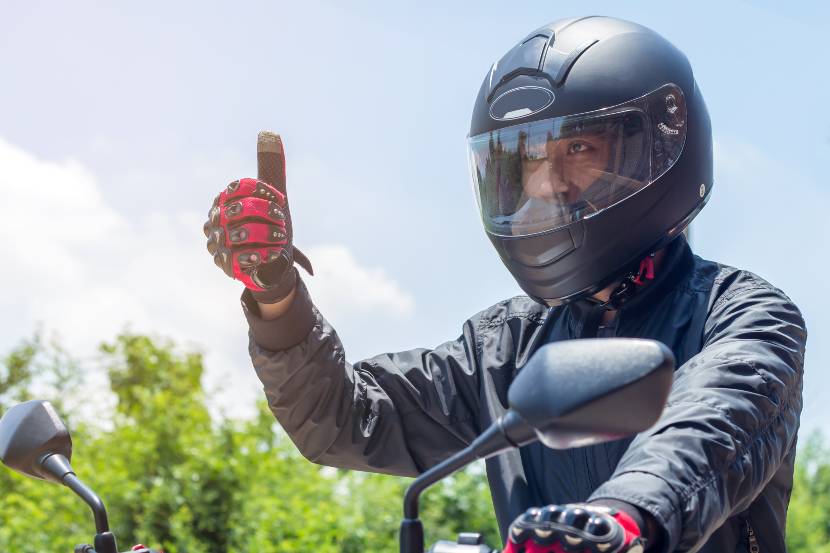 What do I do if I'm in a motorbike accident?
If you have a motorcycle accident: here's what you do:
Make sure everyone is safe.
Call the emergency services if needed.
Make the scene safe for other road users without putting yourself in danger
Don't admit liability. If you take the blame it could affect the outcome of any insurance claim.
Get details from riders and drivers if vehicles are damaged or people are hurt in an accident. It's an offence not to do so.
What information do I need for my motorbike insurance claim?
Before you leave the scene of the accident, make sure you have all the information you need for your insurance company. This includes:
Where the accident happened

The date when the accident happened

The name and contact details of any other parties

The registration numbers of any other vehicles involved

The insurance details of any other parties

The names and contact details of any witnesses

Whether there are any injuries
Take photos of anything that you think might be useful to back up your claim, such as :
The accident scene

Damage to vehicles

Road conditions
How do I submit a motorbike insurance claim?
Call your insurance company's claims number and tell them you want to make a motorbike insurance claim. The number should be on the company's website or on your insurance policy documents. They'll be able to take you through the process and will ask for more information about the incident.
If you decide to claim, your insurer needs to work out how much it might cost to repair your motorbike. They usually get one of their approved garages to assess the damage.
If the insurance assessor decides that it makes sense to repair the motorcycle, the cost should be paid for by your insurer or the other party's insurer. This depends on the circumstances of the accident and who is believed to be 'at fault'.
Your motorbike insurance company needs to know that you've had an accident, even if you decide not to make a claim. Not telling them could affect how they deal with any claim in the future. Contact your insurer as soon as possible after the accident and let them know what has happened.
Compare motorbike insurance quotes
What happens if my motorcycle is written off?
If it costs too much to put your motorbike back on the road, your insurance company might write your motorcycle off and give you a cash payout instead.
The amount should be what the insurance company's assessor thinks your motorbike is worth, minus your excess.
To get an idea of what you think is a fair price, look at ads for motorbikes in a similar condition to your old motorbike and with the same specifications. How much would it cost you to buy your motorbike today?
If your motorbike is written it off or stolen soon after buying it new, your insurer might replace it with a new motorcycle. This should usually be of the same make and specification as the old motorbike.
You might be able to buy what's left of your motorcycle back from your insurance company if it's written off. This depends on how badly damaged it was.
If you and the insurance company can't agree how much your motorbike was worth, you should follow the complaints procedure outlined in your policy. You can get the Financial Ombudsman involved if you're still unhappy with the outcome.
What happens if the police impound my motorbike?
If your motorcycle ends up in the police impound after an accident, they might charge you for keeping it there..
Whether your insurance company would pay for this depends on your policy and the circumstances of the accident. It's best to call your insurance company and check with them.
How can I claim after an accident with an uninsured driver?
If you have an accident with an uninsured driver you usually have to claim on your motorbike insurance policy. This might include paying your excess and taking a hit on your no-claims bonus as well.
This works if you have comprehensive motorcycle insurance. If you only have third-party insurance, you can go through the Motor Insurers' Bureau to recoup your losses.
Any money you get is usually minus an excess.
What's the uninsured driver promise?
If you can get the information your insurance company requires from the uninsured driver, some comprehensive policies let you keep your no-claims bonus and give your back your excess.
Check with your motorbike insurance company to see if they have an uninsured driver promise on the policy T&Cs.
What do I do if my motorbike is stolen?
Here are some tips on what to do following a motorbike theft:
Contact the police to report theft. They should give you a crime reference number, which you need for your motorbike insurance claim.
Contact your motorbike insurance company. Give them the crime number and provide them with all the details they need. It might be useful to keep photos of any insurance documents on your phone.
Register your motorbike's details on all the sites covering stolen motorbikes. This includes Bikerandbike and Bikersunited.
Check internet selling sites such as eBay, Facebook Marketplace and Gumtree to see if your motorbike makes an appearance.
Check local CCTV or smart doorbell footage of the motorbike being stolen.
For your next motorbike, consider how you could improve your motorbike security to reduce the risk of it happening again.
How does parking my motorbike in a garage impact my motorcycle insurance?
If your insurance policy requires your motorbike to be in a garage when you're at home, check the policy wording. It might specify that your motorbike needs to be in the garage between 10pm and 6am, for example.
Let's say you parked outside your house while you went inside in to get something and came out to find your motorbike gone. The best-case scenario if your motorcycle is stolen when it should be in the garage is that you have to pay an extra excess. Some policies might not let you claim as you left your motorbike in a different place than on your policy.
Not all insurance companies have the same definition of what counts as a garage. So, if in doubt, chat to the insurance company beforehand.
How do I claim if my motorcycle is vandalised?
If your motorbike has been vandalised, this could be covered under a comprehensive motorbike insurance policy.
Like with theft, if you want to claim on your motorbike insurance policy your insurance company needs a crime reference number.
It might also help your claim to take photos of what happened to your motorbike and where it happened.