Why pay for your motorbike all year if you use it for a few months only? With a SORN, you can keep your bike laid up without worrying about insurance tax or MOT. But there are a few pitfalls to be aware of. Let's take a look.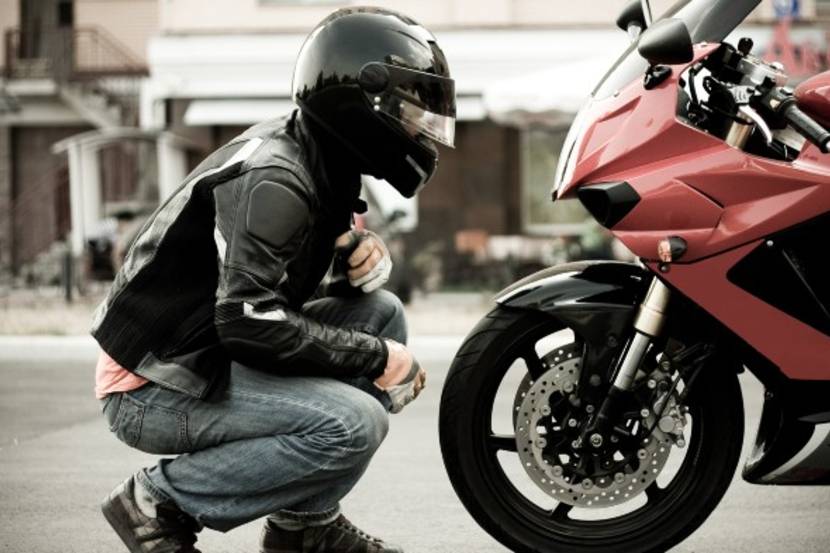 What is a SORN for a motorbike?
When you 'SORN' a motorcycle you're telling the Driver and Vehicle Licensing Agency (DVLA) your motorbike's not being used.
This means you might not be on the hook for annual vehicle tax or motorbike insurance, which could be a huge annual saving.
SORN stands for Statutory Off Road Notification. The purpose of a SORN means the government has an accurate idea of what vehicles are on the road.
This is to ensure all vehicles being used are taxed.
It also helps with longer-term policy decisions around emissions and infrastructure.
Once a motorcycle has a SORN you can't ride it on public roads. So, before taking the SORN plunge and filling out a DVLA form, there's a fair bit to weigh up.
If you registered the motorcycle in your name, the DVLA assumes it's still in use – unless you tell them it's not.
Unfortunately, it's not enough to push your motorcycle or car into a garage or shed and simply not use it.
This could catch out the enthusiast biker rather than the person who relies on their machine daily.
So, if you don't want to pay vehicle excise duty (VED) for a motorcycle you don't use, it could be worth getting a SORN.
There's still a smidge of leeway left though. You can ride your motorbike with a SORN on a public road if you're riding to a pre-booked MOT.
But you must have a valid motorbike insurance policy in place.
Your SORN is automatically cancelled when your machine is taxed again or sold.
Compare motorbike insurance quotes
Why would I SORN my motorbike?
It makes sense to SORN a motorbike if you don't intend to use it on the road as it saves you on tax and insurance.
There are various reasons why you might find yourself not riding a motorbike for a long period of time.
It might no longer be roadworthy, or you might plan to carry out work on it over an extended period of time.
You might have been bequeathed a bike that you can't ride.
Or you might have several bikes in your collection and you've decided that you won't be riding them all.
Under all these scenarios, it can make sense to take your motorcycle off the road and save on the tax and insurance costs.
But don't forget that once you've SORNed your bike, you can't take it out onto a public road – even simply to give it a brief test-ride.
How do I SORN my motorbike?
You can SORN your motorbike online with the DVLA. You need your 11-digit logbook or V5C reference number as well as your reg plate details.
You should then be able to SORN your bike immediately.
If you'd prefer to SORN your motorcycle from the first day of the following month, you need the 16-digit number from your vehicle tax reminder letter, called the V11.
To avoid tiresome logbook complications further down the line, make sure you've the right address in your logbook. If you've recently moved house, now's the time to update.
If a motorcycle isn't registered in your name then you can still make those log book adjustments via a V890 form.
If going online simply isn't possible you can call the DVLA direct on 0300 123 4321.
Can I SORN my motorbike for free?
Yes, you can! There's not even an admin fee.
For SORN you simply go online and apply. Hopefully you get a refund for any full months' of tax owed to you.
SORN can start immediately, or you can postpone it until the first day of the next month – whatever suits you. If you don't have the logbook you can apply for a replacement.
How long does a SORN last for a motorbike?
A SORN lasts up to 12 months or until you decide to tax it again. Or, when you decide to sell and there's a change of ownership.
If your motorcycle is declared SORN and not taxed, you still might want to insure it. The fire and theft risk is still there for many riders, even when their bike is laid up.
A good halfway house for some is to SORN your motorcycle for half the year. This leaves you free to look at fire and theft protection policies for this period.
But think carefully. While some motorbike insurers offer special SORN insurance, most don't offer you any accruing no-claims bonus.
If you're not actively out on the road regularly, this could be held back.
There's also temporary insurance to consider, but it's normally pricier overall.
It's also weighing up the cost versus how much use you might get. Does it cost that much more to keep it insured and taxed for the full year?
And would it be useful to be able to jump on your motorcycle at a moment's notice? That's up to you to decide.
How do I un-SORN my bike?
You don't need to 'un-SORN' your motorbike. The SORN comes off automatically when you tax or sell your motorcycle.
To tax your motorbike, you need:
Full details of your logbook or V5C

Your motorbike iinsurance details

Up to date MOT paperwork
If you're getting the MOT sorted out, always pre-book it and go straight there. If your motorbike passes, go straight home without stopping. You could then sort your tax online, or at the post office.
But don't make this trip on your bike if you're nipping to the post office!
What happens if I don't SORN my bike?
You could be fined and even be prosecuted if you take your motorbike off the road but fail to inform the DVLA.
So, what are the penalties exactly? We've summarised some everyday scenarios but the government has published more detail on this area, if you need it.
| Scenario | Possible outcome | Penalty |
| --- | --- | --- |
| If you're the registered keeper of an untaxed motorbike. | The DVLA's data service claims you haven't paid tax or declared your motorbike SORN. | £80 fixed penalty cut to £40 if you pay it within 28 days. If you don't pay it then it could be referred to a debt collection agency. |
| Using an untaxed motorbike without going through the SORN process. | Your untaxed motorbike is caught by the police or an ANPR camera. | An Out of Court Settlement (OCS) is put in motion at £30 plus 1.5 times the outstanding vehicle tax rate. If it goes unpaid it's deemed a criminal offence. The penalty could be £1,000 or up to 5 times the amount of tax liable whatever's bigger. Your motorbike might be clamped. |
| Still using and keeping an untaxed motorbike on a public road with SORN in force. | Your untaxed motorbike is identified by the police or authorities, possibly via an ANPR camera or a police check. | The OCS is set at 30 plus twice the outstanding vehicle tax owed. If unpaid it would be a criminal offence and may be taken up via the Magistrates Court. The penalty is the greater of £2,500 or 5 times the amount of tax chargeable. Your motorbike might also be clamped. |
How to avoid paying a SORN fine
It's not enough to simply take your motorbike off the road and stop paying tax on it. If you do that, you face being fined.
But it's easy to avoid this happening. You just have to SORN your motorcycle and let the government know it's no longer in use on public roads.
Getting a SORN is easy and free, so there's no excuse for not getting it done.
What are Continuous Insurance Enforcement (CIE) rules?
The CIE rules stretch back to February 2011. Continuous Insurance Enforcement means the government won't allow you to let your insurance lapse, whether you own a bike, motorhome, car or HGV.
It means your motorcycle must always be insured, even when it's not being ridden or just parked up. In a nutshell? CIE means that if you don't SORN your motorcycle you've still got to keep insuring it.
Even if you don't use your motorbike on public roads you could still be found out.
That's because DVLA knows if your bike's insured or not from regular cross-checking against the Motor Insurance Database (MID).
And if your motorcycle hasn't gone through the SORN process you could be prosecuted – or at the very least fined.
Most motorbike insurance policies should be set to auto-renew, so there's no lapse in cover.
But auto-renewing your insurance policy could be bad news for your pocket. It's the reason we're so hot on comparing motorbike insurance quotes.
If CIE feels a bit Big Brother to you, it was brought in to address the soaring numbers of riders and motorists without insurance.
At the time it was estimated this cost the insurance industry £500 million a year.
How do I check if a motorbike is SORN?
It's straightforward to check if a motorbike has a SORN or has valid tax.
Simply visit the government's database and enter the relevant information it asks for.
I don't want to SORN my motorbike – but how can I save on insurance?
Trying to keep costs wallet-friendly is never ending. And there are several factors that go into how much you pay for your motorbike insurance. Here are some ideas on how to keep your costs down:
Re-check your cover
Are you still regularly riding to work on your bike? Following the increase in people working from home, you could be paying more than you need. Could you limit your cover to just riding socially?
Consider advanced rider training
An advanced riding course could help snip your insurance costs.
Organisations such as IAMroadsmart and ROSPA offer training courses, but check with your insurer first on what courses they recognise.
Upgrade your motorbike security
A good quality motorcycle lock and chain could deter a casual thief, as may a motorbike cover.
Trim your annual mileage
Are you paying for 7,000 miles a year when it's closer to 3,000 miles? Don't pay for extra mileage if you don't use it.
For more information, check out our guide on cheaper motorbike insurance.