For many years, riding a motorbike was considered a young person's game. But a study from the Department for Transport a few years ago found that around 20% of all motorbike trips were made by men over the age of 50.
But could older bikers be paying over the odds for motorbike insurance cover?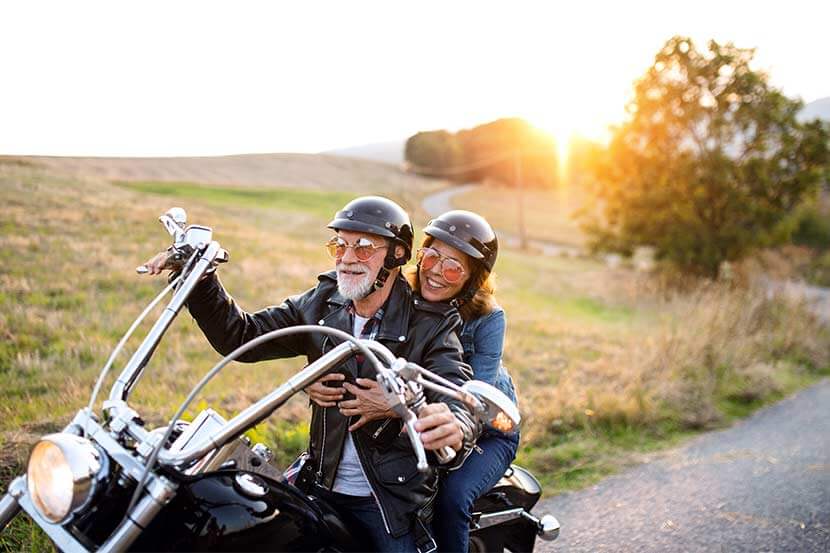 Is over-50s motorcycle insurance cheaper?
Young bikers tend to get hit with higher insurance costs because of their inexperience and the risks of riding a motorbike.
It's not just a perceived risk. Government figures show that motorcyclists make up only 1% of total road traffic, but account for around 19% of all Great Britain's road user deaths.
The good news is that older bikers could be seen as a lower risk, which might make their insurance cheaper.
From an insurer's point of view, older riders tend to be more careful riders and are less likely to have an accident.
Years of driving should have given older riders more experience with road hazards. And they also tend to be more cautious or have learned from their past mistakes.
Remember, riding a motorbike is different from driving a car - not least the fact you no longer have a protective metal shell around you.
Compare motorbike insurance quotes
Specialist over-50s motorbike insurance
Some insurers might offer specialist policies to older riders. There's also a range of specialist motorbike insurance companies and brokers that focus on motorbike riders.
These include, but aren't limited to:
Bennetts

Carole Nash

MotorCycle Direct

Bikesure

AA Motorcycle
The key is to find the right policy at the right price, which doesn't mean always buying the cheapest.
Make sure it offers the cover you need, and that add-ons such as motorbike breakdown cover and helmet & leathers cover are available if you need them.
Cutting the cost of cover doesn't just mean shopping for a bargain.
It's also knowing what you need and finding the best value deal to suit your requirements.
How else can bikers save on over-50s motorbike insurance?
If you can keep your motorbike locked away in a garage, that could cut the cost of insurance.
Theft is one of the biggest problems for motorbike owners - some 35,000 bikes are stolen each year.
If you don't have a garage, it might even be worth renting one. It should keep your motorcycle safer and reduce your insurance costs, which could make it well worthwhile.
Other motorbike security could also help. Fit an insurance-approved lock and alarm, immobiliser or other security device and tell your insurance provider about it.
As an older rider you're more likely to only use your motorbike for leisure rather than commuting. Accurately predicting your annual mileage could make a massive difference to your policy costs.
Another idea is to complete an approved advanced riding course. It might cut costs but also improve your riding skills.
Courses from organisations such as the Institute of Advanced Motorists and the British Motorcycle Federation are widely recognised.
Other than that, you could reduce motorbike insurance costs by agreeing a higher excess. If you have more than 1 motorbike you might be able to reduce costs with a multi bike insurance policy.
Practicalities of riding as an older biker
Whether you're new to biking or coming back from time away, you need to make sure you're qualified to ride the motorbike you buy.
Make sure you can control the bike you get, that the weight is right and that the style of motorbike fits how you're going to use it.
Just because you rode a 750cc motorcycle in your 20s doesn't mean it's the right one for you in your 50s. Make sure you can handle the type of motorbike you plan to buy.
It's also worth making sure you're not paying over the odds for your motorcycle insurance.
Motorbike licences for over-50s
Your standard driving licence should entitle you to ride certain motorbikes. But you still need to hold a full motorbike licence of the correct level to ride more powerful motorbikes.
You need to renew your licence every 10 years. Once you're over 70 years old, you'll have to renew your licence every 3 years.
It's free to do so, and you're able to update your photo at the same time, if you wish.
You need to make sure you continue to meet the minimum eyesight requirements for riding.
This is the ability to read a car number plate (made after September 2001) from 20 metres away.
You also need to make sure you aren't prevented from driving for any reason.
What medical conditions could stop older bikers from riding?
Generally speaking, you must give up your licence if:
Your doctor tells you to stop riding for 3 months or longer

You have a medical condition that impacts you ability to ride for 3 months or longer

You're deemed unfit to ride due to a medical condition.
The list is the same for bikers as it is for drivers. For more information, check out our guide to medical conditions and driving.
Your safety and the safety of those around you should be paramount. With that in mind, it's best to keep your health in check and take note if:
Your eyesight begins to deteriorate, even with contact lenses or glasses

Your reaction times are slower than before

You take medication that could impact your ability to ride safely

You suffer from conditions such as diabetes, epilepsy, stroke or arthritis.
Certain medical conditions must be declared to the DVLA. If you don't you risk getting a fine of up to £1,000. And, if you're in an accident as a result, you could be prosecuted.
You can check if the DVLA needs to know about a specific medical condition at GOV.UK.