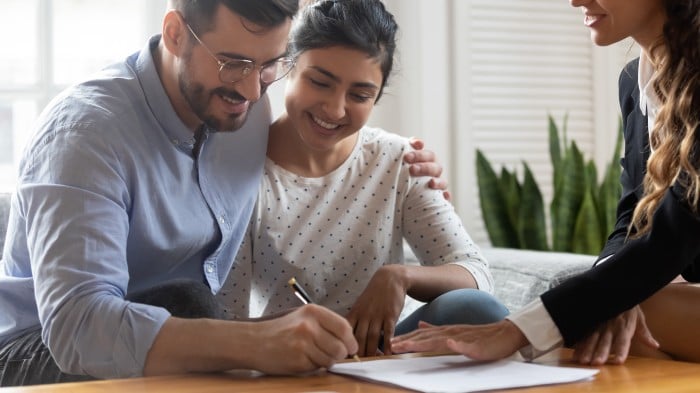 The red tape can be the most frustrating thing about buying a house. Let's break it down so it's easier to understand.
After you've sent off your mortgage application, there's a chunk of time where everyone needs to cross the t's and dot the lower-case j's.
You might hear the word "conveyancing" being used when buying a house. It's just a fancy word for the legal transfer of property from one person to the next.
Typically, conveyancing involves:
Acting as an intermediary between you, the mortgage lender and the seller.

Looking over any contracts that pass between you.

Dealing with the Land Registry.

Sorting out stamp duty.

Transferring money during a sale.

Checking for structural risks such as subsidence.
It's possible to do all this yourself. But unless you know what you're doing, it could delay things quite a bit.
All licenced solicitors are qualified for conveyancing, but they'll have varying levels of experience with property law.
If you can, look for a firm that specialises in conveyancing to speed up the process.
Prices for hiring a solicitor can vary wildly, so get a few quotes before you settle on one.
This is part of a 10 step guide to buying home. Check out the full list of steps.
Stamp duty
Stamp duty is a land tax that depends on the value of the house.
It's known as Land and Buildings Transaction Tax in Scotland and Land Transaction Tax in Wales.
In England, if you bought a house worth £200,000, you'd pay as tax:
£0 on the first £125,000 (0%)

£1,500 on the remaining £75,000 (2%)

Total: £1,500
Your solicitor should be able to keep track of what you owe and make sure you pay on time.
If you're a first time buyer you may be exempt from paying stamp duty. GOV.UK can give you more details on this.
The rates vary depending on each country in the UK. If you want to work out how much stamp duty you might pay on your home, take a look at our stamp duty calculator.
At the moment you don't have to pay stamp duty on houses in England, but this will end in June 2021. For more information, visit GOV.UK.
Valuations
Your mortgage lender will send out a surveyor to do a valuation of the property to figure out its value.
This minimises the risk to the lender in case they have to repossess the house and it's worth less than they thought.
The valuation should also highlight any obvious problems with the house.
Bear in mind that a valuation is not a proper survey – it's purely to figure out how much the house is really worth.
If you want a more comprehensive report, you'll need an independent survey.
Surveys
An independent survey should pick out any major problems with the house that have been overlooked previously.
Aside from the valuation, there are two types of survey you can have:
Homebuyer report – the survey will test the walls and floor for problems such as subsidence and damp. It'll also highlight any urgent repair work that's needed.
If these recommendations are costly, you could use them to renegotiate the price.
Building survey – this is typically done for older houses or "non-standard construction" buildings. This survey will look under floorboards, behind walls and in the cellar if you have one.
This should tell you everything you need to know about the house.
Once all surveys have been complete and everyone's happy with the state of the property, you're almost ready to exchange contracts and move in.
There's just one more thing left to do.
You need to insure the building.
Next: Step 9 – Exchange of contracts and getting insurance